| | |
| --- | --- |
| Barnyard Boogie | |

Southern California groove-boogie rockers Little Feat release
'Kickin' It at the Barn', their first studio album in three years.

egendary California rock band Little Feat will kick off a world tour in support of its latest album Kickin' It at the Barn with a stateside jaunt beginning in April. The band will tour the States throughout the year, breaking in late June for a two-week tour of Europe.
Little Feat has a huge music catalog and on this tour fans can expect to hear songs spanning its entire 35-year career, as well as selections from Kickin' It at the Barn. The band is also known for switching their set around from night to night. "This year we are going to greatly expand our repertoire so that the shows will be more diverse than before, if that's possible," said guitarist/vocalist Paul Barrere.
Little Feat's long and winding history took root in 1969 when songwriter, performer, multi-instrumentalist, and all-around colorful character Lowell George, formerly of Frank Zappa's Mothers of Invention, set out to form his own band -- at Zappa's suggestion. The brilliant and often idiosyncratic George connected with keyboard master Bill Payne, and, along with drummer Richie Hayward and Roy Estrada, founded Little Feat. They were soon signed to Warner Bros., where Little Feat, in various configurations, would remain for twelve of their sixteen albums.
This initial line-up recorded the band's first two LPs -- their rootsy, 1971 self-titled debut, featuring the classic "Willin'," and its follow-up, Sailin' Shoes, which added "Easy to Slip," "Trouble," "Tripe Face Boogie," "Cold Cold Cold" and the infectious title track to their repertoire. Upon Estrada's departure in 1972, Barrere, Sam Clayton and Kenny Gradney (all still in Feat today) signed on, and the rest, as they say, is history... and many more great albums.
Next up was Dixie Chicken (1973), a New Orleans-influenced gumbo of greatness that offered up the signature title track and "Fat Man in the Bathtub," among other delights. The two LPs that followed, Feats Don't Fail Me Now ('74) and The Last Record Album ('75) served up "Rock & Roll Doctor," "Oh, Atlanta," and "All That You Dream," respectively, while 1977's Time Loves a Hero offered up, in fine Feats fashion, another unforgettable title track. That same year delivered Waiting For Columbus (reissued in 2002 by Rhino Records as a deluxe and expanded 25th anniversary edition), which instantly became one of the all-time great rock 'n roll albums, serving up bringin'-down-the-house versions of a host of Feat favorites including "Dixie Chicken," "Fat Man in the Bathtub," "Time Loves a Hero," "Sailin' Shoes," "Oh Atlanta," and "Willin'."
During Little Feat's recording of their eighth album as a group, 1979's Down On the Farm, founding member Lowell George -- who had already been veering towards solo work -- met a tragic and untimely passing. Except for Hoy Hoy, a 1981 full-length assemblage of rarities, live performances, previously overlooked tracks, and a new song apiece from Payne and Barrere, Little Feat disbanded until the mid-'80s. Barrere and Payne remember that a chance jam session in 1986 brought them together again, when they were reminded of how deeply Little Feat's music was ingrained in them.
In 1988, the reformed band -- with new members Craig Fuller (handling George's vocal duties) and Fred Tackett -- rekindled Feat's magic for fans old and new alike. That year, they released the lively reunion album Let It Roll, and the singles "Hate To Lose Your Lovin'," and the title track. The 1989 follow-up, Representing the Mambo, would prove to be their last for Warner Bros. Next came 1991's Shake Me Up (on Morgan Creek), after which Fuller departed the band. Little Feat added a new lead singer, Shaun Murphy, in 1993, and released an acclaimed studio album, Ain't Had Enough Fun in 1995 (this time on Zoo).
This incarnation of the band -- which remains current today -- was captured live to great effect on '96's Live From Neon Park, a two-CD set culling performances from multiple concert venues including San Francisco's fabled Fillmore Auditorium, Portland, Oregon's Roseland Ballroom, and L.A's House of Blues on the Sunset Strip. Named after the renowned album cover artist whose striking images gracing Little Feat's released was a time-honored tradition (until his death from ALS in 1993), this live-fest featured all the band's best-loved songs as well as their contemporary material.
In 1998, Little Feat released Under the Radar, their first album on CMC International. Spotlighting a confident and well-oiled configuration of first-rate talents, the album delivered a consistently strong set of songs including new Feat favorites "Home Ground," "Eden's Wall" and "Calling the Children Home." With 2000's Chinese Work Songs, also on CMC, Little Feat's ever-evolving repertoire grew even more, featring original compositions including "Marginal Creatures," "Eula" and "Another Sunday," as well as vibrant covers of Bob Dylan, The Band and Phish songs. Rhino/Warner Bros. saluted Little Feat's accumulated musical history that year with the comprehensive retrospective Hotcakes & Outtakes: 30 Years of Little Feat, a deluxe 4-CD, 83-track boxed set that features hits from all of Little Feat's classic albums as well as fan favorites, althernate takes and hand-picked rarities from the band's eventful past.
Scheduled for release on April 6, 2004, Kickin' It at the Barn adds to the ever-growing repertoire on the band's very own Hot Tomato Records. "It's something we've talked about doing for a long time," says founding member Bill Payne of launching the label, adding, "it gives us the chance to do what we want, and it's there for everybody in the band... and when it's really up and running, for other artists too." Hot Tomato kicked off in June '02 with the inaugural releases Raw Tomatoes and Ripe Tomatoes, each a double-CD collection of live rarities spanning over three decades.
Most of the songs on Kickin' It at the Barn were written last year in Fred Tackett's studio in Topanga Canyon, Calif., which was also being built as the recording went along. Kickin' It at the Barn is an eclectic mix of funk/boogie/country/honky tonk/blues/jam rock blended together in that special way that has defined the Little Feat sound for the past 35 years. "If music is a conversation between the players, then we are talking like never before," said Paul Barrere. "This has truly been one of the most memorable recording projects we've ever done."
Vocalist Shaun Murphy, along with her husband Piero and long-time friend Laura Creamer, co-wrote the track "I'd Be Lyin'," on which Murphy sings the hauntingly beautiful lead. Little Feat also chose to record a more electric version of "In a Town Like This" from Fred Tackett's solo album of the same name. Keyboardist Bill Payne traveled to Texas to collaborate with Stephen Bruton (producer of Marcia Ball's latest Grammy-nominate release "So Many Rivers") and a host of Mexican musicians on the Tex-Mex up-tempo fiesta "Corazones Y Sombras" (Hearts and Shadows). The oldest track on the album is the instrumental "Stomp," which Bill Payne began writing during 2000's Chinese Work Songs sessions. "We finally caught the groove on that one," said Barrere.
Kickin' It at the Barn was recorded live in the studio with very few overdubs. The band plays over 100 shows each year, making the musicians very musically connected to each other. "We just seemed to click on all cylinders," said Barrere. "With each new song we just caught the feel, and it felt like the band was just swinging along. It has been a great time creating new music."



| | |
| --- | --- |
| The Who - Then & Now | |

The Who's first new studio recordings since 1982 join 18
of the band's biggest hits on a new compilation from MCA.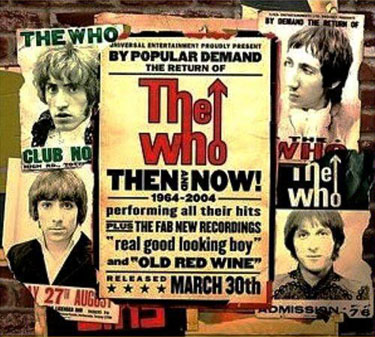 he "now" is the first new studio recordings from The Who in 22 years. The "then" is a celebration of one of the greatest bands in rock history during the 40th anniversary year of the British Invasion. Together, The Who - Then & Now (MCA/UMe), released March 30, 2004, becomes the only collection to span the group's entire recording career, 18 of its biggest hits and best-loved tracks from 1965-1981 and now two brand-new songs.
"Real Good Looking Boy," a tribute to Elvis Presley, and "Old Red Wine" were penned by guitarist Pete Townshend and feature lead vocals by Roger Daltrey. The tracks signal a return to the studio for the Who in what Townshend calls "our 'new' Everly Brothers format." Recording over the next few months is expected to result in a forthcoming album, the Who's first since 1982. "Real Good Looking Boy" and "Old Red Wine" are glimpses into that project.
Joining Townshend and Daltrey on "Real Good Looking Boy" are most of the bandmembers from the Who's 2002-2003 tour -- guitarist Simon Townshend (Pete's brother), long-time Who keyboardist John "Rabbit" Bundrick, and drummer Zak Starkey -- plus bassist Greg Lake. Pino Palladino, who took on the bassist role following the 2002 passing of John Entwistle, was occupied playing on the Simon and Garfunkel tour. The Who will tour again in 2004 as well, including headlining the Isle of Wight Festival this summer.
The Who - Then & Now opens with Daltrey, Townshend, Entwistle and drummer Keith Moon debuting in 1965 with "I Can't Explain." They followed with the timeless anthem "My Generation." "The Kids Are Alright" practically invented power pop and, along with the first two tracks, appeared on the band's first album, My Generation.
The singles "Substitute" and "I'm A Boy" preceded "Happy Jack," the Who's Top 40 chart breakthrough in America from the 1967 album of the same name. That year's The Who Sell Out yielded its first U.S. Top 10, "I Can See For Miles." 1968's Magic Bus spun off the psychedelic Top 40 title track before the rock opera Tommy arrived the next year with the Top 20 "Pinball Wizard" plus "See Me, Feel Me." A cover of Eddie Cochran's "Summertime Blues" then went Top 40 from 1970's Live At Leeds. In 1971, The Who's best-selling album, Who's Next, boasted the Top 40 "Behind Blue Eyes" and Top 20 "Won't Get Fooled Again."
"5:15" and the grand "Love, Reign O'er Me" starred on the 1973 rock epic Quadrophenia while 1975's The Who By Numbers counted the Top 20 "Squeeze Box" among its tracks. Three years on, Who Are You's title track (here in its single edit) was Top 20. The Who soldiered on after Moon's death that year but 1981's Face Dances logged its most recent Top 20, "You Better, You Bet," and 1982's It's Hard appeared to be its final album.
As the "now" in The Who - Then & Now indicates, there is yet more to come.

comments powered by