| | |
| --- | --- |
| '70s Holiday Gift Ideas | |

These recently released CD's and books are sure to please any
Seventies music fan on your shopping list this holiday season.
THE BEATLES - Abbey Road Anniversary Edition (Apple Corps Ltd./Capitol $18.97) This is the first time Abbey Road has been remixed and presented with additional session recordings and demos. To create Abbey Road's new stereo mixes, Giles Martin and Sam Okell worked with an expert team of engineers and audio restoration specialists at Abbey Road Studios. The Deluxe 2CD set pairs the new stereo mix, sourced directly from the original eight-track session tapes with versions taken from the session takes and demo recordings of its 17 songs, sequenced to match the album's running order. The two discs are presented in a digipak with a 40-page booklet. * * * *
BOB DYLAN - Travelin' Thru, 1967 - 1969: The Bootleg Series, Vol. 15 (Sony Legacy, $25.19) The latest chapter in the highly acclaimed Bob Dylan Bootleg Series revisits Dylan's pivotal musical journeys to Nashville, from 1967 to 1969, focusing on previously unavailable recordings made with Johnny Cash and unreleased tracks from the John Wesley Harding, Nashville Skyline, and Self Portrait sessions. 3 CDs. * * * *
NEIL YOUNG - Colorado (Reprise, $14.89) Colorado is the first new Neil Young with Crazy Horse album since 2012's Psychedelic Pill. The album will be released on October 25th and features 10 new Neil Young compositions. It includes several songs that Neil has been playing live in the past few months (eg: "Rainbow of Colors," "Green Is Blue" and "Milky Way"), and the epic 13+ minute track "She Showed Me Love." The vinyl version of the album comes with a bonus 7" single, featuring an album outtake "Truth Kills." * * * 1/2
BRUCE SPRINGSTEEN - Western Stars - Songs From The Film (Columbia, $12.31) Western Stars - Songs From The Film is the companion album to the Warner Bros. feature film, Western Stars. The collection features each of the live performances captured in Bruce Springsteen's directorial debut Western Stars. The soundtrack includes every song from Springsteen's most recent and critically-acclaimed studio album of the same name, as well as a cover of Glen Campbell's Rhinestone Cowboy. * * * * *
FREDDIE MERCURY - Never Boring (Hollywood Records, $118.99) Incomparable. Irreplaceable. But never, ever boring. Freddie Mercury's spirit is every bit as central to the fabric of popular music today as it was during his unforgettable lifetime. Now comes a unique box set release to showcase the full range of his musical talents and passions, and their indelible imprint on the worlds of pop, opera and far beyond. 3 CD's. * * * *
JEFF LYNNE'S ELO - From Out Of Nowhere (Columbia, $11.29) From Out Of Nowhere is the new album from Rock & Roll Hall of Famer and music legend Jeff Lynne, and follows up a remarkable run of sold out European and American tours. Jeff Lynne's ELO, whose music has touched fans deeply across three generations now, has found himself in recent years at the peak of his powers as a songwriter, musician and producer. This new collection features a buoyant title song which opens the ten-track record including the wistful "Help Yourself" to the celebratory "Down Came the Rain" to the churning rocker "One More Time" to the sweet closer, "Songbird." * * * *
THE ROLLING STONES - Bridges To Buenos Aires (Eagle Rock Entertainment, $21.36) Bridges To Buenos Aires is the latest concert film release from The Rolling Stones' archive. The full-length show from their five night sell-out residency at the River Plate Stadium in Argentina's capital city has been restored in full and features a very special guest appearance from Bob Dylan on "Like A Rolling Stone." Filmed on April 5th 1998, by this point, the band had played to over two million people on the first two legs of the tour in North America and Japan. DVD+2CD Edition. * * * *
RINGO STARR - What's My Name (Ringo Starr Records, $11.95) What's My Name, Ringo's 20th studio album, features brand new recordings with special guests Paul McCartney, Joe Walsh, Edgar Winter, Steve Lukather & Dave Stewart. * * * 1/2
ELTON JOHN - Me (Henry Holt and Co., $17.60) In his first and only official autobiography, music icon Elton John reveals the truth about his extraordinary life, from his rollercoaster lifestyle as shown in the film Rocketman, to becoming a living legend. Elton also writes powerfully about getting clean and changing his life, about finding love with David Furnish and becoming a father. In a voice that is warm, humble, and open, this is Elton on his music and his relationships, his passions and his mistakes. * * * *
DEBBIE HARRY - Face It (Dey Street Books, $19.69) Face It has more than enough detail to satisfy any Debbie Harry fan, from her New Jersey childhood, her early days in New York, and the rise and fall and rise of her iconic band, presented in a forthright, almost laconic style not unlike her controlled performance in the "Heart of Glass" video. It gives readers the experience they want: All the dirt without sacrificing the art. Total punk. * * * 1/2




| | |
| --- | --- |
| The Greatest Beatles Movie Never Made | |

Liverpudlian Middle-earthers? It almost happened!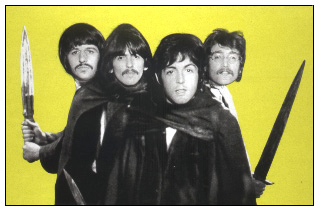 By Josh Karp in Esquire

BACKSTORY: When J. R. R. Tolkien's The Fellowship of the Ring was published in 1954, the Beatles were in or heading into their early teens: the perfect age to have the books indelibly imprinted on their young imaginations.
By 1963, the band was a cultural phenomenon with a three-picture deal from United Artists. Their first two movies (A Hard Day's Night and Help!) had already proved successful. Their vision for a third film was a trippy, mind-bending adaptation of Tolkien's trilogy that they hoped would be directed by Stanley Kubrick and star Paul as Frodo, Ringo as Sam, George as Gandalf, and John as Gollum. Kubrick, however, was working on 2001: A Space Odyssey and uncharacteristically declined to pursue the project on the grounds that it was unmakeable.
The Beatles continued pursuing the project and tried buying the rights from Tolkien, but the author rejected their offer and refused to negotiate. As it turns out, Tolkien primarily objected because he hated the band, whose impact on Western culture he deplored.
FUN FACT: Tolkien's animus toward the Beatles also had a personal dimension. As he wrote in a letter to a friend, "In a house three doors away dwells a member of a group of young men who are evidently aiming to turn themselves into a Beatle Group. On days when it falls to his turn to have a practice session, the noise is indescribable."