| | |
| --- | --- |
| Roy Rogers Is Riding Tonight | |

The Boss' 19th studio album is an homage to '60/'70s
pop music, peppered with hope-filled characters.
Bruce Springsteen
Western Stars
ROCK (Columbia)

By Maura Johnston in Entertainment Weekly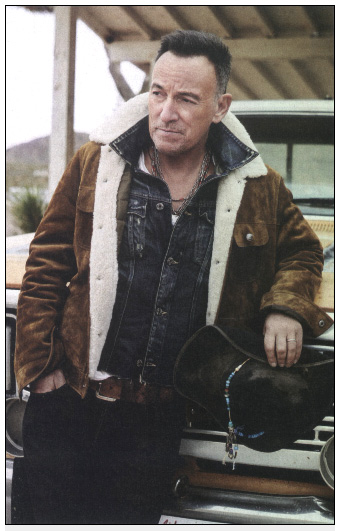 ruce Springsteen has spent the past few years reminding observers why he's called the Boss -- writing an autobiography, playing the longest shows of his marathon-studded career, selling out a run on Broadway. Now that the footlights have dimmed, he's back to releasing music, and his 19th album is a gorgeous love letter to the idea of songs providing salvation, a credo that has animated his four-decade-plus recording career.


| | |
| --- | --- |
| Released on June 14 via Columbia, Bruce Springsteen's 19th studio album Western Stars is his seventh solo album, his nineteenth studio album overall, and his first album of all-new material in seven years. Its 13 tracks feature the previously released cuts "Tucson Train," "There Goes My Miracle," and the lead single "Hello Sunshine." "This record is a return to my solo recordings featuring character driven songs and sweeping, cinematic orchestral arrangements," Springsteen said in a statement. "It's a jewel box of a record." | |
Western Stars, Springsteen's first full album of originals since 2012, opens with the 69-year-old's weathered burr -- still one of American music's most singular instruments, but a bit gnarled by time -- paired with a fingerpicked guitar, singing of hitting the road with nothing but his songs and his dreams. The song, "Hitch Hikin'," is a slow-burner, its gradually swelling orchestrations adding gravitas to the images the narrator collects during his travels -- telephone poles and trees, dashboard photos, the illusion of constant movement. It's dreamy in a way that recalls passenger-side views on late-night drives, beckoning the listener to come along for the rest of the ride.



Springsteen has said Western Stars is his homage to the pop music that flowed from Southern California in the late '60s/early '70s. The lush arrangements of songs like the heart-eyed "Tucson Train" and the brokenhearted, string-laden "There Goes My Miracle" certainly recall the era of Bacharach and Webb. The coda of "Stones" gives his stoic vocals an emotional counterpoint by way of a twisty, insistent violin solo.



Stars' storytelling is also peppered with the hope-filled characters that the New Jersey native has drawn over his career: The central figure of the boot-scooting "Sleepy Joe's Café" "came home in '45 and took out a GI loan/ On a sleepy little spot an Army cook could hall his own"; the eponymous narrator of the simmering "Drive Fast (The Stuntman)" "was looking for anything, any kind of drug to lift me up off this ground" and found love on a B-movie set; the drifter of "Hello Sunshine" looks for redemption on barren streets.



Placing intricately detailed portraiture on massive musical backdrops has been a Springsteen for years, of course, and Western Stars continues this legacy, transforming the enormous into the intimate. That's the sort of magic Springsteen specializes in conjuring -- and he clearly has little interest in slowing down his ride. A-



| | |
| --- | --- |
| Dylan's Magical Mystery Tour | |

Acclaimed director and rock music buff Martin Scorsese
marries his two greatest passions once again.
Rolling Thunder Revue

STARRING Bob Dylan
DIRECTED BY Martin Scorsese
RATING NR
LENGTH 2 hrs., 22 mins.

By Chris Nashawaty in Entertainment Weekly
o other filmmaker has married his dueling passions for cinema and music like Martin Scorsese. Just think about the way he used the Stones' "Jumpin' Jack Flash" in Mean Streets or "Gimme Shelter" in Goodfellas. And then there are his master-class documentaries like The Last Waltz. It's a given that Scorsese's knowledge of film history is encyclopedic, but it's also fair to assume that the guy probably has a vinyl collection to match.
In this powerful and playful new film, Rolling Thunder Revue, Scorsese invites us to ride shotgun in his wayback machine to 1975 -- a time when America was still licking its Vietnam and Watergate wounds on the way to its bicentennial. The country needed the healing power of rock & roll. Then, along came Bob Dylan, like a barnstorming carny barker with a wild band of oddballs (Ramblin' Jack Elliott, Allen Ginsburg, Joni Mitchell), offering live-wire salvation.
The Rolling Thunder tour played small venues, electrifying fans with old classics ("Knockin' on Heaven's Door") and songs from the soon-to-be-released Desire ("Hurricane"). Scorsese expertly mixes concert footage (featuring Dylan in white Kabuki face paint) with more recent interviews with the tour's main players and co-conspirators that play fast and loose with the facts. As for Dylan himself, at 78, he's at turns introspective, grumpy, and a bit of a merry prankster. The narrative trickery occasionally feels too clever by half, but before you can object, there's Dylan singing a poignant duet with ex-flame Joan Baez or blistering through "Isis" to knock you back on your heels. Rolling Thunder was Dylan's magical mystery tour -- and in Scorsese's hands, there's no shortage of magic or mystery. A-