| | |
| --- | --- |
| New Vibrations | |

The hidden connections between George Harrison's sprawling
debut solo album and an overlooked Beach Boys masterpiece.
By Jordan Runtagh in Entertainment Weekly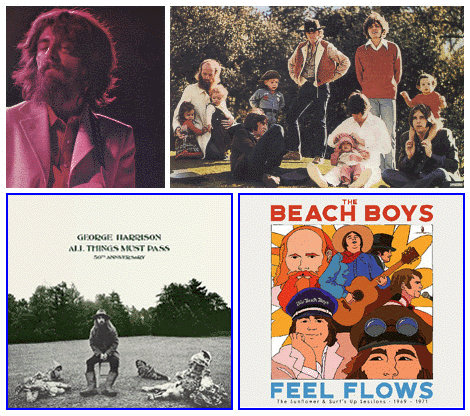 s the 1960s came to a close, the Beatles and the Beach Boys were both fighting to survive amid changing times and evolving internal dynamics. Ultimately, the latter remained intact while the former disintegrated -- in effect ending the bands' seemingly parallel trajectories through stardom over the previous decade. But comparisons between the two groups persist half a century later with the release of two new box sets: a 50th anniversary reissue of George Harrison's 1970 triple disc, All Things Must Pass, and the Beach Boys' Feel Flows: The Sunflower & Surf's Up Sessions 1969-1971. The two projects serve as fascinating inverse parallels of each other, one a man shedding the constraints of compromise and the other a triumph of collaboration.
Harrison began studio sessions for All Things Must Pass in May 1970, just weeks after the Beatles' split became public. Years of contributing only two or three tracks per album had left him with a formidable backlog. The group passed on "Hear Me Lord," "Let It Down," and All Things Must Pass' title track -- and his resentment bled through on songs like "Run of the Mill," a deft sketch of the Beatles' interpersonal squabbles. Free at last after years of Lennon-McCartney rule, Harrison unleashed an explosion of pent-up music that perfectly married his spirituality and humor to expertly crafted melody and harmony. Over two days he demoed 30 tracks for co-producer Phil Spector, who built his trademark "wall of sound" by recording a vast ensemble and thickening the results with reverb and echo. In the months before his 2001 death from cancer, Harrison expressed a desire to "liberate" the songs from this maximalist production. The recent reissue fulfills that wish, revealing Harrison's meticulous arrangements.
Spector is also a critical character in the Beach Boys' story, having inspired leader Brian Wilson's approach to hitmaking. But by 1969, Brian's addiction and mental health struggles forced him to abdicate his role as the band's gracious dictator. An image problem added to the Beach Boys' woes, and by the dawn of the '70s they were dismissed as candy-striped has-beens. But a new record deal offered a glimmer of hope. Like Harrison, they saw a chance for a fresh start -- though one they would embark on together, as a group of equals.
Brian's younger brother Carl, who took over as the band's primary producer and musical director, oversaw sessions for Sunflower. Although Mike Love, Al Jardine, and Bruce Johnston all made valuable contributions, another Wilson brother emerged as an unlikely MVP, with Dennis Wilson morphing from the band's party-boy drummer into their secret weapon. The four tracks he co-wrote on Sunflower, including the classic ballad "Forever," rank among the album's best. He also penned a significant portion of the previously unreleased music now available on Feel Flows. It's the sound of a talented, consistently sidelined songwriter coming into his own. Dennis and Harrison fulfilled similar roles in their groups: Their dormant, patient brilliance was hidden in plain sight.
Though critically lauded, Sunflower was commercially ignored. But Harrison's All Things Must Pass was a smash, topping the charts and spawning the No. 1 single "My Sweet Lord." Sales aside, both albums are artistic triumphs, showcasing two entities that endured -- and thrived -- after losing their longtime creative engines.
Bolstered by the good reviews, the Beach Boys returned to the studio in 1971 to begin work on Surf's Up (also explored on Feel Flows). The record marked a turn toward darker, more socially conscious material and even less involvement from Brian. As the Boys transitioned into this new phase, the Quiet Beatle dropped by the studio to visit. Oh, to be a fly on the wall for that conversation.



| | |
| --- | --- |
| Plenty of 'Respect', but no soul | |
The new Aretha Franklin biopic lacks one crucial ingredient.
By Mary Sollosi in Entertainment Weekly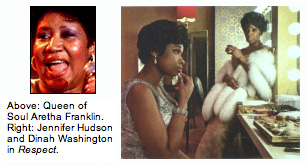 RESPECT
STARRING Jennifer Hudson, Forest Whitaker, Marlon Wayans
DIRECTED BY Liesl Tommy
RATING | TIME PG-13; 2 HRS., 24 MINS.

he most common failure of most biopics is simple untrustworthiness: When a movie's subject is a bona fide icon of singular talent, it's all the more conspicuous when the film itself has the originality of an overly reverent book report. Respect (released on Aug. 13, a full year after its original scheduled release date due to the pandemic) isn't nearly as compelling a movie as Aretha Franklin was a singer, and even though the film never fully captures her brilliance, it does at least effectively allude to it. Those glimmers of greatness come, appropriately, in the music. Franklin herself hand-picked Jennifer Hudson to play her (and was involved in the film's development until her death in 2018), and the Oscar winner, singing every song live, does as well as anyone conceivably could to emulate the sound of the Queen of Soul's otherworldly instrument.
Conveying Aretha as a person turns out to be the more elusive task. Chronicling a 20-year span -- from Franklin's childhood (the easily Googled traumas of which are somewhat confusingly glossed over) to the landmark 1972 live recording of her Amazing Grace album -- Liesl Tommy's film gives a wide, if not deep, perspective on her career in the context of her faith, her activism, and her complex family life. Ultimately, Respect generally hits the notes it needs to, both musically and historically, but comes up short in the most crucial ingredient -- soul. C+