2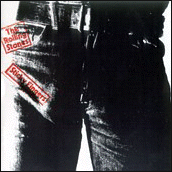 STICKY FINGERS
The Rolling Stones
Rolling Stones, 1971
Designer: Craig Braun
Concept and Photography: Andy Warhol

t a party in New York in 1969, Andy Warhol casually mentioned to Mick Jagger that it would be amusing to have a real zipper on an album cover. A year later, Jagger proposed the idea for Sticky Fingers, the first release on the new Rolling Stones label.
Album packager Craig Braun had also suggested releasing the album in a clear plastic jacket with heat-sensitive liquid crystals inside -- "so you could make your own little Joshua Light Show," he says -- as well as with a mammoth foldout cover of Jagger's castle in the sound of France. But Jagger knew what he wanted: The packaging of Sticky Fingers proved the Rolling Stones had not lost their gift for outrageousness and, as their first post-Altamont studio album, very shrewdly moved the Stones away from what Braun calls "the evil thing" and into a more sexual mode.
Sticky Fingers also debuted the famous Stones logo: a caricature of Jagger's lips and tongue. The heavily merchandised image was soon incorporated into pendants, key chains, belt buckles and even tattoos.
Warhol took the cover shot; though many assumed the model was Jagger, it has often been rumored to be a hanger-on at the Factory, Warhol's studio, named Joe Dallesandro. Then Braun realized there had to be an extra layer of cardboard to protect the record from the zipper; that layer features another Warhol shot of a different man, possibly the twin brother of Warhol's "boyfriend" and assistant Jed Johnson, this time in his jockey shorts.
But it turned out that during shipment the zipper would press into the album stacked on top of it (invariably damaging "Sister Morphine"); Atlantic Records threatened to sue Braun for all the damage. After getting "very depressed and very high," Braun came up with the solution; pull down the zipper before the album was shipped -- then it would dent only the label. Braun never did figure out how to keep Sticky Fingers from scratching other album covers.
At first, several department store chains refused to display the album because of the model's rather snug jeans. "If you stand back from that cover," says Braun, "you can actually see the guy's dick. I used to kid Andy: 'I know you had that guy playing with his dick before you shot the picture!'"