1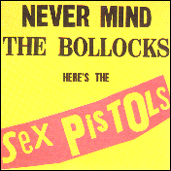 NEVER MIND THE BOLLOCKS, HERE'S THE SEX PISTOLS
The Sex Pistols
Virgin, 1977
Designer: Jamie Reid

n 1976, Sex Pistols manager Malcolm McLaren sent a telegram to Jamie Reid: "Got these guys; interested in working with you again." Reid's stint as the Pistols' art director would result in many of rock's most provocative designs. The son of a liberal newspaper editor, he had studied at Croydon College of Art (where he and McLaren instigated student sit-ins), then bought a printing press, which he used to produce a "shit stirring" community paper; he also designed and printed the first English-language anthology of the situationists, a group of European artists of the 1950s who advocated anarchic pranks against capitalist ventures.
"It wasn't the pop phenomenon that interested me," says Reid. "I saw punk as part of an art movement that's gone over the last hundred years, with roots in Russian agitprop, surrealism, dada and situationism." His posters and record sleeves, he says, were designed "to articulate ideas, many of which were anti-establishment and quite theoretical and complicated." Reid often appropriated and subverted familiar images; posters for the Pistols' second single, "God Save the Queen," depict the queen of England with a punk-rock safety pin through her lip.
The publicity generated by the Pistols' antics made it unnecessary to put their faces on records -- "They were ugly anyway," Reid once said -- so Never Mind the Bollocks, Here's the Sex Pistols' cover flaunts what he calls "cheap hype." He had to revise his design continually because of changes in the album's title and contents. "It caused me enormous aggravation," says Reid. The ransom-note lettering was quickly imitated by hundreds of punk bands. According to Catherine McDermott's Street Style: British Design in the 80s, Reid's work "did much to democratize the process of art and design." That is, he did for art what the Pistols did for music -- make it seem easy and fun.