"Looks Like We Made It"
Barry Manilow
Arista 0244
July 1977
Billboard: #1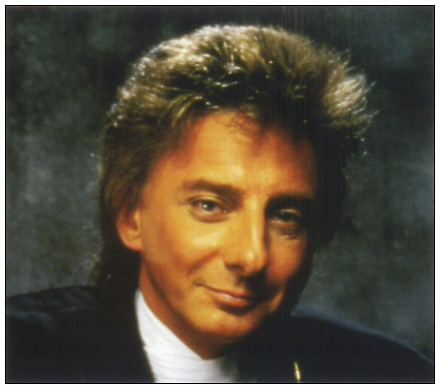 ooks Like We Made It" could well sum up the career of Barry Manilow. "Nobody was more surprised than I was when I became successful," he told interviewer Robyn Flans. "I was one of the millions of people waiting to find out who would be the next pop success since there really wasn't anybody on the horizon. I looked up one afternoon and realized it was me... What a nice surprise, but it was terrifying... No one is ever prepared for it."
| | |
| --- | --- |
| Brooklyn-born Barry Alan Pincus, better known as Barry Manilow, scored his eighth Billboard Top 40 hit and third No. 1 smash with "Looks Like We Made It." The record was the second single ("Weekend in New England" being the first) from Manilow's fourth Arista album This One's For You. The LP entered the Billboard Hot 200 album chart on Aug. 21, 1976, peaking at No. 6 and spending 60 weeks on the chart. The album was certified gold on Aug. 17, 1976; platinum on June 16, 1977, and triple platinum on Sept. 2, 1987. | |
It might have been hard to guess that the Brooklyn teenager who did not care for Elvis Presley would one day reach the peak of the same Billboard Hot 100 that the King topped 17 times.

At 22 years old, he was so desperate to get his music career going that he wrote to the Playboy adviser column asking what he should do. The magazine printed his letter and told him to "go sew your wild musical notes."

He had some experience already, writing an original score for the off-Broadway musical version of The Drunkard and working as musical director for WCBS-TV's Callback! series. He took Playboy's advice to heart and formed a musical duo with Jeanne Lucas. He was the piano player and arranger and she was the vocalist, until a club in Richmond, Indiana, booked them as a singing duet. On the plane trip to Richmond, Barry quickly learned how to sing "Georgy Girl" and "Somethin' Stupid."

Jeanne and Barry had a two-year run at Manhattan's Upstairs at the Downstairs, opening for Joan Rivers. Then Barry was asked to fill in as house pianist at the Continental Baths.

He took the job and in the spring of 1972, a red-headed dynamo named Bette Midler was booked to sing at the Baths. Barry soon became her musical director, arranger and pianist. When she signed with Atlantic Records, he co-produced and arranged her first two albums, The Divine Miss M and Bette Midler.

Meanwhile, Barry had played some of his songs for a friend, Ron Dante of The Archies and "Sugar, Sugar" fame who was also singing commercial jingles. They decided to record a demo tape together and between the two of them, came up with five thousand dollars to cut it. "It was really a toss-up as to who was going to sing, Ron or me," Barry told Merv Griffin. But Barry knew the words to the songs and sung them on the demo, and Bell Records offered him a deal if he would agree to tour.

"I had never even considered fronting a band or being a soloist and when I was given the opportunity, I had a lot of thinking to do about it," Manilow told Robyn Flans. "I wanted to make that album because I just loved being in the studio, but I really wanted to be a composer, arranger or producer. I didn't want a singing career."

Coincidentally with Bell's request for him to tour, Midler asked him to be the musical director of her first national tour. He agreed, with the understanding that he would be allowed to sing three songs. He was given the unenviable position of opening the show's second act, following Bette's "Do You Want to Dance?"

"Looks Like We Made It" was composed by Richard Kerry, the man who wrote the music for Manilow's first number one single, "Mandy," and lyricist Will Jennings, who would later pen the words for Joe Cocker and Jennifer Warnes' 1982 number one smash "Up Where We Belong." It debuted on the Hot 100 at number 88 on May 7, 1977, and became Barry's third chart-topper 11 weeks later. By January, 1981, Manilow had scored an impressive run of 18 consecutive top 40 hits, a string broken by "Lonely Together," a number 45 record in April, 1981.

- Fred Bronson, The Billboard Book of Number One Hits, Billboard, 1988.


Reader's Comments
No comments so far, be the first to comment.