"Mandy"
Barry Manilow
Bell 45613
January 1975
Billboard: #1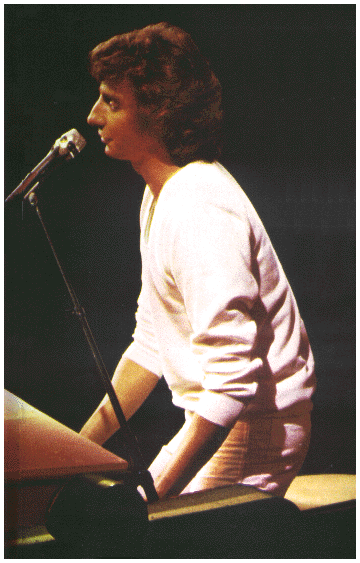 arry Manilow didn't think "Mandy" was a very special song the first time he heard it. Actually, it was still called "Brandy" then, and it had spent two weeks on the Billboard Hot 100 in March, 1972, when its lyricist, Scott English, reached number 91 with his version. "I was recording (my) second album and I was trying desperately to make hit records and break through," Manilow told Dick Clark. "I was doing boogies and I was doing rock and roll and I was doing introverted Jacques Brel type stuff, and Clive (Davis) showed me this... pleasant little song. I said, 'Oh, that'll just be an album cut," and I did it as a favor. Who would know that this little album cut would turn out to be the beginning of my career?"
| | |
| --- | --- |
| "Mandy" was Brooklyn-born vocalist/pianist/composer Barry Manilow's first charting Top 40 single, and his first of three No. 1 singles in the 1970s. Formerly a minor single by Scott English as "Brandy," "Mandy" was the third track on Manilow's 1974 album Barry Manilow II, which after reaching No. 9 on the Billboard Hot 200 prompted Arista Records to rerelease his first album, Barry Manilow I, nine months later. Barry Manilow II spent a whopping 58 weeks on the chart, was certified a gold seller by the R.I.A.A. on July 18, 1975, and a platinum million-selling album on Sept. 2, 1987. | |
The original version was more uptempo, but Davis, who had just become the president of Bell Records (and would soon change the name to Arista), suggested it be recorded as a ballad. "He also wanted it for the single," Barry revealed in a 1975 Billboard interview. "I figured it was risky for new artists to release a ballad. But he said, 'This is a very special ballad, I'm telling you.' So I listened to him."

"Mandy" was the first Barry Manilow single to chart. Entering the Hot 100 at number 67 on November 16, 1974, it took nine more weeks to rise to the top.

Barry Manilow was born June 17, 1946, in Brooklyn, New York. "When he was two years old, I saw talent in Barry," his mother, Edna Manilow Murphy, said. "We had the radio on all the time in our house... and he used to dance in his little diapers. When he was seven years old, I put an accordion in his hands. He played it beautifully... and later, we bought him a piano. He put his fingers on the piano, and forgot about the accordion."

His father had deserted the family when Barry was two. He was 13 when his mother remarried. "Willie Murphy changed the course of my life," Manilow said in Seventeen magazine. "Until he came along, I was being raised by people who were from the old country -- Russia. What turned them on were horas and folk music... Mom wasn't really into contemporary music, and nobody told me there was jazz out there or show music. But the first thing Willie Murphy did was take me to a Gerry Mulligan concert. I'll never forget it; it was the biggest thing in my life."

His friends were turned on by Elvis Presley, but Barry couldn't care less about rock and roll. He was more interested in his stepfather's record collection, which included albums by June Christy, Chris Connor and Stan Kenton as well as Broadway cast albums like The King and I and Carousel.

At Eastern District High School in Brooklyn, Barry was voted best musician. He attended City College of New York briefly, but deciding that music would be his career, he switched to the New York College of Music, then was accepted at Julliard. To pay the rent, he held down one in a series of odd jobs -- he was employed in the mailroom at CBS Television in Manhattan, where on his daily rounds he dropped off the mail to programming chief Fred Silverman.

- Fred Bronson, The Billboard Book of Number One Hits, Billboard, 1988.


Reader's Comments
No comments so far, be the first to comment.