"Give Me Love
(Give Me Peace On Earth)"
George Harrison
Apple 1862
Jun. 1973
Billboard: #1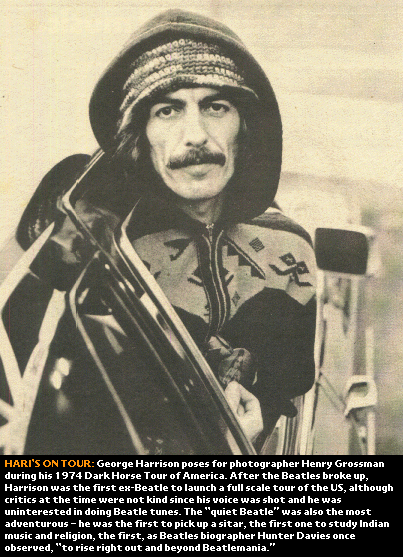 ollowing George Harrison's first number one single ("My Sweet Lord"/ "Isn't It A Pity") in December 1970, Apple Records in America released "What Is Life" in March 1971, a song originally written for Billy Preston ("Will It Go Round In Circles"). But George realized the song wasn't suitable for Preston and recorded it himself for his All Things Must Pass album. There was no follow-up single from the album in the United Kingdom; British fans had to wait until July, 1971, for George's next single, "Bangla-Desh," a song written after musician Ravi Shankar asked George to organize a charity concert to aid the starving people of that country.
On August 1, 1971, two concerts for Bangla-Desh took place at Madison Square Garden in Manhattan. The artist roster for this benefit included Ringo Starr, Bob Dylan, Eric Clapton, Leon Russell, Billy Preston, members of Badfinger and Harrison and Shankar. Almost a quarter of a million dollars was raised from the concerts alone; proceeds from the triple album and the movie that followed brought the total amout raised to fifteen million dollars. Legal problems prevented all of the funds actually reaching the people of Bangla-Desh; only a fraction of the amount raised went to feeding the people of that nation.
| | |
| --- | --- |
| "Give Me Love (Give Me Peace On Earth)" was the only single to be released from George Harrison's 1973 album Living In the Material World. Released in May 1973, the album was number one in the US for five weeks and remained on the charts for a total of 26 weeks. George mentions the names of the other three Beatles in the album's title track. | |
After the concert album was released in December, 1971, George did not release another new recording until the single "Give Me Love (Give Me Peace on Earth)," the only 45 to be released from his album Living in the Material World. George discussed the song briefly in his book I Me Mine: "Sometimes you open your mouth and you don't know what you are going to say, and whatever comes out is the starting point. If that happens and you are lucky -- it can usually be turned into a song. This song is a prayer and personal statement between me, the Lord, and whoever likes it."

Following "Give Me Love," George had four more singles on Apple, then started his own label, Dark Horse. Although he made the Top 20 with "Crackerbox Palace" in 1977 and "Blow Away" in 1979, he didn't have another major hit until 1981, when his tribute to John Lennon, "All Those Years Ago," held at number two for three weeks.

It was all those years ago that the George Harrison story began. He was born February 25, 1943, in Liverpool, the fourth child of Harold and Louise Harrison. George attended Dovedale Primary School, where he probably never met a fellow student who was three years older -- John Lennon. At 13, George bought his first guitar. The same year, he formed a group called the Rebels with his brother Peter and some friends.

In 1958, George met Paul McCartney. At the same time, Paul joined John Lennon's group, the Quarrymen. When George was introduced to John, he was challenged: "If you can play as good as Eddie Clayton, you're in." George played "Raunchy" on his guitar and was admitted to the Quarrymen.

Before forming Johnny and the Moondogs with John and Paul, George spent the autumn of 1959 working as an apprentice electrician at a Liverpool store, Blacklers. The following year, the 17-year-old Harrison went to Hamburg to work with John, Paul and Pete Best at the Indra Club. By December, George was deported for being under-age and not having resident or work permits.

George wrote songs for the Beatles as early as 1963 ("Don't Bother Me"), but it was difficult for him to get the group to record his material, one of the problems that led to the group's breakup. Harrison's other compositions for the band include "I Need You," "You Like Me Too Much," "Taxman," "Love You To," "Piggies," "Savoy Truffle," "While My Guitar Gently Weeps," "Here Comes the Sun," and "Something" (#3, 1969), the only Harrison song to become a hit single for the Beatles.

- Fred Bronson, The Billboard Book of Number One Hits, Billboard, 1988.


Reader's Comments
No comments so far, be the first to comment.