"Will It Go Round In Circles"
Billy Preston
A&M 1411
Jul. 1973
Billboard: #1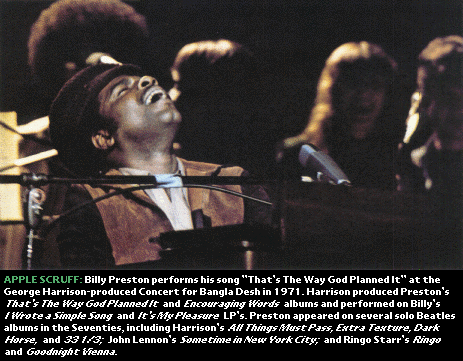 fter he became the only American artist to share label billing with the Beatles (on "Get Back" in May 1969), Billy Preston was signed to Apple Records, where he recorded two albums. Up until that time he had been a keyboard player and a studio musician; now he was given the freedom to be a vocalist and co-produce his own material (with George Harrison, who recruited musicians like Eric Clapton, Ginger Baker and Keith Richard to play on Billy's sessions).
But when the Beatles' empire began to fall apart, Billy suggested he leave the label and did so with good wishes. Back in Los Angeles, he signed with A&M Records and recorded the album I Wrote a Simple Song. A&M released the title song as a single, but Preston preferred the instrumental "B" side, "Outa-Space." So did radio stations across the country, and that side peaked at number two.
With songwriting partner Bruce Fisher, Billy joked one day that he had a song but no melody. Those words became part of "Will It Go Round in Circles," Billy's first solo number one single. Thanks to its success, Fisher was able to resign his job in the mailroom at NBC in Burbank, California.
| | |
| --- | --- |
| "Will It Go Round In Circles" and Billy Preston's five other Top 40 hits are among the 20 tracks featured on The Ultimate Collection, released by Universal/Hip-O in March 2000. | |
Billy was born September 9, 1946, in Houston, Texas. He was raised in Los Angeles, where by the age of three he was playing piano. His mother was the organist for the Victory Baptist Church and Billy was asked to direct the church choir. He played the organ when Mahalia Jackson appeared at the church and watching that performance was the producer of the motion picture St. Louis Blues. He cast 10-year-old Billy as the young W.C. Handy, the man known as the "father of the blues." It was Preston's only film role until he appeared in the motion picture Let It Be with the Beatles.

Billy was signed to Sar Records, the label owned by Sam Cooke and in 1962 Billy joined a gospel tour starring Cooke and Little Richard. When they arrived in England, they discovered it wasn't a gospel tour at all -- the kids wanted to hear rock and roll. Billy played rock for the first time and loved it. It was during this tour that he first met the Beatles, who asked him questions about America and one of their idols, Little Richard.

In 1965, Billy was playing clubs in Los Angeles when he was visited by Sounds Incorporated, the British band who backed Little Richard on the '62 tour. They brought television producer Jack Good to the club and he invited Billy to become the resident keyboard player on his Shindig series.

During a rehearsal for the show, Billy sat in for his idol, Ray Charles. When Charles heard Billy sing "Georgia on My Mind," he invited him to record on his next album. In 1967, Charles toured Europe and introduced Billy as the man he'd like to carry on the work he had started. It was a concert at the Royal Festival Hall that attracted George Harrison to Preston and led to his joining the Beatles on "Get Back."

After the Beatles broke up, Billy performed on Harrison's All Things Must Pass album, and was invited by George to perform a song at his Concert for Bangladesh benefit at New York's Madison Square Garden in 1971. In addition to the Grammy-winning "Outa-Space" and "Will It Go Round In Circles," Billy's gold singles in the Seventies included "Space Race" (#1) in 1973 and "Nothing from Nothing" in (#1) in 1974. In 1975, he wrote what would become Joe Cocker's biggest solo hit, "You Are So Beautiful" and recorded and toured with the Rolling Stones.

Preston kept active in the recording studio through the late Seventies, though his solo career had declined after his early and mid-Seventies hits. A 1979 duet with Stevie Wonder's ex-wife Syreeta Wright, "With You I'm Born Again," was a Top 5 hit, but Billy could not restart his career. In the 1990's he was involved in several brushes with the law, pleading no contest to charges of assault and possession of cocaine and was sentenced to lengthy prison sentences and drug treatment programs.

- Fred Bronson, The Billboard Book of Number One Hits, Billboard, 1988.


Reader's Comments
No comments so far, be the first to comment.