presents
| | |
| --- | --- |
| Rod Stewart - In His Own Words | |

You hear that voice on the radio and you know it immediately. Rod's music has ranged from plaintive ballads to disco rockers, and his popularity is universal. Also, his ability to attract some of the world's loveliest women is a matter much discussed by his contemporaries.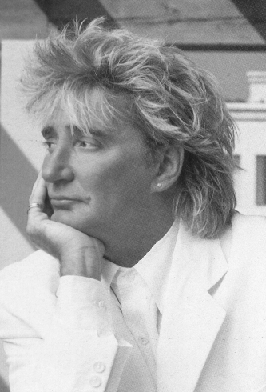 l Jolson was a strong influence on me. I do a lot with my hands, like he did. My family used to collect his records. Even now, at Christmastime, we still go through a Jolson routine. My brother does an absolutely marvelous Jolson impersonation. The whole family is into it. I was brought up on Jolson.
Then I got into folk music, listening to Woody Guthrie, Jack Elliot, Leadbelly. Then into black music -- Sam Cooke, Otis Redding -- and some Eddie Cochran. But I didn't start out in music. In 1964 I had just left a job in the cemetery. Me and my mates, we all had long hair, so we couldn't get jobs. I wasn't in the music business. I remember seeing the Stones before an audience of twenty-eight, thirty people. I will never forget that. Ron Wood says to me now, "Why don't you come to see us?"


---

Rod Stewart's Seventies
Billboard Top 40 Singles

"Maggie May" 8/71 #1
"I Know I'm Losing You" 11/71 #24
"You Wear It Well" 9/72 #13
"Angel" 12/72 #40
"Tonight's The Night" 10/76 #1
"The First Cut Is The Deepest" 2/77 #21
"The Killing Of Georgie" 7/77 #30
"You're In My Heart" 11/77 #4
"Hot Legs" 3/78 #28
"I Was Only Joking" 5/78 #22
"Do Ya Think I'm Sexy?" 12/78 #1
"Ain't Love A Bitch" 5/79 #22

---
I said, "I did in 1964. I don't want to see you again."
It was a tremendous time. The Yardbirds had Eric Clapton and Jeff Beck at that time, and I knocked around and listened. I fancied myself as a singer, and I would be at the railway station singing with a bunch of guys, playing harmonica and singing while waiting for the train. One night, and this is absolutely true, Long John Baldry heard me singing at the station. He was on the other platform, waiting to go the other way. This is after Cyril Davies died of alcohol poisoning, which I thought was a very heroic way to go.
Baldry says to me, "Why don't you join the band?" which was called the Hoochie Coochie Men. This is '64, just after the Stones first record came out. Baldry was taking a piss. He said, "I will pay you £35 a week," which was a good wage for singing three, four nights, three songs a night. I thought, this guy has got to be mad.
We did our first gig at Manchester University. We had one rehearsal, one single rehearsal. I said to John, "What am I going to do? I only know one song, 'The Night Time Is the Right Time'," the Ray Charles thing.
And John says, "Don't worry. Just get up there and sing." One of the guys in the band gave me a pill. It was a black pill, a black bomber. I didn't know anything about drugs, but I took it. It made the song last for almost an hour. I just kept singing the same verses, over and over. That is how I got started.
I never thought any of this would happen to me, are you kidding? All I wanted in those days was a £300 sports car, an Austin-Healey Sprite. The only thing I wanted out of the music business was this car.
But it was an amazing period when I started. I never liked the Beatles or Herman's Hermits. Rock 'n' roll for me was the Stones and the Yardbirds. It was that kind of music that put me in touch with Jeff Beck. We were all out of work. I had been fired from Steampacket, which was Brian Auger, Long John, and Julie Driscoll. Brian thought I was earning too much money. I was getting 10 percent off the gross, but it was just an excuse. He wanted me out, and he wanted John out. So he got rid of me, and then he fired John. So I was out of work, Woody was out of work, the Byrds just folded, and Beck had left the Yardbirds. I think we all bumped into one another at the Cromwellian Club one night. It was a little place on Cromwell Road. I think we had been there to see Jimi Hendrix.


| | |
| --- | --- |
| | "I never liked the Beatles or Herman's Hermits. Rock 'n' roll for me was the Stones and the Yardbirds." |
Beck's was a miserable fucking band, horrible. Beck is a miserable old sod, but I do love him as a guitar player. But he can be miserable. Me and Woody, though, had a lot of fun. To this day we are like blood brothers. I am actually thinking of asking him to do this tour with me. Everyone tells me he's straightened himself out. He really has survived. There was a time he didn't see daylight for seven years. I went to his wedding. You've never seen such chaos in your life. All the Stones except Jagger were there. The Who was there. And Woody leaves his brothers behind. Just forgot about his brothers. Left them in his mom and dad's house. His brother was supposed to be best man. They get to the church, and Woody says, "Oh, where has my brother gone?" He does bumble through life, but he has such a lovable nature that you can't be cross with him for very long.


Me and Woody had a lot of fun in the Faces. It was the ultimate heavy-drinking band. Not because we had a mission in life to be a load of boozers. We were scared shit, and we didn't think we were very good. We were all big drinkers, so that is how we got our image. The truth is, I can't listen to those records. People must hear something I can't hear. The Faces sound so out of tune, so out of time. We never had the musicianship. Individually we were good, but we did not come together as a band. Don't get me wrong, it was a great band to be in. We did so many things. We were the first band to trash a hotel. We were womanizers. We came along at a point when everything was extremely serious. Marc Bolan was topping the bill at a big outdoor festival, and everyone was talking music extremely seriously. Marc's head was down as he played. Then we came along, blind drunk and laughing.


The friction came when promoters started putting up signs, Rod Stewart and the Faces. Billy Gaff used to have to get into a town early so he could make sure they took those signs down. He didn't mind it as long as the boys didn't see it. One night a promoter didn't take the sign down and there was hell to pay, quite rightly. We had all started together, and I had no intentions of leaving the band. But there you are. Woody went with the Stones, then we lost Ronnie Lane. For me, Lane was the Faces. He was to the Faces what Keith Richards is to the Stones. Once Lanie left, it took the ass out of it for me.


Reader's Comments
No comments so far, be the first to comment.