presents
| | |
| --- | --- |
| Randy Newman - In His Own Words | |

There is no defining what Randy Newman does. His lyrics have been praised, his voice panned. And he wrote "I Love L.A.," the theme song of the Los Angeles Lakers basketball team.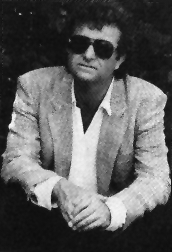 os Angeles has had an enormous influence on my music. I can't tell exactly why. Maybe it's because film music was in Los Angeles, and my family was in film music. Or that I've always liked living in L.A., or the obvious examples, "I Love L.A.," or "God Song," where the god I'm writing about is sort of a California god because of all the yucca trees out in the desert.
Los Angeles has probably affected my work habits in an adverse way in that it's a difficult town to bear down in. I never learned to work -- in school or anywhere. Eastern kids, like Paul Simon, now there's someone with a good work ethic.
I've always tried to say something. Often it was a joke. Eccentric lyrics about eccentric people. I would plead guilty on the grounds that I prefer eccentricity to the bland "I love you, you love me, we're as happy as we can be, let's go party under a tree." If I wrote them like that, we'd all be in the same business.


---

Randy Newman's Seventies
Billboard Top 40 Singles

"Short People" 12/77 #2

---
I've been called pungent. I prefer pungent to satiric. But I never pay attention to that stuff because it can't do me any good. Either it makes you self-conscious, or it depresses you.
There was one song I wrote that I thought was cruel after I wrote it. I didn't think "Rednecks" was cruel, or "God Song," or "Davey the Fat Boy" because it was obvious there was something wrong with the protagonist in the song, the narrator. In "Short People," it's the narrator that's the untrustworthy guy, not the short person.
But the song I wrote called "The Blues," the one I did with Paul Simon, that one almost made fun of sensitivity. It made fun of a kid who had trouble, a kid who would rush to his room to play the piano. That was wrong. I can't think of another song of mine that I regret in the slightest, but I do regret that one.
I'm not very careful. I've written things that I didn't think were all right, and I let them go. I wrote a song, "Half a Man," about homosexuality as a contagious disease. I got some letters and some calls on it, but I thought it was funny. It was a song about the lack of understanding of homosexuality, but it hurt some people. Some gay people said my doing the song wasn't worth it, but it was to me.
I once played "Rednecks" in Lafayette, Louisiana, and they'd all stand up, which is not the right reaction but it's the one you get in the South. I get this letter from a black kid who was three, and he says, "I don't know where you're coming from, but I am sitting in a room with 1,500 white people, and there's this white guy up on stage saying 'nigger,' and these people are standing up, and you know, it disturbed me." I called the kid, and I think I explained it to his satisfaction, but I don't feel that I've ever been guilty of bad taste.


| | |
| --- | --- |
| | "I'd be interested to know how many people who say they're going to try to write a hit song actually do. I've never done it." |
There's more allowed now. I mean, Prince is as interesting a writer as Cole Porter was. They're a lot alike. In the videos, you can see the similarity.
The first thing I ever did was the B side of "Lovers by Night, Strangers by Day," by the Fleetwoods. Mine was a summer song called, "They Tell Me It's Summer." I was trying to capitalize on the season. And I kept that up. Every season I'd write, "Oh, it's fall, look at the leaves."


I don't think I was ever hungry for success. I was talking to my mother about that just the other day. She told me I never wanted anything. There was this motorscooter I wanted one time, but I didn't seriously want it, because I knew if I got it I'd die. But I wasn't really hungry because I was never really poor. It wasn't that I was disdainful of success, but it didn't tear me up when I didn't get it. Except after "Short People." When I finished the album right after "Short People," I didn't want to fly in a small plane. I didn't want the plane going down and me not knowing how the record did. As it turned out, I should have flown in the small plane.


Whatever success I've had as a songwriter, I guess I have to trace back to my friendship with Lenny Waronker. His father played in the orchestra at Fox when my Uncle was there, so I know Lenny since I was one. He's two years older than me. I remember when I was four or five, he would tell me stories. I would be the audience. He would say, "Let's ride on this tricycle." He'd get on the back and I would pull him, and we'd fall off. I would get hurt and he wouldn't. I still have scars from that tricycle. He'd say, "We can do this, we can do that," and I would be the one who ended up getting smashed. And it was that way with songwriting. I was studying classical music, and Lenny said, "Why don't you try writing some songs?"
Lenny tried to get me to sign with Warners for no money. I said, "I can't believe that. You're my friend. A&M is offering me $10,000, and Warners is offering me nothing? Fuck you."
He got so pissed off at me. He had a terrible temper as a kid. We'd play football, and he'd get mad and walk off the field. Of course, I do remember getting the $10,000 from Warners.
Warners would love me to write more hits. I'd be interested to know how many people who say they're going to try to write a hit song actually do. I've never done it. Maybe I should try. It would certainly be a nice thing to do for the old record company, but I don't think I'm capable of saying, "Gee, I'm going to try to write three hit singles on this one." I just write what comes out. Like "Short People." It just came out. I had no idea it would be a hit. I just looked at is as another one-twelfth of what I have to do to get my half a million.
But "Short People" was the worst kind of hit anyone could have. It was like having "Purple People Eater." I'd try to watch a ball game and the band would play the song and the announcers would make jokes about it. It was too noisy. I prefer quiet money.


Reader's Comments
No comments so far, be the first to comment.