presents
| | |
| --- | --- |
| Linda Ronstadt - In Her Own Words | |

Linda has shown a musical curiosity and a willingness to take risks with her career for almost three decades. Her talent is so versatile that it seems natural she's handled rock, country, Latin, and Broadway -- all with relative ease.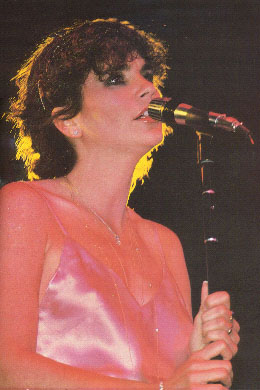 he Troubadour was like a café society. Everyone was in transition. No one was getting married, no one was having families, no one was having a particular connection, so our connection was the Troubadour. It was where everyone met, where everyone got to hear everyone else's act. It was where I made all my musical contacts, and found people who were sympathetic to the musical styles I wanted to explore.
We all used to sit in a corner of the Troubadour and dream. I remember one night, I was on my way to the bathroom, during a hootenanny, and this band, Shilo, starts doing my exact version of "Silver Threads and Golden Needles." I was flabbergasted. Shilo ultimately became the Eagles.


---

Linda Ronstadt's Seventies
Billboard Top 40 Singles

"Long Long Time" 9/70 #25
"You're No Good" 1/75 #1
"When Will I Be Loved" 4/75 #2
"Heat Wave" 10/75 #5
"Tracks Of My Tears" 1/76 #25
"That'll Be The Day" 9/76 #11
"Blue Bayou" 10/77 #3
"It's So Easy" 10/77 #5
"Poor Poor Pitiful Me" 2/78 #31
"Tumbling Dice" 5/78 #32
"Back In The U.S.A." 9/78 #16
"Ooh Baby Baby" 11/78 #7

---
We would all sit around motel rooms together, and they'd be working out harmonies. They were so good. When I heard them sing "Witchy Woman" in the living room of J.D. Souther's house, where I was living at the time, I knew the Eagles were going to make it.
The Eagles backed me up, but I was the one who was inconsistent onstage. I could do a real good show in one town, and the next night would be like the first time I'd ever gotten up onstage. I was never comfortable repeating what I'd done the night before.
But I got tougher being on the road with the Eagles. I walked differently, I became more foulmouthed. I mean, I swore so much I sounded like a truck driver. But that's the way it was. I was the only girl on the road so the boys always kind of took charge. They were working for me, and yet it always seemed like I was working for them.
I could never quite get used to being a celebrity, or the idea that people were looking at me and I was up there with all the responsibility. It made me so uncomfortable that I would have preferred standing behind the amplifiers.
Years later, I'm doing Pirates of Penzance on Broadway, and Jerry Wexler comes to see the show. He invited me out to his house on Long Island, and he started playing me all these different kinds of songs. Pop songs. Non-rock. He said, "You could sing this kind of stuff."
I said, "No. You really have to be a singer to do that." But the songs affected me so completely that they became the way I dreamed.


| | |
| --- | --- |
| | "I like the stuff I did with Nelson Riddle better than anything I've ever done. My entire life, the accumulation of all my experience as a person, went into the work with Nelson." |
My roots are folk roots. I remember in 1964, an actor friend of mine played me Frank Sinatra's Only the Lonely album. I said to my friend, "That guy sings in Vegas." But I listened to the record and knew it was one of the best records I'd ever heard.
But I never got any real encouragement to do that kind of music, maybe a couple of friends lurking here and there, but it wasn't until I met with Nelson Riddle that I really started believing I could sing those songs.
I always think I'm not a very good singer, and I feared that Nelson wouldn't want anything to do with me. I was afraid he'd go, "Linda who?" Or, "She's jive. She's not a singer, I don't want to waste my time." I didn't even know if he was still alive, or whether he had retired. But I did know that he was the only person besides Randy Newman that I'd ever heard write stuff with an orchestra that I thought was right.


I like the stuff I did with Nelson Riddle better than anything I've ever done. My entire life, the accumulation of all my experience as a person, went into the work with Nelson. Those three records summed up everything I knew to that point. Everything I'd read in books, everything I'd ever seen, everything I'd ever learned from talking to people, every feeling I'd ever felt went into those records.


All my life since I've been making records, I always tried real hard, but I always thought I'd failed. "You're No Good" and "Heat Wave" are good records, but I still feel like I didn't sing very well on them. I was always very disappointed in my contribution to them, even though I turned myself inside out with effort.
But with the Nelson things, I feel differently. I don't think they're as good as Frank Sinatra or Billie Holiday, but they're different. They're a different statement from a different point of view in a different time. I feel like they were authentically mine, my statement, an authentic representation of the amount of effort and thinking I put into it. To me, it was like floating on ecstasy.
To be able to sing Nelson's arrangements was like floating in pure musical ecstasy and emotion. It was so heavenly I hated for it to end.
Now I know it's ended forever. I know Nelson will never write those charts for me again, and I'm never going to have that exquisite pleasure of having him come over with his briefcase, and hearing him grumbling about whatever he was grumbling about that day -- his dog, his kid, the weather outside. We would sit down at the piano, we'd put the music out, we'd start to talk about it, then laugh about some stupid thing, and then go in and do it.


Reader's Comments
No comments so far, be the first to comment.