presents
| | |
| --- | --- |
| John Fogerty - In His Own Words | |

This is a voice you can identify immediately if you listened to any pop music during the late Sixties and early Seventies. A powerful personality, John broke up Creedence Clearwater when he felt it had served its purpose, waged legal war with his record company, and made an interesting comeback in 1985 with a Number 1 record.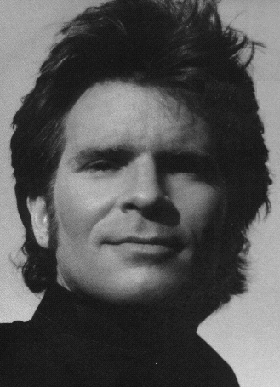 reedence was different from a lot of the other bands in San Francisco. We may have looked a lot like everyone else in those days, but I was antidrug, which was a weird stance to be taking then. I did my very small share of dabbling with marijuana, but that was as far as it ever went.
I think I was antidrug because I was paranoid about getting caught. But I am also one of those people who do not like to be out of control. When I got stoned, I'd become paranoid and I'd stare at the wall and not be able to do anything.


---

Creedence Clearwater Revival's
Billboard Top 40 Singles

"Suzie Q (Part One)" 9/68 #11
"Proud Mary" 2/69 #2
"Bad Moon Rising" 5/69 #2
"Green River/ Commotion" 8/69 #2/#30
"Down On The Corner/ Fortunate Son" 11/69 #3/#14
"Travelin' Band/Who'll Stop The Rain" 2/70 #2
"Up Around The Bend" 5/70 #4
"Lookin' Out My Back Door" 8/70 #2
"Have You Ever Seen The Rain" 2/71 #8
"Sweet Hitch-Hiker" 7/71 #6
"Someday Never Comes" 5/72 #25

---
Creedence was also different from the others musically. My roots were in Memphis. My idols were Howlin' Wolf, Elvis, Jimmie Rodgers, all in a way traditionally American.
When you hear "Proud Mary" and "Bad Moon Rising," it sounds so all-American. People forget that it came out right in the middle of the acid period and the Strawberry Alarm Clock and Grateful Dead. That's what was all around us, and yet I was preserving my own vision of what I thought rock 'n' roll should be.
But I never thought we were good enough at the time. We were young and not particularly good musicians, including myself. "Suzie Q" was recorded when I was twenty-two, "Proud Mary" when I was twenty-three, "Bad Moon Rising" when I was a baby. I was a pup and I never felt we had the soul of a band like James Brown's. But what I did not realize at the time was that James Brown may have been young in the Fifties, but the guys in his band weren't even a band, they were older session guys, which meant they had a lot of experience. What I failed to understand was how really young we were.
It's taken me all these years to be able to say we were awfully good. Very, very good. During our time, when were were at our peak, I don't think anybody could top us. I have always said that the best rock 'n' roll band of all time was Booker T. & the MG's, and I still believe that. But we had material they did not have, and we had a singer they did not have. It's like measuring a baseball team, position for position. Maybe they had us beat, but as a team, we were probably the World Series champs.
But the success became a nightmare, a wonderful love affair gone sour. Looking back now, I wish we'd had an outside manager instead of me. If we'd had Brian Epstein, maybe we could have all been screaming at him, which would have taken the burden off me. I know now that it would have been wiser to have a fall guy.
The end of Creedence was like what Will Rogers said about real estate. "They ain't making any more of it."
Now, our records just sit there in a time warp. I'm really proud of them. They are a testament to what people can do with no one to help them other than themselves.


| | |
| --- | --- |
| | "A young Michael Jackson, or a young Brian Wilson, or a young John Fogerty are all kids who absolutely understood what a pop hit record was." |
We were four guys from a small town called El Cerrito, totally outside the mainstream of the record business. We did not have a Hollywood manager. We were not even on a Hollywood label. We were basically a P.O. box, distribution-type deal, a rocket ship built in the basement that just exploded.
Every day we went into our little room and rehearsed and rehearsed. We wanted to be the best in the world. It could have gone on for fifteen years. It did not have to die because of one shortsighted individual who shot the goose that laid the golden egg. He wanted the eggs and he poisoned the goose.
The great ones are always able to go on, but the tragedy with us is that we weren't ready to hang it up, and I feel like the rug was pulled out from under us.


---

Creedence Clearwater Revival's
Billboard Top 10 Albums

Bayou Country 5/69 #8
Green River 9/69 #1
Willy And The Poor Boys 12/69 #3
Cosmo's Factory 8/70 #1
Pendulum 1/71 #7

---
What followed was me reaching the stage where I could not write anymore. Creatively it went away, and I knew it was gone, and that was a terrible thing for someone who had been doing so well.


In the entertainment business, you can be a genius at eighteen and the very best in your field at twenty, twenty-one. A young Michael Jackson, or a young Brian Wilson, or a young John Fogerty are all kids who absolutely understood what a pop hit record was.
But by the time I entered my thirties, I was slowly drying up. I kept trying, and it kept coming out lousy. Suddenly, I began to feel like I could no more make a hit record than the guy out in the street running a jackhammer. It went away, I knew it was gone, and I also knew I would get it back if I worked hard at it. I always had the faith, but while it was gone, I was miserable.
Basically, I am like all those artists who died and then become legends after they die. And in a way I did die. The miracle is that I did find my way back again.
Creatively now I can compete. I don't want to be an oldies act. Ricky Nelson said, "If memories were all I sang, I would rather drive a truck." I agree with that, but I also recognize that millions of people know me for "Proud Mary."
When I'm registering in some hotel in Arizona, and the guy behind the desk looks up at me and says, "You look familiar," I always go "Proud Mary." And no matter what his age is, he goes, "Oh, yeah, 'Proud Mary.'"


Reader's Comments
April Louise Stuyvesant
I love you always have. Would love to meet you. But I bet you get that a lot
Sky_Pilot
John Fogerty was, and still is, one of the greatest guitar player's the US ever had.