presents
| | |
| --- | --- |
| Jerry Garcia - In His Own Words | |

He was the heart and soul of the Grateful Dead. His loose approach to life and his remarkable ability to play guitar in many forms -- along with the dumbfounding longevity of his band -- set him apart from most of the rock world.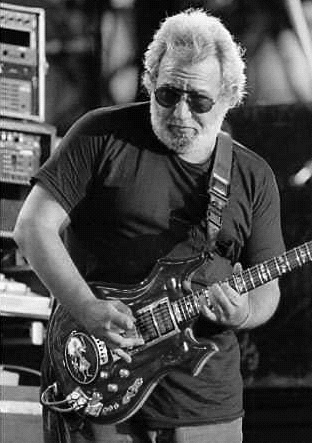 started out when I was fifteen years old. My father was a professional musician, and I had taken piano lessons all my life, which I learned nothing from. At fifteen I fell in love with electric guitars, mainly Chuck Berry's and I just wanted to make that sound in the worst way.
But by 1959 I didn't think it was cool anymore to play rock'n'roll. It was getting to be unfashionable. Somebody turned me on to folk music and I heard that sound of a bluegrass banjo, and that completely copped my attention. So that was a three-, four-year excursion into that world.
Bobby Weir and Pigpen where both in the jug band with me. But Phil Lesh was a guy I knew from Berkeley. He was the first guy I ever knew who was a total music lover. He was also the first guy I ever knew with perfect pitch. He had the best musical education, a music major. He took me over to his apartment at Berkeley, and there he was with a card table and no piano. I couldn't fucking believe it. He turned me on to all sorts of music. He was also a jazz trumpeter with an incredible background in classical music. But he wanted to join a rock band because it was during that period that everybody was looking for something neat to do. The Beatles movie A Hard Day's Night had just come out, and it looked like fun.
Sounded like hell, though, for the first few gigs. But pretty soon, because of Pigpen's solid ground in blues, we got to be a pretty fair blues band. When we played the bars, we had to play Top 40 songs. We played Rolling Stones songs, the Chicago/Chess Records sound. Basically, we got our first gigs because we were a blues-oriented Rolling Stones-style band.
We started taking acid when we were still the Warlocks. We didn't do it at shows. But we were playing these divorcee bars up and down the peninsula. We had a booking agent named Al King who booked dog acts, magicians, and strippers. Between him and the Local 6, that's how we worked. We worked six nights a week, five sets a night, the standard bar thing for about a year. After that, you're ready for anything.
A guy named Page came to one of our late sets, and he told us about the parties every Saturday night up at Ken Kesey's place. Page said, "You guys should come up there". Luckily, the following week we got fired and we had nothing to do. Saturday comes around and we went to one of those parties that later became known as the Electric Kool-Aid Acid Test.
After a while they moved the party out of Kesey's place and started sending guys out to rent bigger rooms. We just set up our equipment and everybody would get high. Kesey and his Pranksters were doing this for a long time, so they knew how to set up these kinds of things. Mostly it was completely free. There were no real performances of any kind. Everybody there was as much the performer as they were the audience. We plugged for five minutes, and we devastated these people. They begged us to come back to the next one, and we did. The neat thing about the acid test was that we could play if we wanted to. But if it was too weird, we didn't have to play. That was the only time we ever had the option of not playing.


| | |
| --- | --- |
| | "To the kids today, the Grateful Dead represents America -- the spirit of being able to go out and have an adventure." |
Drugs were always around. I had my own personal bad run-in for about ten years with hard drugs, but the rest of the band never really agreed on drugs. There were always guys in the band who would take anything.
Luckily, our first record was not a huge success. It did OK, hit a little bit, and gave us national exposure. So now we got to play in New York and other places, but that we weren't immediately successful helped us in a huge way. It gave us a chance to be slow and deliberate about our own development. It kept us interested. Hell, we had to keep on working, which is really what we wanted to do anyway. We would have loved it if our first record went gold, but since it didn't, no major loss.


So now someone comes along, Lenny Hart, and he burns us for a couple of years, no problem. It was like having someone working in your scene working against you. The thing that made me mad about Lenny was that he wasn't smart enough to exploit us the way we would have exploited ourselves, if we had cared to. Lenny was like a dumb crook, and we're still here.


I haven't the slightest idea why we've been able to continue doing it twenty-three, twenty-four years later in front of audiences who weren't even alive the first time around. You'd think most of today's Deadheads would come into it with some sense of history, but they don't. They haven't read Kesey. To the kids today, the Grateful Dead represents America -- the spirit of being able to go out and have an adventure. It's like the thing to do, go out and follow the Dead around. You can trade stories. It's like a traveling Woodstock that can be shared with your friends. That's what motivates audiences now. We represent something like hopping railroads or getting out on the road. It's not supposed to be done anymore, but being a Deadhead means you can get in your van and cross the U.S.
We ponder the thought of these people daily. It's become our life, really. How the Deadheads deal with us and each other is a matter of basic concern to us. These people are from today, not the past. They are their own people, self-designed, and they're a big reason why the band continues to hang in there every day.


Reader's Comments
No comments so far, be the first to comment.