presents
| | |
| --- | --- |
| Graham Nash - In His Own Words | |

He's been part of music history with two of the best bands ever -- the Hollies and Crosby, Stills and Nash. Through it all, Graham seemed to radiate dignity and style in an era when neither was much in vogue. Socially conscious, he spurs others on to participate in his causes and beliefs.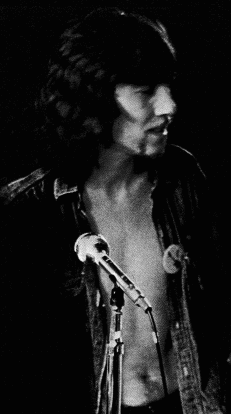 remember going to a school dance and listening to the Everly Brothers do "Bye Bye Love." It paralyzed me. I had to stop what I was doing, which was walking across the dance floor. And I stopped because I was so shocked musically. Right at that moment, something inside of me said, "I want to make people feel what I feel at this moment."
Jumping ahead to the Hollies' music, it was, of course, a lot lighter than Crosby, Stills, Nash and Young. And the pressures were totally different. In fact, I can't remember much pressure with the Hollies. We were having too good a time. We were five guys who escaped from Manchester, in the north of England. We escaped from the cycle of doing what our fathers did, and what their fathers before them did. You know, work forty years, get a gold watch, and then die. Music saved our ass, so we never really succumbed to the pressure of "What do you do after you've had a Top 10 record?"
But in the late Sixties, I changed as a person. In '67, in America, I met Mama Cass. She turned me on to grass. I started smoking a lot, I started to get more introspective, which was one of the reasons why I was attracted to Crosby. He didn't live under the surface. He was right out there, on the surface, telling you exactly what he felt, even if you didn't ask him.


---

Crosby, Stills, Nash & Young's Seventies
Billboard Top 40 Singles

"Woodstock" 4/70 #11
"Teach Your Children" 6/70 #16
"Ohio" 7/70 #14
"Our House" 10/70 #30
"Just A Song Before I Go" 7/77 #7

---
But it was partly through David that I began to realize that there was much more to music than creating a three-minute pop hit, which the Hollies were brilliant at. And so my experiments with dope opened my eyes to the fact that life was serious, that there was more to talk about than moon, June, and spoon in the back of the car. One of the reasons I left the Hollies was so I could play deeper music, deeper than the fluff the Hollies were doing. Naturally, the Hollies had their biggest hit, "Long Cool Woman (in a Black Dress)," after I left. Pissed me off, but it didn't surprise me. They had an uncanny knack at finding hit songs.
When I told people I was leaving the Hollies, they said, "You're leaving fame, fortune, and all these hits? Are you crazy?" But they didn't know one vital secret, I had sung with David and Stephen. I knew what it sounded like. I wasn't crazy at all.
When I met Crosby, it was at his house in Laurel Canyon. He was prone, on his back, rolling a joint. He had no idea who I was.
David was with the Byrds, and Stephen was with Buffalo Springfield, and one night we're riding in Stephen's Bentley. I'm sitting in the back, Stephen and David are in the front, and suddenly they look at each other, point to me in the back, and David says to Stephen, "OK, which one of us is going to steal him." Little did they know that I had totally had it with the Hollies by then.
I was very different from Crosby and Stills. Crosby was volatile, and Stephen was crazy. In our first year together, we spent probably eleven months together, twenty-four hours a day. We could sing our entire first album with just a couple of guitars. We would sit people down and we would say, "Listen to this," and we would rip off these ten songs, do them brilliantly and floor people. People would fall down. People like Paul Rothchild, Peter Fonda, Cass, John Sebastian, and all the Hollywood folk-rock people were knocked right on their ass.


| | |
| --- | --- |
| | "Talking about Woodstock is like talking about the Second World War... It was overwhelming." |
But when we went out to play live, Stephen soon realized that David and I didn't play guitar well enough to play lead with him. So Stephen schemed with Ahmet Ertegun and Elliot Roberts to get Neil Young involved. Neil had just put out a solo album, and it wasn't exactly burning the charts down, and that's how we formed Crosby, Stills, Nash and Young.
Joni Mitchell and I were an item right around the time of Woodstock. We were in New York, and she was going to be doing "The Dick Cavett Show." Rumors about Woodstock kept multiplying and multiplying. First, we hear 20,000 people will be there. Then, my God, we hear 100,000! Joni wanted to go, and I said, "If you go, I can't guarantee that I can get you out of there and back to do the Cavett show," which was an important show at the time.
So Joni didn't go to Woodstock, and she was able to sing "Woodstock" based on information given to her by us and Sebastian.


---

Crosby, Stills, Nash & Young's Seventies Billboard
Top 10 Albums

Deja Vu 4/70 #2
4 Way Street 5/71 #2
So Far 10/74 #5
CSN 7/77 #2

David Crosby/Graham Nash's Seventies Billboard
Top 10 Albums

Graham Nash/David Crosby 5/72 #6
Wind On The Water 11/75 #8

---
I still wear a button on the lapel of my jacket that says, "I Do Not Remember Woodstock." Talking about Woodstock is like talking about the Second World War. It was the first time I had ever been in a helicopter. About twenty or thirty feet from the ground, the black rotor blade stopped, the body of the helicopter started spinning, and the pilot wound up having to slam the thing into the ground. That's how Woodstock started for me. It was overwhelming."


I get a kick when people tell me how different Deja Vu sounds from our first album. David, Stephen, and I were in love with each other during the first album. Musically, we ate, drank, and slept together every night. I was with Joni, and that was flowering. Stephen was with Judy Collins, and that was flowering. David was with Christine, and that was flowering. Within a year, it had all changed. My relationship with Joni had turned sour, Stephen had stopped going with Judy, and David's girlfriend, Christine, had been killed. We were knocked for a loop. We were all romantic people, and our love-lives were in shambles. Then bring in Neil and plug into his insanity, and it's amazing Deja Vu ever got recorded.
I remember one night at the Fillmore East in New York. We were playing, and Dylan had come to see us. Our live shows usually would break down to an acoustic first half, followed by an intermission, followed by an electric set for the rest of the night. Within that structure, we would all have acoustic solos. I would do two songs, David would do two songs, Stephen would do two songs, and Neil would do two songs.
But on this particular night, because Dylan was there, Stephen goes out and does five songs. It pissed everyone off righteously. We all wanted to impress Dylan, and yet Stephen takes it on himself to go overboard. Well, we were all so infuriated by the time intermission came that I started talking to Stephen and telling him exactly what I think about him. And while I'm doing it, he's holding a can of Budweiser in his hand, and he's slowly gripping it, crushing it. Stephen is an immensely strong man, and with this maniacal energy of his he crushed the can flat, and now beer is frothing all over the carpet, and all over his pants.
And right after that, we went out and played the greatest electrical set we'd ever played. So go figure.
The incredible thing about my relationship with Stephen and David is that I can be screamingly mad at both of them, and they with me, but all of us have the knack of saying, "OK, while you're screaming at me, just listen to this new tune I wrote." No matter what is going on, someone plays you a song that knocks you on your ass. Now I ask you, how can you stay mad at someone who has just played you one of the best songs you ever heard?


Reader's Comments
No comments so far, be the first to comment.