presents
| | |
| --- | --- |
| Elton John - In His Own Words | |

In the mid-Seventies no artist was hotter on record or in arenas than Elton John, a great songwriter and even better performer. A lull in his popularity shortly afterwards took its toll, but the man rebounded and today is one of the most admired popular musicians of the past three decades.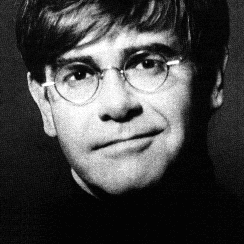 remember going to see Guy Mitchell once at the London Palladium. They used to have Saturday night shows at the Palladium, and Guy Mitchell was starting this one show, and at the end of his set, he took his sock off and whirled it around his head. I thought, "What a funny guy."


---

Elton John's Seventies
Billboard Top 40 Singles

"Your Song" 12/70 #8
"Friends" 4/71 #34
"Levon" 1/72 #24
"Rocket Man" 5/72 #6
"Honky Cat" 8/72 #6
"Crocodile Rock" 12/72 #1
"Daniel" 4/73 #2
"Saturday Night's Alright For Fighting" 8/73 #12
"Goodbye Yellow Brick Road" 11/73 #2
"Bennie And The Jets" 3/74 #1
"Don't Let The Sun Go Down On Me" 7/74 #2
"The Bitch Is Back" 9/74 #4
"Lucy In The Sky With Diamonds" 12/74 #1
"Philadelphia Freedom" 3/75 #1
"Someone Saved My Life Tonight" 7/75 #4
"Island Girl" 10/75 #1
"Grow Some Funk Of Your Own" 1/76 #14
"Don't Go Breaking My Heart" 7/76 #1
"Sorry Seems To Be The Hardest Word" 11/76 #6
"Bite Your Lip (Get Up And Dance)" 2/77 #28
"Ego" 4/78 #34
"Part-Time Love" 11/78 #22
"Mama Can't Buy You Love" 6/79 #9
"Victim Of Love" 10/79 #31

---
You know, I never forgot that, and maybe it accounts for why I would get so outrageous on stage, I don't know. I've always said that what I do on stage is a direct result of the mood I'm in. I mean, I get ovations because of the stage clothes I wear. Hopefully, I haven't been trapped by that because, really, there are so many other strings to my bow.
I've done talk shows in England, and they'd like it if I came on in an angel outfit. It's OK for the stage, but when sitting down talking to someone, you feel like a bit of a prat.
I never thought the outfits got in the way of the music. I did live my teenage years through my success years in my twenties. I never had the freedom to do that before, so I did it. With me, I'm afraid, I'm very excessive. If I do it, I do it to extreme excess.
I remember doing "The Henry Mancini Show," which was filmed at the Santa Monica Civic Auditorium, my segment of it, anyway. There's a very famous picture of me from that filming where I'm horizontal in the air, and I have on mauve tights and silver boots with stars. I had taken off eight outfits during just this one song, and the faces on the people in the audience were, like, "My God."
Of course, I wasn't always that way. That famous first night of mine at the Troubadour, the only thing I can remember is shaking hands with Quincy Jones's family. On the second night, Leon Russell was in the audience. Leon was my big idol at the time. With that silver hair of his, he was a startling-looking man. I knew he was in the audience, and I was petrified. I lost my voice during the next day, and he invited me up to his house, and I thought he was going to tie me up to a chair and say, "Listen, motherfucker, this is how you play piano."
But he was so nice. He gave me this gargling potion that I continue to use to this day. It's great for the voice.
Every artist who makes it big goes through a period where it seems they're invincible. We've seen it with Phil Collins, Bruce Springsteen, Madonna, Prince. It just seems they can't fail. And then suddenly everything levels off. I knew it when it started happening to me. I was real tired. The Blue Moves album, which I think is one of my finest albums, certainly one of my most sophisticated albums, was not one of my most successful albums. I knew I was peaking. I knew it was time for someone else to take over. You have to be realistic about these things. I didn't want it to end, but I knew it had ended because I was physically drained. And because I was already involved with a football club in England, I didn't sit behind my locked gates at Windsor and sulk because Peter Frampton was selling 20 million albums.


| | |
| --- | --- |
| | "I guess I just want to be remembered as a good musician and a good writer of good songs." |
It came at a time when people were fed up with me anyway. When Jim Croce died, John Lennon said to me, "You sell more records when you die than when you live. And with you, I hear so many of your records on the radio now that if you die, it will get so ridiculous I'll have to throw my fucking radio out the window." Very sick world we live in.
Looking back, though, if anybody ever said to me that I would make seventeen albums in six years, I'd tell them, "That's fucking ludicrous."


And for most of the time, we would go into the studio and not have any idea of a single. We never had any idea of a single. There was never any pressure to get a single out. We just went in and did an album, and the singles would emerge. Now, there's so much pressure to have a single that it changes your writing. I find it much harder to write under these circumstances. I don't think I was ever good when I went in trying to write a hit single.


But a lot of hit singles did come out of it, and a lot of them are lasting. "Your Song," I think, will always last. At least I'm not fed up with playing it. It's hard for me to choose the ones I like, because the ones I like aren't always the most popular.
I am only just beginning to realize how songs affect people. Stupid that it's taken me so long. I've always had periods in my life where certain records at certain times played a very strong role. The times when I'm really miserable, or not in love. Or times I was in love with someone, and it was really disastrous. I will play a particular song for that moment probably a million times. At certain times, "How Sweet It Is (to Be Loved by You)," "My Sweet Lord," and "Brown Sugar" have meant a great deal in my life. But for so long I never thought songs could be like that. And I'm a songwriter.
I guess I just want to be remembered as a good musician and a good writer of good songs. I'd like to keep improving my writing. When Frank Sinatra sang one of my songs at a concert -- it was "Sorry Seems to Be the Hardest Word" -- it was, for me, one of the highlights of my life. Good songs should last. A good one should last forever. "Just the Way You Are," by Billy Joel, is that sort of great song.
I have been incredibly lucky, really. I am a very happy man. I can't remember too much from 1970 to 1976 because there was so much stuff going on. The years just run into each other. But I think from 1970 onward, when I became Elton John, my life changed. I became much happier as a person when I took on Elton John. It became my real name and I could do things I wanted.
I am Elton John full-time now. I don't even think of myself as Reg Dwight anymore. But Reg might be surfacing again, I don't know. Maybe Reg will make an album, and he'll be the one putting songs out. There is still a lot to come out of me, and I do desperately want a platinum album again, but for now, I feel very fortunate to have lasted so long.


Reader's Comments
No comments so far, be the first to comment.