| | |
| --- | --- |
| Aretha's Best Songs & Performances | |

The Queen of Soul joined God's choir on August 16. Here are her best songs and performances.
By Clark Collis in Entertainment Weekly


HER BEST SONGS
From soul shouters to pop confections to gospel roof-raisers and beyond, Aretha Franklin did it all.
1. "(You Make Me Feel Like) A Natural Woman" - 1967
Co-written by Carole King and Gerry Goffin, this track is the ultimate emotional paean to the transformative power of love.
2. "Do Right Woman - Do Right Man" - 1967
Decades before hashtag feminism entered the mainstream, Franklin was rapping for sexual and emotional equality with laid-bare lyrics set to one of the most indelible slow-burn melodies in R&B history.
3. "I Never Loved a Man (The Way I Love You)" - 1967
He's no good: a heartbreaker, a liar, a cheat. So why can't she walk away? Maybe it's chemistry, or maybe it's a piano-line hood so incendiary this guy had to be invented just to give her a reason to sing it.
4. "Dr. Feelgood" - 1967
The doctor is in, and Aretha wants everybody else to get out so they can get naked and stay that way, basically. If it was explicit for 1967, she was clearly too busy feeling good to care.
5. "Respect" - 1967
No disrespect to Otis Redding, but Franklin's signature song took the original and transformed it into something wholly different in both sound and meaning -- and in Franklin's case, the interpretation was career-defining. R-E-S-P-E-C-T. She earned it.
6. "Chain Of Fools" - 1967
This slinky, locomotive groove was initially intended for Redding before producer Jerry Wexler decided it was more suited for Franklin. He was right.
7. "Since You've Been Gone (Sweet Sweet Baby) - 1968
Has a song about losing love ever felt so good? Over a blast of joyful horns and a jump-up backbeat, Aretha's chorus climbs all the way to the heavens.
8. "Think" - 1968
Pity the fool who does her wrong. The word freedom has never sounded so truly free.
9. "Ain't No Way" - 1968
A ballad as gorgeously hopeless as any lost-cause love can be. She knows her man isn't as bad as he seems, but he can't seem to stop himself. And even if there's a will, there's still no way.
10. "Rock Steady" - 1971
It was the dawn of the decade, and a whole new funk frontier for Franklin -- who found an unforgettable more-cowbell groove on the hip-swinging "What it is, what it is" refrain.
11. "Until You Come Back to Me (That's What I'm Gonna Do)" - 1973
The surging single encapsulates the pining of wistful lovers with its sweet, soulful persistence.
12. "Freeway Of Love" - 1985
The synths are unmistakably '80s, but the song itself is classic Aretha: a sly, seductive bounce custom-made for pink Cadillacs and stolen summer afternoons.
13. "Sisters Are Doin' It For Themselves - 1985
It takes brio to duet with the Queen, but Annie Lennox (and Dave Stewart) of Eurythmics went -- respectfully -- toe to to in this ecstatic ode to women taking charge.
14. "I Knew You Were Waiting (for Me)" - 1986
As is customary in popular song, the rivers were deep and the mountains were high, but Franklin and George Michael weren't letting that stop them from rejoicing in this ebullient gem, the pinnacle of her '80s pop sojourn.


HER MEMORABLE PERFORMANCES
From sea to shining sea and beyond, here are six times the Queen brought the house down in person.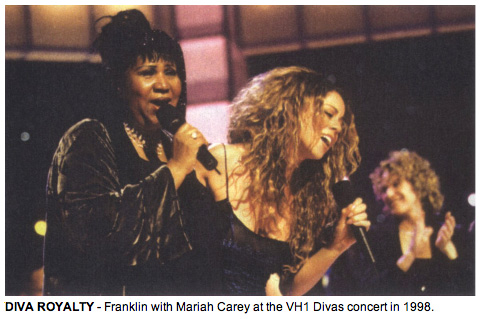 1. MONTREUX JAZZ FESTIVAL - 1971
Backed by King Curtis' band the Kingpins, and frequently accompanying herself on piano, the in-her-prime Franklin offered up a peerless set that included "I Say a Little Prayer for You" and a soulfully majestic version of "Bridge Over Troubled Water."
2. SOUL TRAIN - 1979
During a special episode celebrating Franklin's career, she sang a gorgeous off-the-cuff duet of the Miracles' "Ooo Baby Baby" with lifelong friend Smokey Robinson. "We should have been a duo," she jokes. Replies Robinson, "It's not too late."
3. 40TH GRAMMY AWARDS - 1998
When opera legend Luciano Pavarotti fell ill, Franklin stepped in as a last-minute replacement, delivering a remarkable rendition of Puccini's aria, the testing "Nessun dorma," which prompted a standing ovation.
4. VH1 DIVAS LIVE - 1998
At the inaugural event, Franklin was joined by Mariah Carey, Celine Dion, Shania Twain, Gloria Estefan, and Carole King for a barnstorming performance of "(You Make Me Feel Like) A Natural Woman." It wasn't a competition -- but if it had been, we know who would have won.
5. INAUGURATION OF BARACK OBAMA - 2009
The Queen of Soul paid tribute to America's first black Commander-in-Chief by singing "My Country, 'Tis of Thee" in freezing weather on the National Mall in Washington, D.C.
6. 38TH KENNEDY CENTER HONORS - 2015
Franklin performed "(You Make Me Feel Like) A Natural Woman" in tribute to songwriter King, a Kennedy Center honoree. President Obama was again in attendance, and was moved to tears by the singer's performance.



| | |
| --- | --- |
| Preach, Queen | |

The enduring power of Franklin's 1972 gospel album, 'Amazing Grace'.
By Sarah Rodman in Entertainment Weekly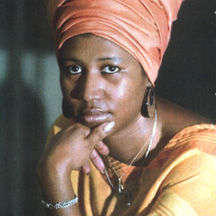 ity the poor roof at New Temple Missionary Baptist Church in Watts, Calif., when Aretha Franklin arrived to record her gospel album Amazing Grace in 1972, for surely it knew its number was up. Accompanied by Rev. James Cleveland and the Southern California Community Choir, her rafter-bursting live performance remains the best-selling work of Franklin's career and won the Grammy for Best Soul Gospel Performance in 1973.
Certainly not everyone who is moved by Franklin's Amazing Grace is Christian. But everyone who encounters it doubtlessly will shiver at her ecstatic intonation of the word sacred in "Precious Memories," delight in the unbridled joy of "How I Got Over," marvel at the sheer force of her surrender on the title track, and have what one can only hope is a common epiphany: If divinity lives anywhere, it lived within Franklin.
Beyond the religious material, Franklin included popular music in the proceedings -- including Carole King's "You've Got a Friend" and "You'll Never Walk Alone" from Rodgers and Hammerstein's Carousel. Those songs serve as a potent reminder of how effortlessly she could transform the secular into the sacred, as with her sanctified recording of Elton John's "Border Song," her legendary take on Simon & Garfunkel's "Bridge Over Troubled Water," and even her duet with George Michael, "I Knew You Were Waiting (for Me)," which could be interpreted as devotional. Franklin brought church with her wherever she went, reaching beyond the pews, tapping into our universally shared humanity with her voice, heart, gut, and soul.
"We want you to give in to the spirit," says Reverend Cleveland at the top of the performance to the assembled congregation (which included Mick Jagger and Charlie Watts of the Rolling Stones).
Never have more superfluous instructions been given.