| | |
| --- | --- |
| '70s Holiday Gift Ideas | |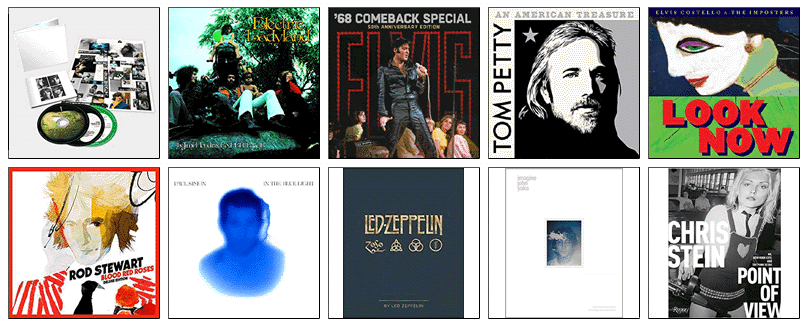 These recently released CD's and books are sure to please any
Seventies music fan on your shopping list this holiday season.
THE BEATLES - The White Album (Apple Corps Ltd./Capitol $22.97) This expansive reissue gives lie to the common "record made by four separate solo artists" post-breakup narrative. Featuring the remastered album by George Martin's son Giles, the back-to-basics Esher demos, and unreleased studio outtakes, it peels back the layers of a group diligently working together to produce something special. Highlights included a wild 13-minute version of "Helter Skelter," an alternate "While My Guitar Gently Weeps" solo from Eric Clapton, and wisecracks among John, Paul, George and Ringo. A - Alex Suskind, Entertainment Weekly

JIMI HENDRIX - Electric Ladyland (Legacy Recordings, $49.19) Jimi was made for surround sound. On this remastered 5.1 deluxe reissue of Hendrix's 1968 masterpiece (the only Hendrix studio album to top the charts), the guitarist crisply blazes through each psychedelic, kandy-kolored riff and solo -- the wah-wahs of "Burning of the Midnight Lamp," the freakish echoes of "Voodoo Chile" -- with the subtlety of a blowtorch. The set's real gems, though, are the early album demos, which Hendrix recorded on his own. Even if you've been to Electric Ladyland, this version is worth the price of readmission. A- - Alex Suskind, Entertainment Weekly

ELVIS PRESLEY - '68 Comeback Special (RCA/Legacy Recordings, $107.78) It had been seven years since his last public performance, and the King was ready to reclaim his throne. A series of compelling, vulnerable, and flat-out fun televised performances helped reintroduce Elvis Presley to the world. There isn't any new material from those sessions in the 7-disc set, but it does collect all the previously released recordings and video footage in one package for the first time. With the '68 Comeback Special, Elvis hoped to solidify his legacy. This box set is proof he succeeded. B - Alex Suskind, Entertainment Weekly

TOM PETTY - An American Treasure: Deluxe Edition (Reprise, $37.44) About six months after Tom Petty died, members of the rocker's inner circle began compiling this box set of unreleased, alternate-version, live, rare, and deep cuts. "We made a list of what we really love of Tom's we think should be spotlighted -- and what we knew that has net been released that we should look for," says Heartbreakers cofounder Benmont Tench. "[Longtime collaborator] Ryan Ulyate went through the vaults and not only found those, but also stuff that we'd argue back and forth -- not fight, but a 'I love this!' 'But I love this!' -- once a week when we'd gather at Ryan's home studio and listen to a bunch of stuff." Tench adds it took an emotional toll to relive those memories: "I have to go through sorrow for the rest of my life. But for me, the rewards outweigh the sorrow." A- - Katie Hasty, Entertainment Weekly

ELVIS COSTELLO & THE IMPOSTERS - Look Now (Concord Records, $18.39) For his first album with the Imposters since 2008, Elvis Costello lined up some impressive collaborators, including legendary songwriters Burt Bacharach and Carole King. Of course, Costello and his impeccable band of musicians -- keyboardist Steve Nieve, bassist Davey Faragher, and drummer Pete Thomas -- are no slouches themselves. Judging by the high caliber of songs that have preceded the album -- the slinky-to-insistent, piano-driven rocker "Unwanted Number" and the high-kicking and sly "Under Live" -- fans have plenty to Look forward to from the always sharp Rock & Roll Hall of Famer. A - Sarah Rodman, Entertainment Weekly

ROD STEWART - Blood Red Roses (Republic/Rod Stewart/Decca, $9.97) The spiky-haired Brit -- that's Sir Rod to you -- released his 30th studio album on September 28, nearly 50 years to the date of the signing of his first solo record contract. After chronicling his decades-spanning career in his autobiography in 2012, Stewart says he felt his creative juices flowing again, and this 13-track collection finds him digging back into his songwriting roots. It hits on all of the touchstones that have worked so well with his signature rasp, including Motown-inspired stompers, scrappy rockers, romantic balladry, and even his spin on the blues classic "Rollin' & Tumblin'." B - Sarah Rodman, Entertainment Weekly

PAUL SIMON - In The Blue Light (SMG, $11.37) Amid a globe-trotting farewell tour, Paul Simon found time to release a new album. In the Blue Light features 10 of Simon's favorite selections from his own catalog -- ranging from 1973 to 2011 -- with fresh perspectives on songs, including "René and Georgette Magritte With Their Dog After the War," "One Man's Ceiling Is Another Man's Floor," and "How the Heart Approaches What It Yearns." The singer previously called the arrangements, which have been reworked with new collaborators (including yMusic -- part of Simon's tour backing band -- and trumpeter Wynton Marsalis) "like a new coat of paint on the walls of an old family home." And that's exactly what fans can expect: Simon's signature tunesmithing with an eclectic mix of instrumentation and wry lyricism. A- - Maureen Lee Lenker, Entertainment Weekly

LED ZEPPELIN BY LED ZEPPELIN (Reel Art Press, $43.37) Chock full of personal photographs, reproductions of posters, backstage passes, and handwritten lyrics, all that's missing in Led Zeppelin By Led Zeppelin are the band members' recollections. B - Jeff Slate, Esquire

IMAGINE JOHN YOKO (Grand Central Publishing, $19.77) This is a fresh look at the making of John Lennon's 1971 album, Imagine, with new interviews from key participants. Sadly, Lennon's plea for peace and harmony feels as timely as ever. B+ - Jeff Slate, Esquire

POINT OF VIEW: ME, NEW YORK CITY, AND THE PUNK SCENE (Rizzoli, $34.43) Blondie guitarist, co-founder and songwriter Chris Stein, who was apparently never without a camera, caught David Bowie, Iggy Pop, and the fledgling CBGB set in this 208-page photo book. A - Jeff Slate, Esquire




| | |
| --- | --- |
| Proud Mary Keeps On Burnin' | |

The 'What's Love Got to Do With It' singer chats about her new book, turning
80, Mick Jagger 'borrowing' her moves, and why she's happy staying retired.
By Jim Farber in Entertainment Weekly

You've had a number of health scares recently. How are you feeling now?
With every passing month, I feel a little better, a little stronger, a little more like Tina. But, beginning with my stroke, that was a really bad run. When I was working on my book, it was hard for me to remember the various scares and when they happened because there were so many. High blood pressure, vertigo, intestinal cancer, kidney failure, and a kidney transplant. And I always thought I was a healthy person! Just when I would ask myself, "How bad can it get?" there was something new.
| | |
| --- | --- |
| Tina Turner's new memoir, My Love Story, was released on October 16 and is a candid sequel to her bestselling 1986 autobiography I, Tina. | |
In the book, you write you don't think you have the sexy legs the whole world believes you have.
My figure would not have turned one head in Nutbush [Tenn.], where I grew up. Women were supposed to be curvy, not built like a pony, which is what I always thought when I looked at my legs. I did the best I could with what God gave me -- and the help of really good wigs and red lipstick!
You write about Mick Jagger "borrowing" your dance moves. Have you ever told him he owes you an acknowledgement?
Mick and I like to tease each other, and we're very good at it because we've been doing it for over 50 years, since we first went on tour together. We know what we've done for each other.
It seems like you are one of the few performers who loves retirement. So, you're not even tempted to do more work?
I have been working -- really, really working -- since I was a teenager. I was ready to retire long before I got sick. I wanted to spend time with Erwin and do the things normal people do, like work in my garden, stay up late watching movies, and go food shopping. I've always had good timing. I didn't want people to come to a show and think that I used to be great. "Leave the party before it's over," I like to say.
You will be 80 next year. How do you feel about reaching that age?
I'm looking forward to it! I'm a very curious person, and I've always wondered what I would be like at that age. Actually, age is just a number to me. I'm a 16-year-old at heart. Turning 80 won't change that!