| | |
| --- | --- |
| '70s Holiday Gift Ideas | |

These recently released CD's and books are sure to please any
Seventies music fan on your shopping list this holiday season.
BOB DYLAN - Trouble No More: The Bootleg Series Vol. 13/1979-1981 (Columbia/Legacy, $15.49) The argument for this edition of the Bootleg Series is familiar: A disparaged period in Bob Dylan's career (this time, the gospel years) was better than you think. Once again, great roadwork demonstrates his nomadic genius. The first two CDs, assembled from live tracks spanning 24 months and 19 cities, showcase a soul-drenched band that could bend toward tradition without losing brute force. A 1981 version of "Gotta Serve Somebody" turns the song from a shuffle into a stomp. It's followed by a 1979 performance of one of 14 unreleased songs, "Ain't No Man Righteous, No Not One," that opens with guitar boogie before sliding into a reggae groove. Moments of lubricious spirituality are less than abundant here. Enjoy this one. * * * * - Joe Levy, Rolling Stone

GREGG ALLMAN - Southern Blood (Rounder, $11.83) The final album by Gregg Allman, who died in May, is a moving farewell statement à la twilight masterworks by Leonard Cohen and David Bowie. "I know I'm not a young man, and it's time to settle down," Allman sings on the roadhouse blues "Love Like Kerosene," his full-moon growl strikingly undiminished. Yet while Southern Blood is rich with intimations of mortality, it's easygoing too, with a laid-back generosity that recalls Allman's kindest Seventies work -- see his warm take on Lowell George's Southern-rock salvo "Willin'." Allman steeped the album in his own history, recording with producer Don Was in Muscle Shoals, Alabama, where Allman and his brother Duane recorded in the late Sixties. And while the LP is almost entirely covers, they spool by as one vivid benediction, from Allman's gorgeously soulful reading of Bob Dylan's "Going, Going, Gone," to his gently swaying version of the Grateful Dead's meditation on aging "Black Muddy River," to tender folk reckonings by his friends Tim Buckley and Jackson Browne. * * * 1/2 - Jon Dolan, Rolling Stone

NEIL YOUNG - Hitchhiker (Reprise, $11.72) Hitchhiker marks a pivotal moment in Neil Young's ongoing series of archival releases: Instead of a live classic-songs set, this is a buried treasure mother lode -- 10 newly unearthed studio recordings, cut in one acoustic session, on August 11, 1976. Young wasn't exactly swept up in the country's bicentennial spirit at the time; now grouped together rather than spread out over later records, the violence-drenched "Powderfinger," "Captain Kennedy" and "Pocahontas" feel like pointed rejoinders to the white-washed history offering up during America's 200th birthday. He's in peak lonesome-guy mode on the never-released failed relationship chronicle "Give Me Strength." Another previously unheard song, "Hawaii," is a spooky mysterious-stranger ballad. The take of the Nixon-sympathizing "Campaigner" here includes a newly relevant verse deleted from the version that appeared on Decade: "The speaker speaks, but the truth still leaks." The major find is the scruffy title song, an unblinking depiction of fame, "neon lights and the endless nights," paranoia and cocaine. Young eventually released it on 2010's Le Noise, bathed in electric guitar and with a verse about being thankful for his kids. There was no one to comfort him in '76: It's a journey through the past, but far darker. * * * * 1/2 - David Browne, Rolling Stone

LEON RUSSELL - On a Distant Shore (Palmetto, $11.99) On the growing list of farewell albums by dying rockers, Leon Russell's contribution -- recorded months before his November 2016 passing -- may be the most unflinching yet. "Sounds like a funeral for some person here/ And I might be the one," he bemoans; elsewhere he dwells on loneliness and lost lovers. Paradoxically, though, the soul-rock icon hasn't sounded so alive in years. From the swampy choogle of "Love This Way" to the supper-club orchestration of "On the Waterfront" to the Cotton Club jazz of "Easy to Love," he poignantly circles his musical bases one last time. * * * * - David Browne, Rolling Stone

RANDY NEWMAN - Dark Matter (Nonesuch, $11.72) Randy Newman is so busy as a film composer (most recently with Cars 3) that we get new albums from him only about once a decade. But the guy's got pretty good timing: Just as 2008's excellent Harps and Angels served as a sardonic send-off to the Bush era, Dark Matter greets #MAGA America with his signature brutal comic irony and heartbreaking grandeur. The nine-minute "The Great Debate" is a Broadway-scale throwdown between religion and reason that's so nuanced Newman himself even comes on trial for the hanging offense of elite liberal condescension, and the laugh-out-loud "Putin" celebrates the dictator's sexual powers with mock-heroic orchestration and backing singers that suggest the Andrews Sisters in heat. Some of the more sweeping moments can feel forced; "Brothers" mashes up JFK, RFK, the Washington Redskins, the Cuban missile crisis and salsa great Celia Cruz over a Latin groove. * * * 1/2 - Jon Dolan, Rolling Stone

NEAL PRESTON - Exhilarated and Exhausted (Reel Art Press, $46.39) Neal Preston was barely 23 when he was hired to photograph Led Zeppelin's 1975 tour, an environment Preston calls "so thick with tension you could cut it with a knife." His images came to define the media-shy band, and started his 40-year career as one of rock's top photographers. He reflects on it in Exhilarated and Exhausted. Between classic images, Preston tells stories about the realities of his job: He once nervously approached Bruce Springsteen at Wembley, asking him to pose for his camera during a specific part of his show (he did), and Bob Dylan called him a "leech" at a 1970s industry party. "From the day I got my first camera, it felt like another appendage of my body," Preston says. "It makes me feel normal." - Patrick Doyle, Rolling Stone

DAVID YAFFE - Reckless Daughter: An Intimate Portrait of Joni Mitchell (Sarah Crichton Books, $19.59) Until David Yaffe's Reckless Daughter: An Intimate Portrait of Joni Mitchell, the singer had never cooperated with a biographer. She's finally ready to open up. Yaffe, a Syracuse University professor and author of book on jazz and Bob Dylan, had unprecedented access, and he sympathetically traces the outline of Mitchell's life while offering detailed takes on her albums, and even on her chord changes. But it's Mitchell's candor that propels the book. She recalls a late-life miscarriage, the time a drugged-up Miles Davis made an aggressive, clumsy pass at her, the physical abuse she suffered at the hands of her drummer and beau Don Alias, and her cocaine addiction, which began on Dylan's Rolling Thunder Revue in 1975. Dismissing stories that she attempted suicide after being dumped by Jackson Browne, she tells Yaffe bluntly, "I'm crazy, but not that crazy." - David Browne, Rolling Stone

ANTHONY DeCURTIS - Lou Reed: A Life (Little, Brown and Company, $23.26) When Lou Reed died in 2013 at age 71, Rolling Stone contributor Anthony DeCurtis began work on his biography, the just-published Lou Reed: A Life. It meant taking a long walk on the dark side -- and going well beyond the stories everyone has heard. The Reed of DeCurtis' exhaustively reported book is a brilliant artist who helped define hipness and the outer limits of rock for generations, fulfilling his goal of fusing the "high literary world with gritty rock & roll." In the Seventies, Reed was pulled between the thrills of New York's decadent rock scene and the comforts of a conventional life -- the conflict is at the heart of one of his greatest songs, "Perfect Day." In the end, however much pain he caused to lovers and collaborators, he found the right balance, thanks to cleaning up his 20-year-plus relationship with and 2008 marriage to Laurie Anderson, which continued to the day he died. "Being around them, you would expect it to be crazy," says DeCurtis. "But it was like being around the high school quarterback and his cheerleader girlfriend. He was so deferential to her." - Brian Hiatt, Rolling Stone

ART GARFUNKEL - What Is All But Luminous: Notes From an Underground Man (Knopf, $16.40) In 1983, Art Garfunkel stepped out of his New York apartment and began a walk across North America. Conducted in 40 installments, each picking up exactly where the last one ended, it took 14 years. Garfunkel kept a notepad in his back pocket, and when inspiration struck he wrote in bursts: poems, lists, scattered thoughts and pointed anecdotes. These musings form What Is All But Luminous: Notes From an Underground Man, a book unlike any ever released by a rock star. Short segments about Simon and Garfunkel float alongside lists of favorite books and quotes from Shakespeare and Marvin Gaye. Among the poems is one about getting a colonic. "I'm an eccentric man," Garfunkel, 76, readily acknowledges. That extends to his eerily precise handwriting, which was used to create a font for the book. "When I was 11, and Paul Simon was my fast friend, he would say, 'Look at my friend Artie. He's the human typewriter,'" Garfunkel says. - Andy Greene, Rolling Stone

JEAN-MICHEL GUESDON - Pink Floyd All the Songs: The Story Behind Every Track (Black Dog & Leventhal, $26.73) Even superfans of Pink Floyd will learn something new with author Jean-Michel Guesdon's new book Pink Floyd All the Songs: The Story Behind Every Track. The book details the origins of nearly 200 songs, features almost 500 photos, and reveals behind-the-scenes stories. - Entertainment Weekly





The former child actor and 'Partridge Family' star struggled to shed
his heartthrob status, but his fans stayed with him for a lifetime.
By Lynette Rice in Entertainment Weekly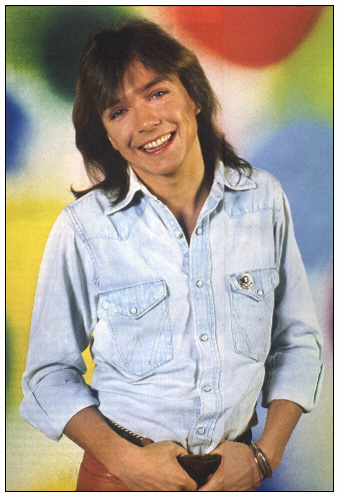 y the time he turned 21, David Cassidy was the highest-paid performer in the world, whose fan club had more members than Elvis Presley's or the Beatles'. Skyrocketing to superstardom with hits like "I Think I Love You" and "Come On Get Happy," the Partridge Family teen idol had an omnipresent smile and sparkling eyes that belied an uneasiness with a life full of sold-out stadiums and hordes of fawning admirers. He told Oprah Winfrey in 2013 that he found the attention made it "difficult just to be a human being."
Though he went on to prove that he was more than just an adorable face, Cassidy -- who died of organ failure at 67 on Nov. 21 in Florida -- will forever be known as the shaggy-haired phenom who made the girls scream.
Born in New York City to singer Jack Cassidy and Evelyn Ward, he began playing piano at 5 and was auditioning on Broadway as soon as he left high school. A scout spotted the 18-year-old in a short-lived Broadway musical and persuaded him to move to Los Angeles in 1969. Cassidy quickly landed parts on Marcus Welby, M.D. and Adam-12, then won the role of eldest son Keith opposite Shirley Jones on a new ABC sitcom about a single mom and her brood of musically talented kids who form a Top 40 band that tours the country in a psychedelic school bus.
The Partridge Family debuted in 1970, and while there was something familiar about playing Jones' son -- she had been his real-life stepmother since marrying Cassidy's father in 1956 -- the overnight success of the series was surreal and overwhelming. Cassidy's popularity quickly eclipsed the show's, and his face was everywhere from posters and pens to lunch boxes and packs of gum. After his first solo single, "Cherish," hit No. 9 on U.S. charts in 1971, he posed naked for the cover of Rolling Stone in a bid to change his image, something that only amplified his already rabid following. "I was emotionally stunted," Cassidy told People in a 1993 profile. "I became paranoid. There were people all over me all the time."
A low point came in May 1974, when a stampede at a packed concert in London led to the death of a teenage girl and hundreds more were injured. When ABC cancelled The Partridge Family that same year because of low ratings, Cassidy was ready to put all those Tiger Beat covers behind him, but he never lost his love for performing. A 1978 guest appearance on Police Story earned him an Emmy nomination, and he returned to Broadway in 1983 as the lead in "Joseph and the Amazing Technicolor Dreamcoat." More recording success came in 1990 with his single "Lyin' to Myself," as did a starring role opposite his half brother Shaun in the 1993 Broadway production "Blood Brothers." He also headlined "EFX" at the Las Vegas MGM Grand in 1996 and made appearances on The Celebrity Apprentice and CSI.
His personal life was less glamorous. Cassidy divorced three times, received multiple DUIs, and declared bankruptcy in 2015. Earlier in 2017 he announced that he was suffering from dementia, a disease he'd watched his mother endure. "I was in denial, but a part of me always knew this was coming," he said at the time. "I want to focus on who I am without any distractions. I want to love. I want to enjoy life."
In addition to the legion of baby boomers who posted heartfelt Facebook messages about him after his death, Cassidy leaves behind a daughter, Arrow actress Katie Cassidy; a son, Beau; his stepmother, Jones; and half brothers Shaun, Patrick, and Ryan. "My father's last words were 'So much wasted time,'" Katie Cassidy tweeted days after his death. "This will be a daily reminder for me to share my gratitude with those I love [and] never waste another minute."
DANNY BONADUCE REMEMBERS DAVID CASSIDY

People will ask, "What was it like hanging out with him on the set of The Partridge Family? And I would say I have no idea because I was 10 and he was 18. I didn't get to know David well until the early 1990s, when I got fired from my job. I had problems with the law, drugs and alcohol. David called me up out of the blue and said, "Listen, Bonaduce, I've always said you're the funniest person in the world," which he did. "But now you are the joke. Don't be the joke!' He was yelling at me. He said, "Here's what's going to happen. You are going on the road with me in the tour bus, and you're gonna get a job. There will be no drugs, alcohol, nicotine, and women." That's the worst offer I've ever had! I ended up going, and what David said was right. I got a job at a radio station where I went to do an interview about being on the road with David. This guy was my hero in every sense of the world. You know the fights kids get into over how my big brother can beat up your big brother? My big brother was David Cassidy. I just win.
Bonaduce starred with Cassidy for four seasons of The Partridge Family.