| | |
| --- | --- |
| Bruce Revives 'The River' Live | |

The Boss satisfies on his 2016 sold-out tour with a complete performance of his 1980 classic.
By Eric Renner Brown in Entertainment Weekly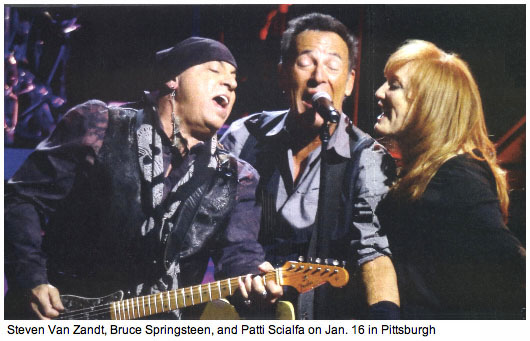 even songs into the opening show of Bruce Springsteen's sold-out The River tour on Jan. 16, the rocker and his E Street Band launched into the upbeat groove of his first top 10 single, 1980's "Hungry Heart." It was the umpteenth time the legend had performed the song live, and on this night, he deployed one of his tried-and-true tricks: Springsteen leaped from the stage into the pit, took selfies with fans, then hurled himself into the audience, who gladly held their hero aloft.
It was one of the many moments that proved why the 66-year-old remains one of America's most treasured musicians. At this epic Pittsburgh show, the New Jersey native and his band -- including wife and guitarist Patti Scialfa, guitarists Steven Van Zandt and Nils Lofgren, and drummer Max Weinberg -- delivered a three-and-a-half-hour performance that included a front-to-back rendition of his 1980 double LP The River along with a murderers' row of his hits. The gig also had poetic resonance: Here was the established voice of blue-collar life performing in the epicenter of working-class America. For Bruce, playing The River was nostalgic, too. "This was the record where I was trying to find where I fit in," he said. "I wanted to make a record that was big enough so it felt like life -- or like an E Street Band show."
With the house lights still on, the show kicked off with a rarity: "Meet Me in the City," featured on The River reissue The Ties That Bind. It's a textbook Bruce track -- a hard-charging rocker, with wall-of-sound production, about wanting to hit the town with a girl. From there, he dove into a note-perfect run through the album, highlighted by the party-starting "Out in the Street" and the weeper "Drive All Night." Most fans might use a slow song for a bathroom break, but it's a testament to Springsteen's gravitas that even quieter tunes like "Independence Day" kept most of the venue's 19,000 seats full.
The conceit of the show periodically got in the way. The crowd's attention waned during The River tracks "I Wanna Marry You" and "I'm a Rocker" -- they rarely make the average Springsteen set list for a reason. And when the subject of football came up in the heart of Steelers Nation -- 2012's "Wrecking Ball" name-checks the New York Giants -- Springsteen briefly became a pariah. Cheers of "Bruuuuuce!" turned to boos, prompting the MC to joke, "Steelers?"
Still, Bruce knows how to work a room, no matter the size. He wrapped with beloved songs like "Rosalita" and "Born to Run." And he was wise to honor another icon whose spirit loomed large: the late David Bowie, who died Jan. 10. After telling a tale of meeting Starman in the '70s, Springsteen paid tribute to Bowie's legacy with a fiery "Rebel Rebel" -- an anthem that neatly captures the Boss' renegade sprite after all these years. A



| | |
| --- | --- |
| Tributes | |

by Clark Collis in Entertainment Weekly

Glenn Frey
1948-2016

The singer-guitarist, who died Jan. 18 at 67 in New York City, soared with the Eagles, one of America's most adored bands, and also had high-flying success as a solo artist. To honor his legacy, we look at just a few memorable musical moments.

Maurice White
1941-2016

The Grammy-winning Earth, Wind & Fire leader, who died at 74 in early February after battling Parkinson's, helped define funk and R&B in the '70s. We look back at some of his best moments.



"Take It Easy" (1972)
Frey puts his troubles behind him -- and encapsulates a very West Coast strain of good vibes -- on the Eagles' first single, which he co-wrote with Jackson Browne.

"Uh Huh Yeah" (1969)
In the late '60s, White led the Chicago group the Salty Peppers, who laid the ground to EWF's more refined sound. On this killer cut, White joyfully hoots and squeals over a raw party-starting groove.

"Peaceful Easy Feeling" (1972)
This melancholic love song, penned by singer-songwriter Jack Tempchin, is a perfect showcase for Frey's sweet-sad vocal style.



"Shining Star" (1975)
EWF's only No. 1 single offers a master class in restrained funk rhythms. Check out a 1975 performance on the TV show Midnight Special: White has as much sex-god swagger as James Brown.

"Lyin' Eyes" (1975)
Frey delivers another flawless example of heartstring-tugging lead vocals -- a good thing given the deceitful tale, written by Frey and Eagles member Don Henley.

"September" (1978)
You don't need to wait for the 21st night of September to fire up this disco classic: EWF's buoyant hit is always an instant mood-lifter.



"The Heat Is On" (1984)
This propulsive, sax-fueled song on the Beverly Hills Cop soundtrack was a long way from the easygoing Eagles music. But that didn't stop the track from cracking the top 10.

"Let's Groove" (1981)
Disco was on the wane when EWF put out this track, but it's proof the genre shouldn't have died. Today you can hear the song's influence on Bruno Mars, Daft Punk, and more.

"Smuggler's Blues" (1984)
This hard-rocking tale of cocaine smuggling soundtracked a Miami Vice episode on which Frey guest-starred.




"Stand By Me" (1985)
It takes a baller to turn Ben E. King's classic ballad into a slickly produced electro-funk number -- and White more than delivers on this upbeat cover from his only solo album. (Bonus points from the over-the-top key change!)