| | |
| --- | --- |
| Led Zeppelin's Heavenly Legacy | |

Jimmy Page on the mighty Zep's heavy metal canon.
By Clark Collis in Entertainment Weekly

ill we ever see surviving Zeppelin members Jimmy Page, Robert Plant and John Paul Jones together on stage again? "I don't think so, no," says Page, 71. That's the bad news. The good? All the band's studio albums have been remastered by Page and rereleased with bonus discs. (The group's last three reissues came out on July 31.) Below, the guitar icon talks us through the good times, bad times of the Led legend.
LED ZEPPELIN 1969
"Robert came to my house and I went through the material: 'Babe I'm Gonna Leave You' and 'Dazed and Confused,' because the Yardbirds [Page's previous band] had done a version of that. He got the idea. I could tell what [drummer] John Bonham was capable of. [Bassist] John Paul Jones was a studio musician. The recording totaled up to about 30 hours. The term I would use is 'ruthless efficiency.'"

LED ZEPPELIN II 1969
"The master plan was to write stuff and record while we were on the road to get the energy. That whole middle section of 'Whole Lotta Love' -- no one had ever done anything like that."

LED ZEPPELIN III 1970
"We had some time off and went to this cottage [to write]. There was no electricity. The electricity was in the batteries of the cassette players -- and what was generated between Robert and myself with the music. The emphasis was on the acoustic guitar. It got criticized, of course. Don't come to me and say, 'Where's "Whole Lotta Love" on the third album?' It was on the second album, thank you very much."
LED ZEPPELIN IV 1971
"I'd already got stuff -- I had sections of 'Stairway to Heaven.' I wanted something which would accelerate the pace, which would start with a very fragile guitar in the style of Bach, and then introduce the electric 12-string, and then move through to the solo. The band thought it was good, but you don't envisage it's going to have such a lasting quality."

HOUSES OF THE HOLY 1973
"We did some recording at Mick Jagger's country estate, which was called Stargroves. We did things like 'D'yer Mak'er' there. It was this country house in the middle of lots of land. It was lovely."

PHYSICAL GRAFFITI 1975
"I had the riff and the sort of cascade part of 'Kashmir.' Robert said, 'I've got some lyrics,' which was something he'd written during a visit to Morocco. I knew that was a milestone."

PRESENCE 1976
"Robert has a car crash. His leg's in plaster. The plan was for touring, but we weren't Dave Grohl. Robert said, 'I still want to make an album.' I would say it's really defiant. Robert is singing his heart out and the music is really superb. Presence is a guitar-driven album. I had a field day -- that's all there is to it -- on 'Achilles Last Stand.'"
IN THROUGH THE OUT DOOR 1979
"John Paul Jones turns up with this huge organ made by Yamaha. Then, lo and behold, he has written some songs. It's like, 'Well, I never!' I don't know whether that was the result of the guitar album which preceded it."
CODA 1982
"Coda was one that was sort of owing to the record company. [The group disbanded following the alcohol-related death of Bonham in 1980.] Between the recording of Presence and In Through the Out Door, there was a recording I did with John Bonham in Montreux. I said, 'We'll do a drum orchestra, like a samba school.' While we had lost John Bonham, the thing that hadn't been lost was this 24-track. I called it 'Bonzo's Montreux,' because that's it."



| | |
| --- | --- |
| A Revealing Last Look Inside Zeppelin's Vault | |

A deluxe reissue of 1982's 'Coda' is surprisingly great,
with outtakes that span the band's full trailblazing career.
By David Fricke in Rolling Stone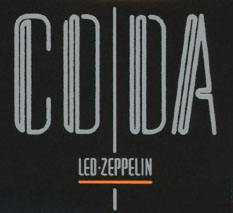 eleased in 1982, two years after the death of drummer John Bonham, Coda was a late goodbye from the rest of Led Zeppelin -- singer Robert Plant, bassist John Paul Jones and founding guitarist Jimmy Page -- and paltry closure for everyone else: a mere half-hour of outtakes, including a drum solo. Three tracks were unused songs from 1979's In Through the Out Door, an awkward embrace of New Wave electronics and pop romanticism. The contrast between those songs and Coda's opener, the early-prime bonfire "We're Gonna Groove," was not flattering. For the first time, in that threadbare collection, the most audacious hard-rock band of the Seventies sounded like a spent force.
---

KEY TRACK:
"If It Keeps On Raining"


---
Three decades later, Coda is the unlikely closing triumph in Page's series of deluxe Zeppelin reissues: a dynamic pocket history in rarities, across three discs with 15 bonus tracks, of his band's epic-blues achievement. There are familiar strays, such as "Baby Come On Home," from the sessions for 1969's Led Zeppelin, and the 1970 B side "Hey, Hey, What Can I Do." But Page has gone deep. "Sugar Mama," cut for and left off Led Zeppelin, already suggests the tightly wound textural fury of Led Zeppelin II. "If It Keeps On Raining" is a truly alternate take of "When the Levee Breaks," on Led Zeppelin IV -- less titanic, with more worried-blues nuance in Plant's vocal -- and two long-bootlegged 1972 recordings by Page and Plant, made in India with members of the Bombay Orchestra, evoke their determined exploration of the global routes and branches in American blues and Celtic folk, on the way to the rugged spectacle of 1975's Physical Graffiti.

Page's final round of reissues includes two other sets: new editions of In Through the Out Door and the feral-guitar overload of 1976's Presence. The extra mixes essentially mirror the original LPs, with a refreshing exception: "10 Ribs & All/Carrot Pod Pod (Pod)," an instrumental sketch from the Presence sessions starring Jones' jazz-nocturne piano. Even in Coda's expanded context, the Out Door orphans "Ozone Baby" and "Darlene" are still lesser Zeppelin, an inconclusive response to the edge and conclusion of punk.

Rebirth, of course, was not an option; Bonham's death froze his band's legacy in place. Yet it's a story that keeps on giving. Once an afterthought, Coda is now a classic Led Zeppelin album: deep lore from their road to legend.* * * *