| | |
| --- | --- |
| Solo Gold From Keith Richards | |

The veteran Stones guitarist displays folk, reggae and
tons of guitar brilliance on his first solo LP in 25 years.
Keith Richards
Crosseyed Heart
ROCK (Republic)

By Will Hermes in Rolling Stone
eith Richards' first solo album since 1992 opens like a fever dream, with the 71-year-old rock god croaking acoustic blues like Robert Johnson after burning down a half-ounce spliff. But it's feint, "All right, that's all I got," he snaps just under two minutes in, before upshifting into his most eccentric and best-ever solo set. Crosseyed Heart is the sound of Richards following his pleasure wherever it leads, with a lean, simpatico team including longtime session pals Steve Jordan, Ivan Neville and Waddy Wachtel backing him up all the way.
Naturally, there's a dip into roots reggae: Gregory Isaacs' 1974 lovers' rock signature, "Love Overdue," complete with brass and Neville's sweet backing vocals. There's also a straight read of "Goodnight Irene," a folk standard that Richards likely heard as a kid when the Weavers' version charted in 1950. Two originals are as strong as any Stones songs of recent decades: "Robbed Blind," a "Dead Flowers"-scented outlaw-country ballad that echoes Merle Haggard's "Sing Me Back Home," and "Trouble," all hiccup-ruff swagger with a slide-guitar mash note from Wachtel to ex-Stone Mick Taylor. There's a charmingly cheeky duet with Norah Jones ("Illusion"), and some beautifully telling moments (see "Amnesia") where Keith's guitar is nearly everything -- his sublime grooves sprouting melodic blooms and thorny leads. It's proof that, at core, dude's an army of one. * * * 1/2
The legendary guitarist, 71, talks about 'Crosseyed Heart'
and a revealing new documentary about his wild ride.
By Clark Collis in Entertainment Weekly
What took so long to release a new solo album?
Man, I only do it when the Stones go into hibernation. Unfortunately, as I finished it, the Stones came out of hibernation. [Laughs] I had it sitting for a couple of years because when the Stones work, that's my numero uno!
How much material did you have ready when you started recording?
How about zero? But that's the fun of recording. The way that we made this was with Steve Jordan on drums and me on guitar to start with. So you can just fly anything around the room, and every now and again we'd hit on something and say, "Oh, that's what we we're looking for." It was a barrel of fun, actually. I realized when I finished it that I was really tipping my hat to everybody I'd learned everything from: Robert Johnson, Gregory Isaacs, Lead Belly, and Otis Redding.
You teamed up with Norah Jones for the ballad "Illusion."
What a beautiful lady. We called up Norah, and she loved the song and just beautifully slotted in.
A couple of tracks feature saxophonist Bobby Keys, the Stones sideman who passed away last year. What do you remember about recording with him?
Oh, man, Bob just comes and he's ready to rock. The man was larger than Texas. Of course, we had no idea that these would be his last recordings. God, I miss that man. He was a damn good friend and a brilliant sax player. I'm still pretending he's alive. But I know he ain't. I miss him sorely.
You're also the subject of a Netflix documentary, Keith Richards: Under the Influence, out Sept. 18. Did you enjoy making it?
Morgan Neville [Twenty Feet From Stardom] directed it, and he had a great way of not interfering. I wasn't really aware of it being shot. But it's pretty damn good: Buddy Guy and some [other] cats, and a few things are explained. And I'm great!
Any update on the Stones doing a new record?
I'm trying to get them into the studio. But I don't quite honestly see it happening this year. After we [tour] South America in February and March, I'd love to get in the studio in April. But I know what those guys are like: When they finish a tour, they don't want to do nothing. [Laughs] But at the same time, that's when the band is at its peak. So I'm goading and prodding and pleading.


| | |
| --- | --- |
| The Ann Wilson Thing | |

The Heart songstress returns with her first ever solo EP.
Ann Wilson
The Ann Wilson Thing
ROCK (Rounder)

By Miles High Productions
ock & Roll Hall of Fame inductee Ann Wilson is set to release her first solo EP, The Ann Wilson Thing, on Rounder Records. Featured tracks on the EP include "Fool No More," which was written by Wilson and described by her as "a heavy blues song about bad love and the fleeting of time" and "For What It's Worth," described by Wilson as "a melding of some timeless lyrics with meat, hair and teeth." The Ann Wilson Thing will be released digitally on September 18 and in stores October 9.
Wilson previously announced her first solo mini tour kicking off September 21 in Solana Beach, CA. Additional dates include The Katherine Hepburn Cultural Arts Center on October 6 and a second show at City Winery in New York on October 7. Alison Krauss and Emmylou Harris with be sitting in with Wilson at her Nashville City Winery date on October 15 and Jon Batiste, the band leader of the Colbert show, will join Ann for a song at the New York City Winery show.
In addition, Wilson's Hartford, CT show at the Kate Hepburn Theater will be filmed by Connecticut PBS as part of their new "Kate Hepburn Series" and will air on PBS in February.
As a songwriter and lyricist, Ann Wilson has created a truly impressive body of work ("Crazy on You," "Barracuda," "Magic Man," "Dog & Butterfly," "Straight On," "Even it Up," "Mistral Wind," and many, many more). However, her greatest gift, and first "calling" is singing and with this intimate tour, she prepares to blow away her fans with up, close and personal, raw performances of blues and rock songs. The Ann Wilson Thing won't replace Heart but it will be a new experience for existing Heart fans, as well as for new fans who will love these songs.

Upcoming Tour Dates:

Oct. 6 - The Katherine Hepburn Cultural Arts Center Hartford, CT
Oct. 7 - City Winery (two shows) New York, NY
Oct. 9 - Rams Head on Stage Annapolis, MD
Oct. 10 - Rams Head on Stage Annapolis, MD
Oct. 12 - The Barns at Wolf Trap Vienna, VA
Oct. 13 - The Barns at Wolf Trap Vienna, VA
Oct. 15 - City Winery Nashville, TN
Nov. 23 - Yoshi's Oakland, CA
Nov. 24 - Yoshi's Oakland, CA (two shows)

STREAM AND DOWNLOAD TRACK: "Fool No More"

Follow Ann Wilson:
https://www.facebook.com/officialannwilson
https://twitter.com/annheartmusic
https://instagram.com/annheartmusic/




| | |
| --- | --- |
| Hollywood's First Superagent | |

A new book details the reign of one of the
1970's most influential Hollywood agents.
Brian Kellow
Can I Go Now?
BIOGRAPHY
By Clark Collis in Entertainment Weekly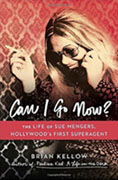 t the height of her powers in the mid-'70s, Hollywood agent Sue Mengers' starry client list included Barbra Streisand, Michael Caine, Ryan O'Neal, Ali McGraw, and wunderkind director Peter Bogdanovich. In fact, she was only interested in repping "twinkies," as she referred to her A-list charges. Fellow agent Harry Ufland remembers in this biography of Mengers that she expressed amazement about his taking a client straight out of film school. "Why do you spend all this time on these guys?" she asked. (The name of the director: Martin Scorsese.) And woe betide anyone who brought a nonentity to one of her legendary dinner parties. "If my mother had been outside in the rain, she wouldn't have been able to get in," Mengers said of her soirees.
---

Memorable Line:
"When John Travolta", then having a big success...on Welcome Back, Kotter, was called to her attention, she dismissed him as 'that f---ing sweathog.'"


---
The foulmouthed agent, who died of pneumonia in 2011, might well have sent a salty word or two in the direction of Brian Kellow (author of 2001's Pauline Kael: A Life in the Dark) for his assiduous detailing of her unglamorous upstate New York upbringing. But she would doubtless have lit a celebratory joint -- or 10 -- at the high-caliber nature of those offering reminiscences about the Hollywood power broker. Caine, for example, recalls the almost disastrous occasion when he mistook a bowl of cocaine for a bowl of sugar while preparing his coffee at Mengers' house. Streisand, meanwhile, says it wasn't unusual for the agent to coo over a client during a phone call and then call her the C-word once it was over, before reassuring the Funny Girl icon that, no, she would never talk to her that way.

Kellow doesn't really make his case that Mengers was an important architect of Hollywood's creative renaissance in the '70s. Rather, she was instrumental in capsizing the careers of some who did contribute to that era, as when she persuaded Bogdanovich to cast as the male lead in his all-singing, all-dancing spectacle At Long Last Love another of her clients, Burt Reynolds, who could neither sing nor dance. Regardless, this is an absorbing read. At one point Richard Benjamin, the star of Westworld and a Mengers client, describes her as a "force of nature." Can I Go Now? diligently documents the course of the hurricane. B+