| | |
| --- | --- |
| Petty's New American Dream | |

The Heartbreakers get back to their roots with a set of urgent grooves and last-ditch hopes.
Tom Petty
Hypnotic Eye
ROCK (Reprise/Warner Bros.)

By Jon Dolan in Rolling Stone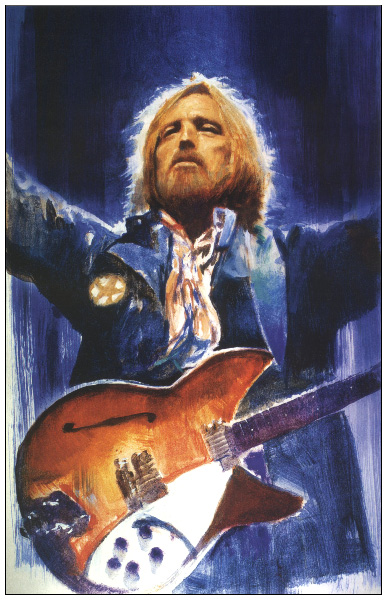 hen Tom Petty emerged in the mid-Seventies, he was the perfect down-to-earth rock star for the times: a hungry Southern boy playing tight rock & roll in mellow Southern California, kicking against the era's soft-bellied complacency with hard-jangling realness. On Hypnotic Eye, the 63-year-old and his eternal Heartbreakers return to the scrappy heat of those early days with their toughest, most straight-up-rocking record in many years, deepened by veteran perspective. "I feel like a four-letter word," Petty sings on "Forgotten Man," which sounds like "American Girl" remade as a Bo Diddley roof-rumbler. You can be sure as shit that four-letter word isn't "darn" or "rats."
| | |
| --- | --- |
| Released on July 29, 2014 via Reprise/Warner Bros., Tom Petty and the Heartbreakers' 13th studio album Hypnotic Eye is the first album from the L.A.-based band in four years. "I knew I wanted to do a rock & roll record," Petty told Rolling Stone in April. "We hadn't made a straight hard-rockin' record, from beginning to end, in a long time." | |
Hypnotic Eye took three years to make, but it often sounds like buddies out on a weekend garage-jam bender. It's especially reminiscent of their first two records, 1976's Tom Petty & the Heartbreakers and 1978's You're Gonna Get It!, before they hit on the crystalline polish of 1979's Damn the Torpedoes. It's also of a piece with the foundational vibe of 2008's Mudcrutch, where Petty convened the country-rock band he and two future Heartbreakers (guitarist Mike Campbell and keyboardist Benmont Tench) played in Florida in the early Seventies before they hit L.A.

Yet there are few, if any, attempts to re-enact Petty's vintage h its. This is the Heartbreakers four decades later, deepening their attack with sturdy reliability. On "Faultlines," Petty and Campbell exchange snarling guitar phrases against a swamp-boogie swing from drummer Steven Ferrone and bassist Ron Blair. On "Red River," the band's trademark Byrds-y shimmer comes with extra crunch and desert-horizon beauty. Sometimes the intensity doesn't even need to be loud, as with the subdued "Full Grown Boy," where Tench plays jazz-shaded piano and Petty pushes his voice into a relaxed croon for the wee small hours.

Petty populates these urgent songs with a cast of desperate dreamers, zealots, doomed lovers, loose cannons and alienated zombies -- like the woman in "Red River" stockpiling powerless religious talismans, the doomsaying town crier in the highway rocker "All You Can Carry," or Petty himself in the forebodingly caustic "Shadow People," wondering what role he can play "in my time of need, in my time of grief."

The most sympathetic of these characters is the defiant free-faller in "American Dream Plan B," clinging to hope against all evidence. "My success is anybody's guess/But like a fool I'm betting on happiness," Petty sings over acrid blasts of distortion. You can imagine the guy hearing this song on his car radio and using it to steel himself for life's next knee in the grapes. When the God-touched chorus kicks in, full of Petty's ringing chords and Campbell's psychedelic fuzz, it's like a backslap of brotherly reassurance. If a Katy Perry song had come on the radio, he might've swerved into oncoming traffic. But not today. Tom Petty has saved drive time once again, just like he's been doing since he was a cranky young man himself. * * * *



| | |
| --- | --- |
| Fifty Years of Beatlemania | |

A beautiful new restoration of 'A Hard Days' Night' captures the glory of the Fab Four at their fabbest.
by Kyle Anderson in Entertainment Weekly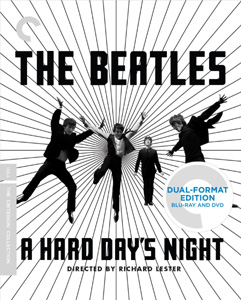 he key new bonus feature on the 50th-anniversary Criterion edition of A Hard Day's Night is The Running Jumping & Standing Still Film, a 10-minute short from 1960. Directed by Richard Lester, it's a series of loosely interconnected slapstick sketches with a musical bent. The Beatles loved it. So when it came time to make their first film, the group sought out Lester, hoping he'd create the same spirit of inspired lunacy. Did he ever.
Lovingly restored in 4K from the original camera negative, A Hard Day's Night (1964, Not Rated, 1 hr., 27 mins.) looks and feels as stunning as it did in the band's heyday. And for those who prefer their Liverpudlians 30 feet tall, the remastered version was given a nationwide theatrical release on July 4.
By the time the movie was released in the summer of '64, Beatlemania was in full swing in the United States. The band had already sent many a teenage Ed Sullivan Show viewer into hysterics, and the film was bookended by the first pair of Beatles tours. The timing was accidentally perfect: United Artists rushed it into production in the fall of '63, fearing that the band would peak if they waited any longer. Not even close. It ended up being the ultimate encapsulation of the Beatles' sudden, overwhelming impact on international youth culture.
There's not much plot in A Hard Day's Night, and that works just fine. The relaxed nature of the central narrative, which finds the band making the trip to London for a TV appearance, allows for the real meat of the film: John, Paul, George, and Ringo getting into a series of mildly anarchic misadventures. As the guys admit in archival interviews also featured here, they aren't trained actors. But that matters little. A Hard Day's Night succeeds because of the lads' breezy chemistry. Lester wisely let them react in their natural element, and it's those scenes -- toying with the emotions of journalists at a press conference or brushing up against the stiff-upper-lipped on a train car-- that crackle. The script, penned by British TV veteran Alun Owen, traffics in the same kind of erudite whimsy that Lester explored with his Running Jumping & Standing Still co-writers, Peter Sellers and U.K. comedy legend Spike Milligan. You can spot the seeds of Monty Python in such bits as John Lennon playing with a submarine in a bubble bath and the iconic offbeat field frolic scored to "Can't Buy Me Love."
Previous DVD iterations of A Hard Day's Night have naturally celebrated it as a keystone to understanding Beatlemania. This edition (which includes a number of extras recycled from earlier versions) plays up the greatness of Lester. It's a fair pitch. He is an underrated stylist whose legacy of breathtaking black-and-white work at the crest of the British New Wave -- and his rainbow Pop-art explosion on the Beatles' second film, Help! -- has been tainted by his shoddy latter-day work, most notably the Superman sequels in the '80s. He deserves a victory lap, especially considering how well this film has aged. In '64, it would have been enough for A Hard Day's Night to be merely an entertaining concert film. It is that -- but it's also a genuinely funny, reality-bending look at the Beatles just as they were shifting from curious phenomenon to the most important rock band that ever picked up guitars. A