| | |
| --- | --- |
| Yellow Brick Road Revisited | |

The singer looks back at the chaotic sessions for his off-
the-cuff 1973 masterpiece 'Goodbye Yellow Brick Road.'
By Andy Greene in Rolling Stone

lton John was on a historic roll when he traveled to France in early 1973 to make what would become one of rock's great double albums. He'd scored seven Top 40 singles in the previous two years, and Don't Shoot Me I'm Only the Piano Player had just topped the album charts. Goodbye Yellow Brick Road would be his second LP of 1973, and at an 18th-century mansion-turned-studio near Paris, the new songs flowed like cheap Bordeaux -- he and his band knocked out all 17 of the tracks in 18 days. "Every morning I'd come downstairs and there'd be instruments around the breakfast table," says John. "Bernie [Taupin] would hand me his newest lyrics and I'd write songs. Then we'd record most in two or three takes."
| | |
| --- | --- |
| Released on March 25 via Island/Capitol, the 40th anniversary super deluxe box set of Elton John's Goodbye Yellow Brick Road includes the original album remastered, a CD of all-new cover versions by contemporary artists personally chosen by Elton with additional tracks and B-sides, the full "Live at the Hammersmith '73"concert on two CDs, and a DVD of Bryan Forbes' 1973 film Elton John and Bernie Taupin Say Goodbye to Norma Jean and Other Things. In addition to the discs, the box also contains a 100-page illustrated hardback book packed with rare photos, memorabilia and a new essay containing interviews with John and Taupin. | |
With more than 30 million copies sold worldwide, Yellow Brick Road is John's biggest studio album. It's also his most diverse, veering wildly from prog-rock ("Funeral For a Friend/Love Lies Bleeding") to reggae ("Jamaica Jerk Off") to honky-tonk ("Social Disease") to hard rock ("All the Girls Love Alice"). "We were running on momentum and adrenaline," says John. "I didn't even know what a joint was yet."

On March 25th, the album returned to stores in a super deluxe edition featuring unheard demos, a live concert from 1973, and a bonus disc featuring covers of nine of the tracks by Fall Out Boy, Zac Brown Band and Ed Sheeran, who turned in a stripped-down version of "Candle in the Wind." "It was actually Elton who suggested I do it," Sheeran says. "I was apprehensive because it's such an important song -- to fans and to Great Britain after its [rerelease] around Princess Diana's death." John himself was thrilled with the covers. "Imelda May made 'You Sister Can't Twist' much more rockabilly than we ever did, and Emile Sandé made 'All the Girls Love Alice' into a slow song, which really took me by surprise," says John.

For all its runaway success, Yellow Brick Road got off to a disastrous start. John had wanted to record it at Dynamic Sound Studio in Kingston, Jamaica -- partly because the Rolling Stones had just cut Goats Head Soup there. "All our grand intentions came crashing to the ground once we got there and saw how abysmal the studio was," says Taupin. "The climate was hospitable, but the natives actually weren't. There were armed guards and barbed wire." Soon after they arrived, John and the group decided to ditch Jamaica. "I remember everybody jumping into whatever vehicles they could find," Taupin says, "just trying to make it to the airport. It felt like the Cuban revolution."

With the clock ticking and their budget deteriorating, they headed to France, where John had recorded his previous two albums. Taupin wrote very few songs before recording began, and every morning he'd begin penning stream-of-consciousness lyrics. Many of them -- "Goodbye Yellow Brick Road," "Roy Rogers," "I've Seen That Movie Too" -- were inspired by movies and TV shows he watched as a child. "Candle in the Wind" is a tribute to Marilyn Monroe, though today Taupin reveals he was never a big fan. "She was just a metaphor for fame and dying young," he says. "The song could have been about Montgomery Clift, James Dean or even Jim Morrison."

"Bennie and the Jets," meanwhile, was based on a rather trippy idea. "I saw them as a proto-sci-fi punk band fronted by an androgynous woman who looks like something out of a Helmut Newton photograph," says Taupin. "Years later, when I saw Robert Palmer's video for 'Addicted to Love,' I went, 'Hey, that's Bennie and the Jets!'"



| | |
| --- | --- |
| Spiffed-Up 'Chainsaw' Scares | |

A restored version of the 1974 horror classic 'Texas
Chainsaw Massacre' will hit theaters this summer.
by Clark Collis in Entertainment Weekly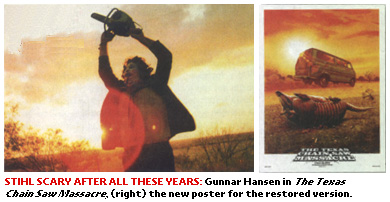 our decades after overseeing the infamously grueling shoot for the original Texas Chainsaw Massacre, director Tobe Hooper recently returned to the horror classic to work on a 40th-anniversary restoration, which premiered at the SXSW in Austin in March. So does the director wonder if his work on the 1974 movie will ever stop? "It may not," says Hooper with a laugh. "But I'm really happy with the outcome.... The film works well as, if not better, than it originally did."
The restored Massacre hits theaters this summer and will boast 4K resolution and 7.1 surround sound, which breathes new aural life into the eerie soundtrack Hooper himself worked on way back when. "I used a lot of broken instruments," he says. "Broken violins, broken bass. Anything I could get a good sound [from] I would use," Hooper says he has heard nothing about a follow-up to last year's franchise reboot Texas Chainsaw 3D, on which he was an executive producer, but promises "there will be more Chainsaw films." His next project, meanwhile, may be a modern film noir in the vein of True Detective (which stars two Chainsaw franchise alumni: Matthew McConaughey and Alexandria Daddario). "It's a little premature to talk about it, but it's dark and emotional," says Hooper. "It's not a horror film, but it is very, very tense."

comments powered by