| | |
| --- | --- |
| Smorgas-Bruce | |

The Boss' latest is a mixed bag of remakes, live tunes and covers.
Bruce Springsteen
High Hopes
ROCK (Columbia)

By Kyle Anderson in Entertainment Weekly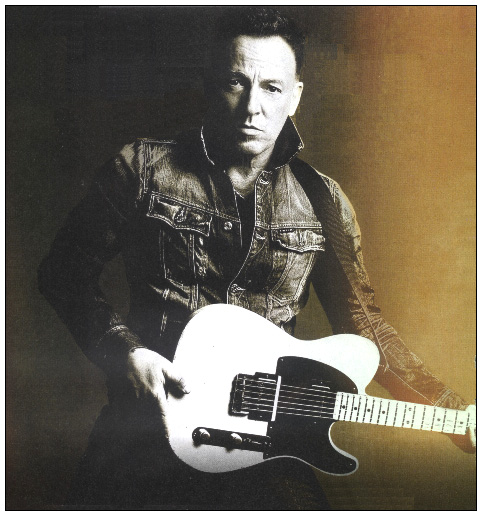 ack in the 1995, Bruce Springsteen released The Ghost of Tom Joad, a minimalist folk album that seemed to signal the Boss' intention to step away from stadium-scale rock stardom for good. It was the type of narrative he might construct for one of his own characters: After blowing up and getting in over his head (see: the underwhelming 1992 twofer Lucky Town and Human Touch), the small-town boy returned to his roots to start over.
| | |
| --- | --- |
| Released on January 14 via Columbia, Bruce Springsteen's 18th studio album High Hopes includes the E Street Band members in various large and small combinations as well as guitarist Tom Morello on eight tracks. I also features two late E Street Band members, Clarence Clemons, who passed away in 2011, and Danny Federici, who passed away in 2008. | |
Joad also rekindled Springsteen's love affair with folk music, first explored on 1982's Nebraska. He's continually circled back to that passion, which has led him to his latest muse, Rage Against the Machine guitarist and protest-song revivalist Tom Morello. The bulk of High Hopes, Springsteen's 18th studio album, was recorded in the midst of a tour that found the man also known as the Nightwatchman filling in for longtime E Street axman Steven Van Zandt. High Hopes is a road record: a mixed bag of long-kicked-around live tunes, new takes on old ideas, and a handful of covers. On paper, the dissonance between Morello's alarm-call riffs and the fine-tuned E Street engine sounds ugly -- and indeed, his faux-DJ scratching on "Heaven's Wall" and limp funkifying on "Harry's Place are the album's nadir. But even those sins seem to invigorate Springsteen, as though Morello's nervy combination of Zeppelin-size swagger and Bomb Squad noise pollution has emboldened him.

That influence is clearest on the album's two centerpieces: an official studio version of 2001's "American Skin (41 Shots)" and an epic rerecording of Joad's title track. "American Skin," written in response to the infamous 1999 killing of an unarmed African immigrant by the NYPD, throbs with righteous indignation, while "The Ghost of Tom Joad" turns the original's reverent whisper into teeth-gnashing agitprop, with Morello handling lead-vocal duties. His bland intonations pale next to Springsteen's signature rasp, but he saves himself with blistering solos and a surgical sense of sonic escalation. High Hopes ends with an oddly fussy take on Suicide's classic post-punk lullaby "Dream Baby Dream," but it should have closed on "The Wall," a bittersweet elegy for two friends who never returned from Vietnam. Over a delicate smattering of piano and accordion, Springsteen finds his inner Seeger, quietly sneering, "I read Robert McNamara says he's sorry."

Songs about decades-old social injustice should make him sound out of touch, but High Hopes still crackles with immediacy, despite the cobbled-together nature of the material -- "American Skin," for example, was recently resurrected in honor of Trayvon Martin. Like most of his later work, High Hopes believes in the human spirit but also in the power of outrage. And that, like Bruce, the more things change, the more they stay the same. B



| | |
| --- | --- |
| Fleetwood Mac-tress | |

Legendary Fleetwood Mac frontwoman Stevie Nicks talks about her
appearance in a recent episode of 'American Horror Story: Coven'.
By Ray Rahman in Entertainment Weekly


tevie Nicks, 65, went from inspiring the cult hit American Horror Story: Coven to making an awesome cameo in the Jan. 8 episode. We talk to her about the role -- and whether she'll return to cast more spells.
---
AHS co-creator Ryan Murphy said it was tough to get you to actually appear on the show. How did he finally convince you?
When they asked if they could use my music, they just said, "There's a character, and you're a muse because she listens only to you, and she lives out in the swamp." And that was good enough for me! [Fleetwood Mac] were in Europe, but we were able to pull up the first couple episodes. Of course, I fell into the spell. Then all of a sudden I had five weeks at home, and I was like, "Can I just do a walk-through? [Like] 'Hello, witches! Goodbye, witches!" I had no idea I'd be written in until I got to New Orleans. I don't want to go down in history as "Stevie Nicks: rock & roll star par excellence -- terrible actress." So I didn't sleep very well.
What was your experience like on the set?
I did these scenes with Jessica [Lange], and I got to really watch an amazing actress act. I realized, Boy, this is much harder than what I do. I get on, I'm on for two and a half hours, I get off stage, I get on the plane and go to the next city and order room service.
Murphy says you have tons of script ideas -- and that you'll be back for the Jan. 29 finale.
I know they're like, "Are you part of the writing team now?" It's just that I'm so unfortunately full of ideas! I wrote them a letter last night that said, "You know, my friends think I should give up rock & roll and just go to work for you." [Laughs]



| | |
| --- | --- |
| Still 'Blazing' After 40 Years | |

By Jeff Labrecque in Entertainment Weekly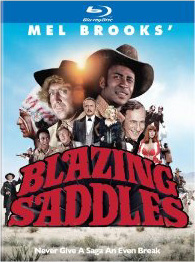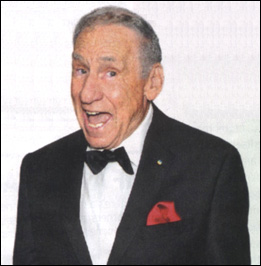 n 1974, Mel Brooks' Blazing Saddles redefined comedy forever. As the film celebrates four decades of funny with a new 40th anniversary Blu-ray edition, creator Brooks gives us the backstory of the classic comedy Western.
Blazing Saddles has been honored by the Library of Congress, and President Obama has waxed nostalgic about seeing it as a child. I'm guessing you didn't envision such accolades when you made it.
I envisioned a race riot. I thought everybody would come after me and kill me for what I said about the Chinese, and the blacks, and the Jews. I thought if this was shown in Waco, Texas, the whites would storm the screen and cut it to ribbons. But Texas liked it as much as New York.
The film epitomized what became known as a "Mel Brooks Movie," an irreverent romp that broke all the rules. What led you to this type of wacky satire?
I just wanted to exorcise both my angels and demons. I said to all the writers, "Look, fellas, don't worry, this movie will never get released. Never. [Warner Bros.] will see it and they'll say, 'Let's bury it.' So let's go nuts. Let's write things that we never would dare write." And we did. There's a few guys doing that now -- Tarantino's doing that.
Richard Pryor helped write the script, and you wanted him to play the sheriff, Bart. What did he bring to the film?
He gave me some really beautiful 126th Street, St. Nicholas Ave. [Harlem] lines. I quit for three days because Warner Bros. wouldn't [let me cast] Richard as Black Bart. Richard came over and said, "If I was the black sheriff, I could pass for Cuban because I'm coffee-colored. Now, this guy Cleavon Little: He's classy, he has poise, and he's really charming. But he's black as coal. He will scare the s--- out of them." I said, "Okay, I'm coming back."
In comedy, the rule of three often applies, but you blew past that in the bean-fueled campfire scene. How did you decide how many farts were the correct number of farts?
That's a very good question. I had a rough cut, and maybe I had 16 farts. Things didn't get exciting until the fourth or fifth one, and the laughter began to diminish around the 12th fart, so I said, "Okay, cut it off at 12." I did it kind of systematically. I do a lot of homework.
Pound for pound, minute for minute, there are probably more laughs in Saddles than in any other movie ever made.
I think the AFI number one all-time comedy is Some Like It Hot, which I like. I thought it was really terrific. But it's certainly not half as funny as Blazing Saddles. I mean, it can't compare. When you limit your lists to comedies, Blazing Saddles should be first, second, third and fourth. And then maybe Young Frankenstein should be fifth. That's the way it should roll.