| | |
| --- | --- |
| Dancing Days Are Here Again | |

After a worldwide theatrical release on Oct. 17, Led Zeppelin's 2007 reunion concert
at the London O2 Arena is released in multiple video and audio formats.
Led Zeppelin
Celebration Day
ROCK (SWAN SONG/ATLANTIC)

by 1888 Media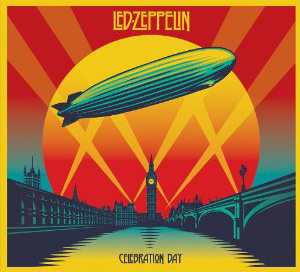 ed Zeppelin took the stage at London's O2 Arena on December 10, 2007 to headline a tribute concert for dear friend and Atlantic Records founder Ahmet Ertegun. What followed was a two-hour-plus tour de force of the band's signature blues-infused rock 'n' roll that instantly became part of the legend of Led Zeppelin. Although 20 million people applied for tickets, the band's first headline show in 27 years was seen only by the 18,000 ticket holders who were fortunate enough to have secured seats through the worldwide lottery.
The film of Celebration Day had a worldwide theatrical release by Omniverse Vision on 1,500 screens in over 40 territories on October 17 (a limited second run is set for November 13). Its NYC premiere was attended by band members Robert Plant, Jimmy Page, John Paul Jones & Jason Bonham, and other top musicians on hand included Kirk Hammett (of Metallica), Chad Smith (of Red Hot Chili Peppers/Chickenfoot), Stevie Nicks, Paul Stanley (& son Evan), Patty Griffin, Mick Jones & Joan Jett.
On November 19, Celebration Day will be available in multiple video and audio formats from Swan Song/Atlantic Records. Available for pre-order now, the details on all configurations of Celebration Day are listed below.
Led Zeppelin has also been selected as one of the recipients of the 2012 Kennedy Center Honors. The band is set to receive the Honors at the annual gala on December 2 in Washington, DC.

Celebration Day trailer
"Kashmir" excerpt from Celebration Day
"Black Dog" excerpt from Celebration Day
LED ZEPPELIN: Celebration Day
Track Listing

1. "Good Times Bad Times"
2. "Ramble On"
3. "Black Dog"
4. "In My Time Of Dying"
5. "For Your Life"
6. "Trampled Under Foot"
7. "Nobody's Fault But Mine"
8. "No Quarter"
9. "Since I've Been Loving You"
10. "Dazed And Confused"
11. "Stairway To Heaven"
12. "The Song Remains The Same"
13. "Misty Mountain Hop"
14. "Kashmir"
15. "Whole Lotta Love"
16. "Rock And Roll"


| | |
| --- | --- |
| Behind Blue Eyes | |

Who legend Pete Townshend comes clean in his new autobiography.
by Jason Adams in Entertainment Weekly

Who I Am
Pete Townshend
Memoir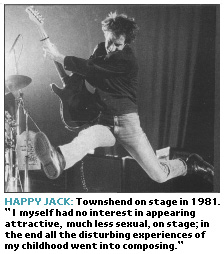 nyone familiar with the Who's 1969 rock opera Tommy, about a boy who overcomes a childhood trauma that renders him "deaf, dumb and blind" and goes on to become a messianic figure, already has a pretty good handle on its composer's life story. Like Tommy, the young Pete Townshend experienced family drama, suffered sexual abuse, took drugs to gain enlightenment, and went on to become his generation's equivalent of a god -- a rock star.
But as Townshend writes in his doorstop of an autobiography, Who I Am, there's much more to who he is. What the more actually is, however, can be a little hazy. Townshend has said that he compiled the book using notes on scraps of paper he'd kept over the years, and many of the details read as such. Yes, there are indeed many revelations about good old sex, drugs, and rock & roll, including this vivid gem: "Mick [Jagger] is the only man I've ever seriously wanted to f---. He was wearing loose pajama-style pants without underwear; as he leaned back I couldn't help noticing the lines of his c--- laying against the inside of his leg, long and plump." But some accounts seem tossed off and perfunctory, variations on them told with greater exposition and enthusiasm elsewhere over the years by Townshend himself (see: the Who rock doc The Kids Are Alright). Others are confusingly conflated (in the matter of a few paragraphs, he goes from boozing and snorting coke to freebasing and using heroin -- a pattern of drug abuse that certainly would have taken more than an afternoon for anyone other than Keith Richards).
And yes, tabloid ghouls, he directly and thoroughly addresses the accusations of possessing child pornography that -- unjustly, we learn -- came his way in 2003. At least when it comes to emotional honesty, Townshend is, thankfully, anything but deaf, dumb and blind. B