| | |
| --- | --- |
| Get Your Ya-Ya's Back Out | |

A sizzling Rolling Stones concert from 1978 is released
on DVD and Blu-ray for the first time ever.
The Rolling Stones
Some Girls Live In Texas 1978
ROCK (Eagle Rock Entertainment)

By Fontana/UMG Mktg.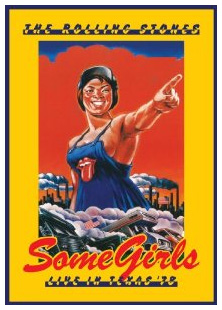 ontinuing their partnership with the greatest rock 'n' roll band in the world, Eagle Rock Entertainment have announced the DVD and Blu-Ray release of The Rolling Stones Some Girls Live in Texas 1978. Available for the first time ever on November 21, Some Girls Live in Texas 1978 features Mick Jagger, Keith Richards, Charlie Watts, Ronnie Wood and Bill Wyman live in concert during the 1978 US tour which followed the release of their groundbreaking album Some Girls.
Some Girls Live in Texas 1978 comes hot on the heels of the huge success of 2010's Stones in Exile and Ladies & Gentlemen... and marks the next stage in the Eagle Vision / Rolling Stones enterprise. Some Girls Live in Texas 1978 is available on four different formats: DVD, Blu-Ray, plus special edition DVD + CD and Blu-Ray + CD digipack presentations including a reproduction tour program. Bonus features on all formats will include a new interview with Mick Jagger.
Capturing the Rolling Stones at their live best, and fully restored to the highest level of picture and sound quality, Some Girls Live in Texas 1978 was filmed at the Will Rogers Memorial Center in Forth Worth, Texas on July 18, 1978 on what many fans consider to be one of the band's greatest tours. This was due to the band's "back to basics" approach both musically and visually, as the shows were stripped back compared to previous tours, harnessing the new punk rock attitude of the late 70s.
Showcasing many songs from the Some Girls album, celebrated for being the Rolling Stones' most direct and diverse collection of music, and which by the time the band arrived in Texas, had gone to the top of the US charts, this concert demonstrates the sheer force and raw energy of the Rolling Stones live on stage.
Some Girls songs like "Miss You," "Respectable," "Beast Of Burden," "When The Whip Comes Down," and "Shattered," weave into a set list which also includes "All Down The Line," "Honky Tonk Women," "Tumbling Dice," "Jumpin' Jack Flash," "Happy," and "Brown Sugar."
Originally shot on 16mm film, the concert footage has been carefully restored with the sound remixed and remastered by Bob Clearmountain from the original multi track tapes.

TRACKLISTING:
1. "Let It Rock"
2. "All Down The Line"
3. "Honky Tonk Women"
4. "Star Star"
5. "When The Whip Comes Down"
6. "Beast Of Burden"
7. "Miss You"
8. "Just My Imagination (Running Away With Me)"
9. "Shattered"
10. "Respectable"
11. "Far Away Eyes"
12. "Love In Vain"
13. "Tumbling Dice"
14. "Happy"
15. "Sweet Little Sixteen"
16. "Brown Sugar"
17. "Jumpin' Jack Flash"
Video Clips (DVD & Blu-Ray Trailer):
"Some Girls"
"Shattered"
"Beast of Burden"




| | |
| --- | --- |
| Revisiting a Tough, Trashy Classic | |

The Stones reopen the vaults to expand their acclaimed 1978 set 'Some Girls'.
The Rolling Stones
Some Girls: Deluxe Edition
ROCK (Universal/Hip-O)

By Rob Sheffield in Rolling Stone

really like girls an awful lot," Mick Jagger confided to Rolling Stone in 1978. "And I don't think I'd say anything really nasty about them." And yet the eternal kick of Some Girls is that Mick has a deliciously nasty word or two for everybody. Just when the Stones seemed to be fading away, they shadoobied back to life with some of their toughest songs ever: the punk sleaze of "Shattered," the soulful Keithness of "Beast of Burden," the late-night-disco desolation of the chart-topping "Miss You." The result was the Rolling Stones' funniest, trashiest, bitchiest LP -- an all-time classic that remains their biggest-selling record.
So how do you improve on an album like this? How about making it twice as long? This edition has 12 outtakes, most of which have been hoarded on bootlegs by Stones fanatics for years. Some of the bonus tracks are nearly as hot as the originals; certainly they live up to the Some Girls spirit, from the cheeky piano lament "Petrol Blues" to Keith Richards' tender Nashville cover "We Had It All."
| | |
| --- | --- |
| Released on Nov. 21 via Universal/Hip-O, the remastered Some Girls - Deluxe Edition is available in both deluxe 2-CD Digipak and deluxe box set editions, the latter adding a bonus DVD, 7" vinyl single, hardback book, a set of postcards, Helmut Newton prints, and a poster. | |
The Some Girls sessions were famously productive -- mostly just the five Stones and engineer Chris Kimsey holed up in a Paris studio cutting dozens of songs. Some of the leftovers landed on later albums -- see "Hang Fire" or "Black Limousine," both of which resurfaced on Tattoo You -- while others were unfinished until now. The outtakes get refurbished with guitar overdubs and Mick's new vocals. But as on last year's Exile on Main St. reissue, the touch-ups usually improve bootleg versions -- see "No Spare Parts," a twang-soul truck-stop reverie that finally gets the full-on Mick vocal it always deserved.

The best find is "Do You Think I Really Care," a countrified ramble through New York nightlife driven by Ronnie Wood's pedal steel and Charlie Watts' drums. Mick chases an erotic mirage all over the city, from the D train to Max's Kansas City. Who else but the Stones could blow off a song this great?

"Claudine" is one of their most notorious tunes, a Chuck Berry-style rocker lampooning the Claudine Longet/Spider Sabich scandal. Over ragged guitars, Mick dishes about a Vegas singer who shot her Olympic-skier boyfriend. It might be a libel lawyer's cream dream ("Blood in the chalet, blood in the snow/She washed her hands of the whole damn show"), but it holds up as a funny satire of tawdry American celebrity -- a condition the Stones knew well by this point.

You can hear Mick and Keith rediscover their Glimmer Twins chemistry, whether it's a blues groove like "When You're Gone" on a romp through the rockabilly chestnut "Tallahassee Lassie." (And this is just a taste of the treasures still in the vault -- where the hell is "Fiji Jim"?) The while package catches the Stones on a roll, thriving on the punk and funk energy in the air, with Mick driving the music and playing more guitar than ever. It's the ultimate version of the album that invented the Stones we've known ever since: mean, vital, gloriously unrepentant. * * * * *