| | |
| --- | --- |
| King Crimson's Royal Remix Treatment | |

The English prog-rock masters are sounding better than ever.
by David Fricke in Rolling Stone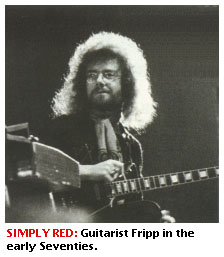 hen Steven Wilson of the English band Porcupine Tree, a lifelong King Crimson fan, began work on reissues of Crimson's 10 1969-74 and '81-84 studio albums -- remixing for CD and DVD-audio, excavating outtakes -- one of the first he wanted to tackle was 1970's Lizard, a notoriously turbulent merger of art rock and modern jazz. Crimson guitarist Robert Fripp was shocked. "His eyebrows went up," Wilson says. "He said, "Really? That's the least-popular album.' I said, 'I'm going to change people's minds.'"
Wilson's remix of Lizard (Inner Knot) is the record Fripp intended, minus the LP's original murk. Up front, in "Cirkus" and the title epic, is the intricate interplay of mellotron and Fripp's scouring guitar with the horns and pianist Keith Tippett's glass cascades, like a classical-gas explosion of Tool and Arcade Fire. Wilson cites "the baritone saxes where you normally have heavy guitars" in "Indoor Games." After he heard the remix, Fripp said to Wilson, "Thank you. That's the first time I've actually heard the music."
Also out now are 1974's Red, one of the fiercest prog-rock albums of all time, and Crimson's '69 titanic-psychedelia debut, In the Court of the Crimson King. On the latter's DVD-audio disc, Wilson presents an entire alternate LP, including the live backing track for "21st Century Schizoid Man." "It's furious burning rock," says Wilson, "like nothing else on Earth." Coming in April: 1971's eerie, underrated Islands. "It has a spacious quality," Wilson says. But one of the bonus tracks, found on a session reel, is an untitled piece with riffs that later turned up on the 1973 avant-metal killer Larks' Tongues in Aspic. "It's a fascinating link," Wilson says. "The music was not right for that version of the band, and Robert knew that."



| | |
| --- | --- |
| Remembering Alex Chilton | |

The Memphis musician was adored by the likes of R.E.M. and the Replacements.
by Clark Collis in Entertainment Weekly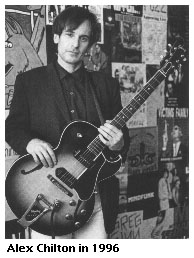 ock music lost one of its great cult icons when Alex Chilton, frontman of beloved '70s guitar-pop band Big Star, unexpectedly died on March 17 in New Orleans from a suspected heart-related problem. The 59-year-old singer-songwriter may not have been a household name, but he was a totemic and inspirational figure, a huge influence on bands like R.E.M., Wilco, and the Replacements (whose 1987 song "Alex Chilton" helped introduce him to a generation of alt-rock fans.
The Memphis-born Chilton enjoyed his largest commercial success at the start of his career, singing for late-'60s soul-pop act the Box Tops. Chilton was just 16 when the band's single "The Letter" hit No. 1, although his gruff vocals already sounded like they belonged to an old soul. The Box Tops disbanded in 1970, and the following year Chilton formed Big Star, who released three commercially unsuccessful but now-revered albums -- #1 Record, Radio City, and Third/Sister Lovers -- before breaking up in 1974. (Cofounder Chris Bell, who left after the first album, died in a 1978 car crash.) Those three albums offer abundant evidence of Chilton's fabulous songwriting and often haunting vocals. "He was very smart about music, but he never let his intellect get in the way of an emotional performance," says Big Star drummer Jody Stephens.
Following the split, Chilton embarked on a somewhat fitful solo career, while Big Star's reputation steadily grew. By the '90s, they were one of the most admired cult bands of all time (their "In the Street" even ended up as That '70s Show's theme song). "Alex's legacy is his independent spirit," says Stephens. "He delivered whatever popped into his head. He wasn't looking for anyone's approval." But with his strange, brilliant career and dearly loved music, he found it nonetheless.

ESSENTIAL CHILTON ALBUMS
| | | |
| --- | --- | --- |
| THE BOX TOPS - CRY LIKE A BABY Though it doesn't include their biggest hit, "The Letter," this 1968 LP is the Memphis pop-soul band's most consistent effort. | BIG STAR - #1 RECORD/ RADIO CITY The first two albums packaged on one CD. With classics like "September Gurls" and "Thirteen," it's totally indispensable. | BIG STAR - THIRD/ SISTER LOVERS This bleary masterpiece is by turns upbeat ("Thank You Friends") and totally harrowing ("Holocaust"). |
| ALEX CHILTON - LIKE FLIES ON SHERBERT Big Star fans might be put off by this ragged 1979 album, but the primitive sound has its own sloppy charm. | BIG STAR - KEEP AN EYE ON THE SKY A four-CD box set released in 2009 that includes their best-loved songs along with live and unreleased tracks. | THE BOX TOPS - THE LETTER/ NEON RAINBOW For completests, this 2000 reissue of the Box Tops' 1967 debut LP augments the original dozen tracks with a quartet of bonuses. |
comments powered by