| | |
| --- | --- |
| Long May He Run | |

The troubadour's megabox is well worth the wait.
by Will Hermes in Rolling Stone

Neil Young
Archives Vol. 1: 1963-1972
Reprise


rchives"? Dude ain't kidding. A decade-plus in the works, this 10-disc ultra-mega-anthology is like Geraldo's trip to Al Capone's vault if the gangsta had the smarts to retain librarians. Containing days' worth of viewing, listening and reading material, Archives is now the high-water mark for box sets, priced at $300 for the Blu-ray edition (which will let you download new Neil content in the future). It's built for fanatics, yet the goods could make a fanatic out of anyone.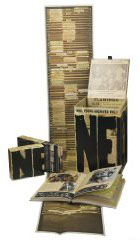 The set (also available as standard DVD's and truncated CDs) chronicles Young's journey from hungry Canadian folkie to ambivalent rock star to reclusive-genius singer-songwriter. Alongside tracks from his teen surf band the Squires, the first disc sports 1965 demos of "Sugar Mountain" and "Nowadays Clancy Can't Even Sing," both of which show a songwriter mature beyond his years.
One of the benefits of Blu-ray is that the previously released stuff -- of which there's plenty -- sounds better than ever, with startling definition, even on the live recordings. The latter includes the recently released Live at the Fillmore East (New York, 1970), a fierce set with the late Danny Whitten and Crazy Horse, and Live at Massey Hall (Toronto, 1971), which enhances its solo-acoustic manna with murky, underlit concert footage. Most of Archives' audio recordings, however, are accompanied by images of the master tape of vinyl pressing slowly rotating on a playback device, which is also fun to watch as a yule log.
Not everything has aged well -- the 1973 stoner-surrealist film Journey Through the Past is easy to nod off to. But by the height of the period chronicled here, Young helmed four of rock's greatest acts: Crosby, Stills, Nash and Young; Crazy Horse; Harvest studio crew the Stray Gators (plus Linda Ronstadt and James Taylor); and his own heartthrob-loner, solo-folk-singing variations, like the gorgeous CSNY cover of Young's "Tell Me Why." Once you get started searching the discs' submenus for rare photos, yellowed newspaper clips, import-only 45 sleeves and lost radio interviews, you may suddenly find the sun has set and the tea kettle has boiled dry. And imagine: This represents barely one-quarter of the man's work. * * * * 1/2



| | |
| --- | --- |
| For Completists Only | |

by Will Hermes in Rolling Stone

Crosby, Stills and Nash
Demos
Rhino


he timing of this golden-era demos set is perfect, as CSN's shadow looms large over a new school of harmony-drunk indie rockers. Unfortunately, the song selection of this set of 1968-71 rarities is a mixed bag, and most are solo performances lacking the group's magical interplay. Once exception is a sprightly "Marrakesh Express," with David Crosby and Graham Nash melding voices. Several familiar tunes get skeletal readings, including Nash's piano-only "Chicago," Stephen Stills' "Love the One You're With" and a slow-mo "Déjà Vu," with Crosby scatting on the outro. Nice footnotes all, but no substitute for the originals. * * * 1/2