| | |
| --- | --- |
| The Dream Weaver Returns | |

After a successful enduring 40+ year-career, accomplished
musician Gary Wright releases two new digital albums.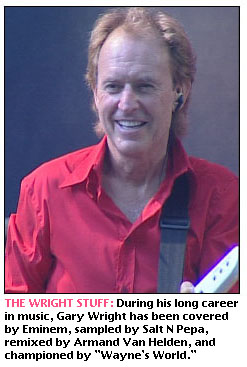 isionary songwriter and performer Gary Wright enters his fourth decade of musical pioneering with two new releases -- the ambient music collection Waiting to Catch the Light, and an EP called The Light of a Million Suns which, with multidimensional experiences in instrumentation and production, recall his enduring 1975 hits "Dream Weaver" and "Love is Alive."
Always pushing boundaries and exploring new soundscapes, Gary recorded Waiting to Catch the Light using rare vintage analog synthesizers in his desire to create the warm textures for the listener. "I wanted to record an album that would induce an experience of calmness and get people into a meditative state," said Gary, whose dedication to spiritual creativity began in the '70s when he first visited India with George Harrison as a guest of Ravi Shankar. He ventured into world music in the '80s with his award-winning album Who I Am which featured south Indian musicians, and again in the '90s with the release Human Love. Waiting follows the Eastern path of using resonating sound to produce calming effects in the mind and body, an important part of all paths of yoga as well as everyday living.
Adding to his vast pop catalogue is The Light of a Million Suns, an EP featuring a Hip Hop/R&B-infused remix of Gary's second smash hit "Love is Alive" -- a duet with his son Dorian. Both records are currently available digitally and soon on CD as well.
New ringtones have just been released as well, including an exclusive of the intro to "Dream Weaver," never before available, accessible by texting DREAMWEAVERINTRO to 71777. Other ringtones are available on his My Space web page.
Gary is headlining two full-band West coast shows -- The Canyon Club in Agoura Hills on March 21 and The Coach House in San Juan Capistrano on April 11. Future dates are to be announced. He will also be performing with his first group from the late '60s, the progressive British based rock band Spooky Tooth, first at the Shepard's Bush Empire in London in May (2009) as part of the legendary Island Records 50th anniversary celebration, and then at four other concerts in Germany.
Gary is the CEO of Larkio Music, which releases his music as well as that of Intangible, a rock group based out of Los Angeles featuring his son Justin. Larkio Music is distributed by ADA.
More on Gary Wright: myspace.com/therealdreamweaver | thedreamweaver.com | larkio.com



| | |
| --- | --- |
| Q&A with Paul McCartney | |

Sir Paul chats about the Beatles, Beyoncé, and 'Electric
Arguments,' the new album from his duo the Fireman.
by Leah Greenblatt in Entertainment Weekly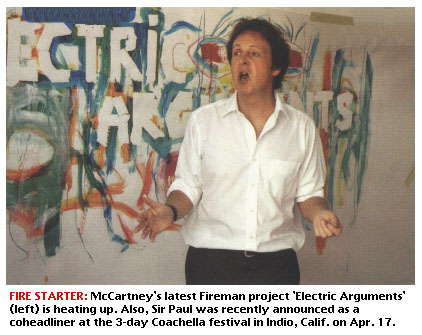 So how did you meet Youth, your Fireman partner? He's known more as a producer for bands like U2 and the Verve...
PM He was recommended to mix one of my tracks, and he and I became friends. We [started to] go into the studio. At first it was just a hobby, so it was very underground. We just made [music] and enjoyed it, had a lot of fun...but last year when we got together, it became different. The Fireman found his voice, so to speak, and there were real songs. It's liberating using a different identity. Like Sgt. Pepper. We kept the [Beatles] name, but it was a freedom, you know?
Beyoncé just did that too, an alter ego...
PM Sasha Fierce, yes! It's great because it allows you to go to new places. My motto is always "Never do the same thing twice."
Can you tell me about this special Beatles edition of the 'Rock Band' game that's coming out this fall?
PM It will feature different periods of the band -- you get early days, Liverpool, then psychedelic, and on from there. It's very cool. And I like the idea that the game introduces kids to music, you know?
Could we see the Beatles on iTunes soon?
PM It's a bit of a sticky issue. We want it to happen. There is a gridlock of sorts, though I am not part of the negotiations, thank goodness.
So, on this third Fireman record you play the instruments, sing, and you painted the album cover. What a Renaissance man! Can you bake, too?
PM Well, I did make a vegetarian lasagna recently. I found it in a book and I thought, Can I really do this? But I did, and it was quite delicious. [Laughs]