| | |
| --- | --- |
| C'mon, Get Happy! | |

Bruce Springsteen's surprisingly sunny 'Dream' makes us happy, too.
by Simon Vozick-Levinson in Entertainment Weekly

Bruce Springsteen
Working on a Dream
(Columbia)
Rock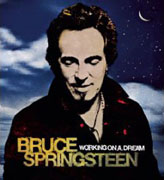 ince reuniting the E Street Band in concert in 1999, Bruce Springsteen has brought that lineup back into the studio to record two widely praised albums. As successful as that return has been, though, both 2002's The Rising and 2007's Magic came from painful places -- one an effort to heal after 9/11, the other a bitter Bush-era protest.
Working on a Dream, the third E Street Band album of the new millennium, feels like a sigh of relief by contrast. Springsteen's topical concerns have subsided for now, washed away by a high tide of positive personal feelings. "Our love will chase the trouble away," the Boss promises on the chiming title track. He sounds downright exhilarated on the uptempo pop anthem "My Lucky Day." And good for him. The guy deserves a break after so much eloquent angst.
Even so, a handful of tunes make it clear that Springsteen still sees a creeping darkness on the edge of town. "What Love Can Do" restates his humanistic faith with an anxious twist: "Darling, we can't stop this train/When it comes crashing through/But let me show you what love can do." He's bleakest of all in "Life Itself," pleading with a troubled lover in strangled tones. Even at Springsteen's most hopeful, then, his lyrics may always remain subtly haunted. Yet the warm, bright music blasting away behind him reminds fans what they've known for ages: It's hard to stay downbeat for very long when the E Street Band is playing. A



| | |
| --- | --- |
| Well Respected Men | |

Two brothers, four decades, six CDs, hundreds of riffs: The Kinks finally get their box.
by David Fricke in Rolling Stone

The Kinks
Picture Book
Universal (U.K.)
Reissue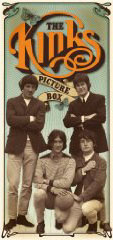 ven before the Kinks made their first hit, the 1964 fuzz rocket "You Really Got Me," singer-composer Ray Davies was writing about euphoria in the past tense -- check out "I Believed You," a brash 1963 demo included included on this six-CD set and recorded when the Kinks were still a North London dance band called the Boll-Weevils. But Davies quickly refined that raw longing into a fiercely personal pop of loss -- the mourning grind of '64's "Tired of Waiting for You," the explosive '65 wailer "Where Have All the Good Times Gone" -- built on the Kinks' bratty R&B spunk and dusted with the antique sparkle of British music hall.
Half of Picture Book's long view (this is the first Kinks anthology to go up to their mid-Nineties finish) is devoted to the band's sustained brilliance into the early Seventies, emphasizing Ray's near-daily pursuit of excellence and a fading Albion across now-fabled singles and corralled rarities. Some of the legendary tension between Ray and his younger brother, Dave, the Kinks' lead guitarist, was rooted in the latter's love of loud, and his equal, if not upper, hand is evident in the wisely selective passage through the Kinks' Seventies and Eighties arena-rock resurrection. But Ray never stopped looking over his shoulder. Picture Book ends with another demo, "To the Bone," from 1995, in which Ray spots a favorite old LP in a record shop, triggering memories of a failed love affair. "Every single groove," he sings, "cuts me to the bone." It is a familiar sensation here. * * * *