| | |
| --- | --- |
| Daryl Hall - My 5 Greatest Songs | |

by Leah Greenblatt in Entertainment Weekly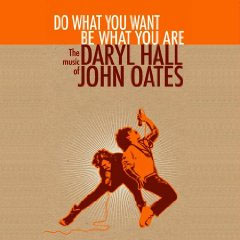 The new box set from blue-eyed-soul smoothies Hall & Oates, 'Do What You Want, Be What You Are: The Music of Daryl Hall & John Oates,' made fans' dreams come true on Oct. 13. Below, Hall fills us in on his personal favorites.
"She's Gone" (1974) "It's very autobiographical. What we wrote about was real, even though it was two different situations. And it's very thematic with us: this soaring song melody and uplifting chord progression, but about a very sad thing."


"Sara Smile" (1976) "That was a postcard to Sara Allen, who was my partner for many, many years, a 'having a great time, wish you were here' kind of thing. I cannot tell you how many girls have told me they were named for it!" [Laughs}"


"Every Time You Go Away" (1980) "Paul Young had a pop hit with it a few years after we released it. It's just one of those songs. I feel very proud of its craftsmanship."


"You Make My Dreams" (1980) "It's funny -- it's ubiquitous, especially now. I think because it's such a happy song, just a pure expression of joy. And it's set to a really old-time-gospel kind of groove. The fact that they used it in a pivotal scene in (500 Days of Summer...) I'm very flattered."


"One on One" (1982) "I was on the road for so many years, living this very transient life. You're everywhere and you're nowhere, and your domestic life, your concept of home, becomes very special to an artist. This song sort of describes that."



| | |
| --- | --- |
| '70s Gift Ideas | |

These recently released CD's and DVD's are sure to please any
Seventies music fan on your shopping list this holiday season.
CD's
TOM PETTY AND THE HEARTBREAKERS - The Live Anthology (Reprise, $20.99) Tom Petty and the Heartbreakers' only previous live album, 1986's Pack Up the Plantation, was a stone bore: The note-for-note versions of "Refugee" and "American Girl" didn't come close to capturing the excitement of a Petty show. The Live Anthology redresses that wrong with a panoramic picture of the Heartbreakers' indestructible groove. Powerhouse versions of "Even the Losers" and "Here Comes My Girl" -- stretching from as far back as 1980 -- show off the band's muscular snap. Guitarist Mike Campbell chimes his way through "The Waiting," gives a Keith Richards twang to "Louisiana Rain," and with keyboardist Benmont Tench helps prop up weaker songs like "My Life/Your World." But it's the covers that make this four-disc collection interesting to more than Petty completists: The Grateful Dead's "Friend of the Devil" gets a down-home charge; "Diddy Wah Diddy" is a slinky winner; grooving instrumentals like Booker T. and the MG's "Green Onions" and the James Bond Goldfinger theme (from a 1997 Fillmore show) display the band's range; and a hungry take on Fleetwood Mac's blues-era "Oh Well" (from the 2006 Bonnaroo festival) show the Heartbreakers' roots. And if you are a Petty completist, you'll have a wealth of choices: The collection comes in four other configurations, including a massive deluxe edition, which adds a fifth disc of music, two DVDs (a documentary and late-Seventies concert) and other fanboy bonuses. * * * * 1/2 - Mark Kemp, Rolling Stone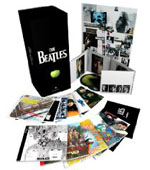 THE BEATLES - The Beatles (Apple Corps Ltd./Capitol, $175.49) As you probably know by now, the remastering of the Beatles catalog was carried out with the caution of translating the Dead Sea Scrolls. Happily, the results justify the obsessive care. These 14 stereo remasters -- from Please Please Me (1963) to Let It Be (1970), with a two-disc Past Masters added for good measure -- make the original recordings sound newly invigorated and alive, whether you're listening on standard earbuds or a high-end system. An enormous effort was made to stay true to the original mixes, so there aren't going to be any easy revelations for Beatles fans. Instead, these albums sound deeper, richer and fleshed-out. The buoyancy of "Something" becomes more comprehensible when you hear clearly Paul McCartney's nimble bass line. You knew that "Twist and Shout" featured one of John Lennon's most visceral performances, but here you can feel his vocal cords shred. The horns on "Good Morning Good Morning" roar, driving the song in a way you may not have noticed before. Lennon and George Harrison's guitars on "You Can't Do That" sharpen to a gleaming edge. One tip for deep-pocketed fans: The 12-CD The Beatles in Mono box set is more than a collector's indulgence. The warmth and punch of the early albums With the Beatles and Beatles for Sale evoke the experience of first hearing songs like "All My Loving" on the original vinyl. But in stereo or mono, these albums have finally received the treatment they deserve. * * * * * - Anthony DeCurtis, Rolling Stone


BIG STAR - Keep an Eye on the Sky (Rhino/Ardent, $61.99) Barring the discovery of more golden eggs, the four CDs of Keep an Eye on the Sky are the last word on Big Star's first, ultimately glorious lifetime: the albums plus outtakes, related curios and crystal-clear live tracks from a 1973 Memphis club show. The original sequences of #1 Record and Radio City are disrupted with alternate mixes of pure-pop pillars like "In the Street" and "Back of a Car." More interesting are rattling garage-pop demos for Radio City and Chilton's harrowing solo sketches for 3rd. Along with the handsomely produced liner notes, it all adds up to a fan's delight. But what looms largest here is what might have been. Bell, who died in 1978, is out of earshot before Disc One is over. (Rhino has reissued a posthumous 1992 solo set, I Am the Cosmos, in a deluxe edition.) As Bell's idea of a perfect pop band, Big Star ended when he left. Everything that follows is stubborn, brilliant defiance. * * * * 1/2 - David Fricke, Rolling Stone


BOB DYLAN - Christmas in the Heart (Columbia, $10.99) Bob Dylan celebrates the Christmas hit parade the old-fashioned way: He plays it straight, as much as his pitted baritone allows, with a band that mixes David Hildago with R&B guitarist Phil Upchurch. There are hymns ("Hark the Herald Angels Sing"), chestnuts ("Little Drummer Boy") and tinsel: Backup choristers add wholesome glitz. Dylan's singing is often nimble and clear -- he goes high in "The First Noel" without a hint of gravel. The effect is like a Woodstock snowfall with a defiance of 1970's Self Portrait: another way of saying his roots are everywhere. * * * - David Fricke, Rolling Stone



PAUL McCARTNEY - Good Evening New York City (Hear/Concord, $13.99) Forty-four years after the Beatles first played Shea Stadium, Paul McCartney returned to Queens to play the first concert at Citi Field. With an exceptionally well-preserved voice, Macca plows through Beatles and Wings hits, plus solo gems. This is McCartney's sixth live album since 1990 -- most with a nearly identical version of "Hey Jude" and "Live and Let Die." Skip to a blazing version of "Day Tripper," which hadn't been touched since the 1960s. Best is "A Day in the Life," featuring McCartney singing both his and John Lennon's parts. * * * - Andy Greene, Rolling Stone


JOHN FOGERTY - The Blue Ridge Rangers Rides Again (Fortunate Son/Verve Forecast, $13.99) In Creedence Clearwater Revival, John Fogerty often sounded like a country singer hiding out in a rock band, and he proved it on his first solo album, the 1973 covers disc The Blue Ridge Rangers. This long-delayed follow-up finds him backed by fiddles, mandolins, dobros and pedal steel guitar -- not to mention guests like Don Henley and Bruce Springsteen -- covering obscure chestnuts such as John Prine's wistful 1971 environmentalist anthem "Paradise." Fogerty plays it too safe on sleepy tunes like John Denver's 1974 "Back Home Again," but you can't deny his scratchy growl on deep cuts like the rockabilly barnburner "Haunted House." * * * 1/2 - Mark Kemp, Rolling Stone


ISAAC HAYES - Hot Buttered Soul (Stax, $10.99) "Good God!" writes My Morning Jacket's Jim James in the new liner notes for this musk-and-weed-scented 1969 LP. "Life and love and music and all of humanity reflected in my mind in the same bold eardrum-melting strokes." He's gushing over "By the Time I Get to Phoenix," where Isaac Hayes turns the Jimmy Webb tune into an 18-minute epic, building from endless organ drone to slo-mo orchestral catharsis. The album (reissued with two bonus single edits) was a model of free-form soul and protodisco arranging that made an ace producer-songwriter into a pop star and a sex god. Still a yardstick for soul visionaries everywhere. * * * * - Will Hermes, Rolling Stone


KISS - Sonic Boom (Kiss, $15.90) The new Kiss record is a chamber-pop concept album about the plight of migrant workers. Just kidding. On their 19th studio effort, the glam-rock war horses smear on the greasepaint and blast out odes to rocking all night and partying all day. Kiss are a piece of Americana -- more akin to the Ringling Brothers Circus than a rock band. The only question to ask of a new Kiss song is: Will it provide decent accompaniment for a Gene Simmons blood-belching performance in a packed arena? This big, dumb, catchy record passes that test. * * * - Jody Rosen, Rolling Stone


DVD's
THE ROCK AND ROLL HALL OF FAME + MUSEUM LIVE DVD (Time Life, $27.99) This comprehensive, eight-disc DVD set opens the vaults to the toughest ticket in town. It's all here: 1986's first supergroup (Chuck Berry, Jerry Lee Lewis, Keith Richards, Neil Young, among others); Bruce Springsteen and Axl Rose gamely duetting on an unrehearsed "Come Together"; Mick Jagger and Tina Turner trading verses on "Honky Tonk Women"; Prince soaring through a guitar solo on "While My Guitar Gently Weeps," backed by Tom Petty, Dhani Harrison and Jeff Lynne; and the guitar-god dream dream team of Young, Jimmy Page, Richards, Carlos Santana and the Edge setting "All Along the Watchtower" ablaze. "I'm not used to sweating and not getting paid for it," Richards once said, speaking for his peers. There is also tantalizing rehearsal footage, such as John Fogerty showing Springsteen and Robbie Robertson how to play "Who'll Stop the Rain." But backstage or not, all the footage has an uncommon intimacy: It's fascinating to watch Little Richard wedge his way into that Jagger-Turner duet; to see Johnny Cash casually strumming in relative anonymity in the third row of a guitar chorus; or to watch Eddie Vedder look to Michael Stipe for approval as he helps R.E.M. sing "Man on the Moon." * * * * * - Jody Rosen, Rolling Stone


WOODSTOCK 40TH ANNIVERSARY ULTIMATE COLLECTOR'S EDITION (Warner Home Video, $49.99) The packaging couldn't be groovier -- a fringed suede box that, for all we know, doubles as a bong. But it's the three discs inside that will get you high. Michael Wadleigh's Edenic time capsule starring the Who, Jimi Hendrix, and 400,000 blissed-out hippies is arguably the greatest documentary ever made. A bonus disc featuring never-before-seen performances from Creedence Clearwater Revival and the Grateful Dead seals the deal. * * * * * - Chris Nashawaty, Entertainment Weekly



MOTOWN: The DVD (Motown/UMe, $15.97) Conquering the world not only through flawless pop 'n' soul but also smooth showmanship, Motown's royalty ruled over countless television cameras. Whether lip-syncing (the Marvelettes), singing live to tape (Marvin Gaye) or belting it out with a band (the Four Tops), the performers in these hip-shaking, contagiously joyous TV clips could make their saddest songs seem celebratory. Nothing captures Motor City spirit like Martha and the Vandellas riding a Ford Mustang assembly line in bouffant wigs while lip-syncing and laughing through "Nowhere to Run." * * * * * - Barry Walters, Rolling Stone



SPECTACLE: ELVIS COSTELLO WITH... SEASON ONE (VSC, $47.49) On Elvis Costello's Sundance Channel talk show, the conversations focus on the creative process -- you might find Smokey Robinson shedding light on Marvin Gaye in the studio -- and duets with guests take old songs in new directions. One highlight: Lou Reed turns "Perfect Day" into a melancholy cabaret number. * * * 1/2 - Barry Walters, Rolling Stone