| | |
| --- | --- |
| Mourning in America | |

A wave of celebrity deaths has had fans reeling -- and
opening their wallets. Inside the business of grieving.
by Benjamin Svetkey in Entertainment Weekly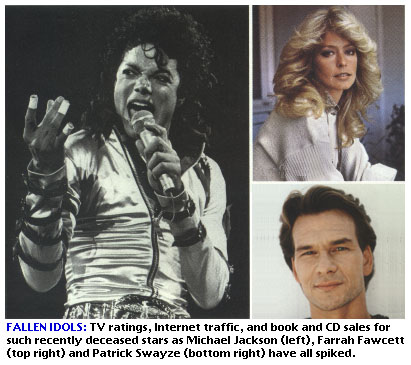 ince his death on June 25, Michael Jackson has earned at least $100 million. He's sold more than 5 million albums, according to Nielsen SoundScan, and 8.7 million song downloads. Soon he will become the star of what's sure to be a hit movie -- something he was never able to pull off during his lifetime. For a two-week run beginning Oct. 27, he'll be appearing in Michael Jackson's This Is It, a documentary edited from footage shot during rehearsals for the London concerts he was planning before his tragic overdose. There's even an upcoming memorabilia tour -- a museumlike exhibit of his outfits and other possessions -- slated to kick off in London on Oct. 28. Strange to say, but Michael Jackson is now the No. 1 artist in the world, despite the fact that he has departed from it.
It's an uncomfortable truth that death can be good for business. Jackson's passing may have been the most widely felt, but what's been most shocking is simply how many entertainers the world has lost in just a few months. On Sept. 14, Patrick Swayze became the latest 20th century icon to exit the stage, following Natasha Richardson, Bea Arthur, Ed McMahon, Farrah Fawcett, Walter Cronkite, and John Hughes, among others. Each death triggered a flood of memories on the part of fans -- and, often, a flood of merchandise to capitalize on it. On TV, in bookstores, on the Internet, on newsstands, there's been no escaping the commingling of nostalgia and grief.
Farrah's Story, the documentary about Fawcett's long battle with cancer, pulled in more than 9 million viewers when it aired last May, while the actress was on her deathbed. It was such a success -- the network's best Friday night of the year -- that it was reaired June 26, the night after Fawcett passed away, drawing another 3.6 million viewers. A sequel is being discussed. Even a struggling cable show like Swayze's The Beast, hurting for viewers all year, tried to get a bump in the ratings when the star passed away Sept. 14. A&E dedicated a Beast marathon to the actor. "I think A&E put it on out of respect for all the hard work Patrick did on the show," says Beast coexecutive producer William Rotko. "And also because of a renewed interest in Patrick Swayze since he died. But that's a good thing. Patrick did good work on The Beast. The more people who see that, the better."
The slew of celebrity deaths has consumed journalists as well. CNN's prime-time viewership spiked nearly 40 percent in the days after Jackson and Fawcett died. The newsweeklies got a big boost too; virtually every major publication, including this one, put Jackson's face on its cover. What's more, the singer's death will likely be remembered as a milestone in the evolution of the Internet. Twitter doubled its traffic in the hours after the news broke, clogging the Web with up to 5,000 tweets per minute. Texting on AOL's Instant Messenger was so heavy that the service went down for 40 minutes. "Today was a seminal moment in Internet history," AOL proclaimed in a statement released the evening of Jackson's and Fawcett's death. "We've never seen anything like it in terms of scope or depth."

ctually, we have seen something like it before -- many, many times. The mountain of flowers left for Princess Di at the gates of Buckingham Palace. The stream of tourists who still make the pilgrimage every year to Elvis' grave at Graceland, or to Jim Morrison's in Paris, or to Marilyn Monroe's at Westwood. The living have always mourned their famous dead -- the only difference now is that it's televised on 24-hour cable and amplified by social-networking sites that let grieving fans share their feelings jut by tapping on an iPhone app.
"When a celebrity dies, two things happen," says Susan Davies, a grief counselor in Los Angeles and author of the bereavement book After I'm Gone. "The first is that we're reminded of our own mortality. It reminds us that time is marching on and that someday we're going to be dead too. But a lot of times a celebrity's death will also remind us of a certain time in our life -- the way you danced to Michael Jackson in the 1980s, for instance. When he dies, you also mourn that part of your life. You're reminded that part of your life is gone. That it's never coming back."
But it does come back -- on screens big and small. This Is It, for instance, could turn out to be a defining cultural event not only for those who danced to the singer's music in the '80s but also for a new generation. "There's really no telling how huge this movie is going to be," says Paul Dergarabedian, president of box office for Hollywood.com. "It'd be like trying to predict what Passion of Christ was going to do, or The Blair Witch Project. Jackson's death makes the movie bigger than the sum of its parts. Remember how well Dark Knight did after Heath Ledger's death? It could easily have that sort of effect."
All of which is bittersweet, of course. But there's comfort in the knowledge that today icons really can live forever. The entertainers we once sang along with and laughed at and cried over no longer disappear when they die. Thanks to iTunes and cable-TV marathons and special DVD reissues, dearly departed stars can continue to move, amuse, and enchant us forever.



| | |
| --- | --- |
| Big Star's Lost Pop Dream | |

The catchiest cult band of them all gets its definitive box set.
by David Fricke in Rolling Stone

Big Star
Keep an Eye on the Sky
Rhino/Ardent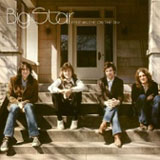 he legend of Big Star was almost over at the starting gate: when co-founding singer-guitarist Chris Bell quit the Memphis pop band, right after its 1972 debut, #1 Record, came out and flopped. The LP -- a white-soul Abbey Road with a Lennon-McCartney-like tension between the grainy ennui of ex-Box Tops singer Alex Chilton and Bell's desperate romanticism -- became an object of cult love. But Chilton, bassist Andy Hummel and drummer Jody Stephens regrouped for the atomic jangle of 1974's Radio City. Even after Hummel split that year, Chilton and Stephens hung on for a last weird victory, the pop-stripped-bare shock of 3rd (a.k.a. Sister Lovers), a record so emotionally wrenching that no label would touch it for four years. (It was finally issued in 1978). Barring the discovery of more golden eggs, the four CDs of Keep an Eye on the Sky are the last word on Big Star's first, ultimately glorious lifetime: the albums plus outtakes, related curios and crystal-clear live tracks from a 1973 Memphis club show. The original sequences of #1 Record and Radio City are disrupted with alternate mixes of pure-pop pillars like "In the Street" and "Back of a Car." More interesting are rattling garage-pop demos for Radio City and Chilton's harrowing solo sketches for 3rd. Along with the handsomely produced liner notes, it all adds up to a fan's delight. But what looms largest here is what might have been. Bell, who died in 1978, is out of earshot before Disc One is over. (Rhino has reissued a posthumous 1992 solo set, I Am the Cosmos, in a deluxe edition.) As Bell's idea of a perfect pop band, Big Star ended when he left. Everything that follows is stubborn, brilliant defiance. * * * * 1/2

comments powered by