| | |
| --- | --- |
| Rolling With the Stones | |

A new Martin Scorsese documentary captures the Rolling
Stones on stage in all their weathered, wonderful glory.
by Owen Gleiberman in Entertainment Weekly

Shine a Light
Mick Jagger, Keith Richards
PG-13, 122 mins.
(Paramount)
y the early '80s, I was finally bored with the Rolling Stones. (I think those coy falsetto croons on "Emotional Rescue" did me in.) They were -- and on some level always would be -- the greatest rock & roll band in the world, but aside from "Start Me Up," it was getting hard to pretend that the new songs could match the old ones. On stage, Mick Jagger was limber, but he no longer possessed the danger of a rock star -- it was more like the energy of an aerobics instructor. But in Shine a Light, a crackling concert movie directed by Martin Scorsese, the Rolling Stones are now so old that they seem new again. They're no longer "survivors," rocking out against time (yawn). That they're now in their 60s is, if anything, the rock & rolliest thing about them. The Stones aren't dangerous anymore, but they have a low-down dirty joy, and for a pack of skinny leather-faced geezers in tight pants, that's enough.

Shine a Light opens with a barrage of footage in which Scorsese and the band dicker back and forth over the set list, and over whether Scorsese can use a swirly, mobile camera.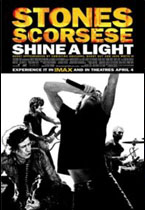 It's all a bit too transatlantically cute, but then the Stones take the stage of the Beacon Theatre, the baroquely intimate Manhattan concert venue where the movie was shot, on two nights, in 2006. As they launch into "Jumpin' Jack Flash," every chord comes at you in a magnificent, wall-blasting crunch, and the band looks terrifically snaky. Keith Richards now resembles a shrunken head with eyeliner, but his asylum-inmate grin tells you how happy he is to be up there. Mick Jagger, in a spangled shirt and black tuxedo jacket, lets you know the same thing with his hips. More than just vigorous, he is still, beneath those scarred-old-slaver creases, boyish (he has a teenage torso), quivering and prancing like a rooster, a drag queen, a party monster, a devil.
Scorsese's camera work takes its cue from Mick's moves: It's nervous yet centered, leaping across the stage to gape at the singer's awesome propulsion. That set list is perhaps a little too standard, from the jittery rush of "Shattered" to the grandeur of "Tumbling Dice," from the two-chord monotony of "Just My Imagination" to the funky pomp of "All Down the Line." There are three guest stars, and the film could have used more of them: Jack White blends soulfully with Mick on "Loving Cup," Christina Aguilera shakes booty with him on "Live With Me," and Buddy Guy helps to turn "Champagne and Reefer" into incendiary monster blues. Shine a Light is a blistering parade of hot rocks, but it's never quite startling, like Stop Making Sense, or transcendent, like Scorsese's The Last Waltz. What it captures is a band that has figured out the best way to endure -- by becoming eternal. B+



| | |
| --- | --- |
| The Phenomenal UFO | |

Chrysalis/EMI reissues expanded versions of three of the hard-riffing UK band's '70s albums.
by David Fricke in Rolling Stone


n June 1973, the British hard-rock quartet UFO landed in Germany for a tour -- as a trio, because their guitarist suddenly quit. UFO had already gone through two other guitarists since forming in 1969. But it was fourth time lucky when singer Phil Mogg, bassist Pete Way and drummer Andy Parker borrowed local teenage dynamo Michael Schenker, then in Scorpions, for the German dates. Schenker soon joined UFO full time, flanking Mogg's tough-glam bray with meany, melodic riffing, and charging the band's boogie locomotion with lethal, articulate soloing on a run of albums -- 1974's Phenomenon, 1975's Force It and 1976's No Heavy Petting, all reissued with bonus tracks (Chrysalis/EMI) -- that became holy text for the spandex boys just around the bend, including Def Leppard, Iron Maiden and Guns n' Roses. UFO were, at the start, better jammers than composers (ballads were essentially breathers between cannonballs), and Phenomenon opens tentatively: "Oh My" sounds like it reads. But that album's heavy-Yardbirds assaults, "Doctor Doctor" and "Rock Bottom," are two of UFO's -- and Schenker's -- best moments on record. By Force It, the writing was sharper ("Let It Roll," "Shoot Shoot") and bolder ("Out in the Street"). No Heavy Petting came with keyboards and a poised mix of crunch and radio-wise pop that paid off in later FM hits like "Lights Out" and "Only You Can Rock Me." Those two songs are on The Best of UFO (1974-1983) (Capitol), released April 15 to coincide with a U.S. tour by the current lineup of UFO (which will not include Schenker, who has been in and out of the band a few times since 1979). That set has everything for the novice, but the reissues -- with seventeen extra tracks spread over them, including period demos, outtakes and hot, live juice -- are the real phenomenon.