| | |
| --- | --- |
| King World | |

In memory of the 30th anniversary of Elvis Presley's Aug. 1977 death,
Super Seventies RockSite presents a series of Associated Press articles
published the weekend following his death.
Presley Left Deep Imprint On American Culture
By MARIAN FOX
Associated Press Writer
August 21, 1977
MEMPHIS - (AP) - He was born a nobody, but when he died Tuesday, his contribution to American culture was so pervading not even those who put him down could have escaped it. Not even he could escape it.
His music, his style, his blatant sex appeal took him from zero to infinity before he was 25 and amassed for him wealth that can only be guessed at.
Elvis, the survivor of twin sons born to Gladys and Vernon Presley on Jan. 8, 1935, was a child of the Great Depression. His father was a sharecropper; his mother stitched shirts and dresses in factories to boost their income.
Thirteen years later Vernon Presley packed his wife and son and all their clothing in a 1939 Dodge and drove all night to Memphis. The shy, dark-haired boy was bringing with him a $12.98 guitar he had taught himself to play.
Things didn't get better, at least not right away.
Mrs. Presley worked as a nurse's aide at St. Joseph Hospital and Elvis enrolled in Humes High School where he went out for football but had to quit to go to work.
The family was so poor they had to accept a charity basket during the Christmas holidays, but young Presley managed to graduate form high school in 1953 and land a job driving a truck for $35 a week.
By then Presley had developed an unorthodox musical foundation that was outrageous in the days when Patti Page and Perry Como were coating their lyrics with pure cane sugar.
His style combined the rhythm-and-blues sung by the blacks of the Mississippi Delta with white country coming out of Nashville, and his love for music began young.
"When Elvis was just a little fellow, he would slide off my lap in church, run down the aisle and scramble up to the platform," his mother once told an interviewer. "He would stand looking at the choir and try to sing with them. He was too little to know the words, but he could carry the tune."
Elvis' career really began in July 1954 with his high pitched recording of "Blue Moon of Kentucky," an old Bluegrass classic, on Sam Phillips' fledgling label, Sun Records.
Phillips, according to the Presley legend, made a mere $35,000 when RCA bought Elvis' records and tapes, but "Elvis the Pelvis" was on his way. He mimed first gold with the classic "Heartbreak Hotel" in 1956. His first movie, Love Me Tender, came a year later.
Elvis was on his way to being a rock star anyway, but his decision in 1955 to put his career in the hands of Col. Tom Parker, an ex-carnival sideshow entrepreneur, assured him success in music and more.
Parker knew how to promote and how to whet the public's appetite. In Presley, he had something the public had never heard before. His creed: "Don't try to explain it; just sell it" made millions for himself and the singer.
His earnings at first went for flashy diamond rings, pink Cadillacs and in 1957, for the 18-room, white-columned mansion, Graceland. Myth makers dubbed it a million-dollar mansion, but it cost only $100,000 when Elvis bought it and the 14 wooded acres around it.
Parker managed Presley so shrewdly that even while the singer was in the Army making $99 a month, he made about $2 million each of the two years he served.
Although he rarely drove, Presley had a passion for automobiles.
Bill Haney, a local Presley imitator who met the reclusive singer in 1975, said Presley came down the stairs to meet him dressed in a big multi-colored robe and "rings, rings everywhere... diamonds, you know."
"Then he said, 'Come here, man. I just want to show you my cars.' He had just bought some Mark IVs to give away and they were sitting in front of the house."
He was famous for giving away things to anyone who happened to be in the right place at the right time. He gave Cadillacs to three Denver police officers assigned to his security details during a concert. He surprised a hospital nurse with a Cadillac two years ago.
To thousands of Memphis residents, Elvis was a generous man who remembered his own hard years, especially the Christmas baskets, and he gave back much more than he took.
But the extent of his generosity can only be estimated because a condition of his giving was usually that the giver remain anonymous.

The 'Sun Was Shining Bright' On Elvis' Last Day
August 21, 1977
NASHVILLE, Tenn. (AP) - His latest single was number one on the country music charts. His newest girlfriend was sporting a diamond ring. His next sell-out tour was about to begin. It was the morning of August 16, 1977, Elvis Presley's last day.
Elvis Presley awoke Tuesday in his five-bedroom mansion on Elvis Presley Boulevard, about seven miles south of downtown Memphis.
His single, "Way Down," was at the top of Billboard's latest list of Hot Country Singles.
The singer's personal physician, Dr. George Nichopolous, reports Elvis was last seen alive at about 9 a.m. by his girlfriend, Ginger Alden, who had been spotted wearing a $50,000 engagement ring.
Just like any other day, a few fans peered through a Graceland mansion gate -- which is decorated with wrought-iron Elvis figures and musical notes -- hoping to see their idol emerge from the distant white-columned portico.
One of them believes he saw "The King of Rock and Roll" emerge briefly at about 11 a.m.
Elvis rarely left Graceland Mansion recently, except for performances. Sometimes he rented an entire theater to watch a movie undisturbed.
He was to fly to Portland, Maine, on Tuesday night to begin an 11-day tour.
Not long after 2 p.m., Joe Esposito, Elvis' road manager, found Presley in his pajamas on the red carpet of the bathroom next to his second-floor bedroom. Unable to detect a breath or a heartbeat, Esposito summoned a doctor and began the unsuccessful efforts to revive the fallen king.
When two medical technicians called at 2:33 p.m. arrived at the mansion, Dr. Nichopolous was performing cardio-pulmonary resuscitation. They and 8 or 12 members of Presley's personal staff put Presley on a stretcher and carried him downstairs to the ambulance.
"Come on Presley, breathe. Breathe for me," Dr. Nichopolous said as the speeding ambulance headed downtown to Baptist Hospital.
A special cardiac arrest team carried Presley into the emergency room, where doctors worked another 20 or 25 minutes, but got no response.
Dr. Jerry Francisco, medical examiner for Shelby County, announced after a three-hour autopsy that Elvis died from cardiac arrhythmia: "just another name for a form of heart attack."
He said there were no signs of any other diseases or of drug abuse.
As news spread of Presley's death, hundreds of persons rushed to the hospital and to the mansion, some in hopes of a final glimpse, some in final tribute.

Fans Buy Out Record Supplies Within Hours
By MARC CHARNEY
Associated Press Writer
August 21, 1977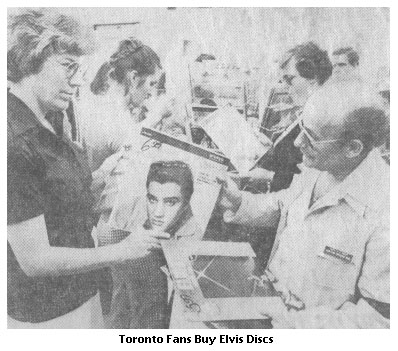 Elvis Presley's fans across the country raced to record stores when he died, stripping the shelves of his albums.
They were young and old -- and many were women 20 years beyond their teens -- giving vent one last time to the hero-worship they had felt back then.
In city after city, record outlets reported being sold out of Elvis albums and tapes by the close of business Wednesday. Shops in Boston, Shreveport, La., Wichita, Kan., and San Diego were inundated.
RCA Records, for which Presley had recorded since 1956, put an Indianapolis plant on round-the-clock schedules to press his latest album, Moody Blue.
The Indianapolis plant, which handles half the demand for Elvis albums nationwide, reported sales of 250,000 Moody Blue albums alone on Wednesday.
When Elvis was alive, he had sold more than 500 million records by 1975, according to a spokesman for RCA.
A record industry source said the current craze could add 100 million records to the total number of Presley albums ever sold.
Many record stores said most of their customers seemed to be those who had grown up with Elvis -- people in their late 20s, 30s and 40s, many of them women.
"Everything's gone. A couple of people have come in here and been close to tears," said Richard Klave of LP Goodbuy in Albuquerqe, N.M.
It was barely 24 hours since first word of the swivel-hipped idol's death.
For Jerry Friebert, manager of Radio Doctors, a record outlet in Milwaukee, "the amazing thing is that we're seeing middle-aged people coming in with their kids, and saying, 'See, this is the man. We're going to have this now. You're going to remember this.' I'm talking about kids 11 and 12 years old. They're not into Elvis that much."
Friebert said that "people were waiting at the door before we opened this morning. It's just been unbelievable." The crowd wasn't sad, he said; it was a "carnival type" atmosphere. "They just want to buy, buy, buy."
At the Oz in Birmingham, Ala., it was different. "People came in with tears in their eyes," said the proprietor. A spokesman at Medusa Sound Inc. in the same city, said, "All we had were some Elvis Christmas albums and they sold real fast."
In Chapel Hill, S.C., Eddie Long of School Kids Records said, "This place is going berserk. If Elvis put out anything, good or bad, we've got to get it."
He said 22 persons, most of them women, were on a waiting list. "One lady said she wanted every Elvis album ever made. I don't even know how many albums that is."
In San Diego, clerk Denise Wolfe at the Licorice Music Store said, "We sold out Elvis' new album within an hour after his death was reported. An old gray-haired couple bought the last copy we had."
Hank Caldwell, manager of the Record Theatre in Buffalo, N.Y., which bills itself as the "World's Largest Record Store," described the demand for Elvis records as "unbelievable."
"People are asking for the complete catalogs on him. Our stock has been -- to say hard-hit is an understatement. The phone has been ringing off the hook with people asking if we have his records. We normally carry a complete stock only because he was the kind of entertainer who will always be sold."
Presley's single records and albums, which sold by the millions and made him a millionaire many times over, were perhaps made more valuable -- because of his death Tuesday.
A UPI survey of record stores throughout the country revealed a rush on existing stocks. Stores scrambled to place orders with distributors for fresh albums, tapes and singles.
Don Robinson of the Record Bar in Greenville, S.C. said his supply of Elvis records and tapes was sold out in 10 minutes Wednesday.
"They bought everything we had. We had 35 albums, 12 eight-tracks, 20 singles. Pickwick (a distributor) in Atlanta told us they could not fill our order because they were committed to filling more orders than they had in stock," Robinson said.
Catherine McGuinnes said she bought $230 worth of Elvis albums at an Altamonte Springs, Fla. record store Tuesday night.
At Peaches, a huge record store in Fort Lauderdale, Fla., night manager Susan Von Stettina said they sold $700 worth of Presley albums within hours after the news of his death.
"One man bought $250 worth himself, but his check didn't clear, so he went out to get cash," she said.
Thousands of Ohians who loved Elvis Presley have flocked to record stores across the state, buying up nearly every available album by the legendary rock star.
Overwhelmed record outlet managers described the run on Elvis records as unprecedented, and they scrambled to order new shipments to satisfy massive demand.
Paying up to $7.50 for an album, $2 for a single and $27.88 for a four-record set, Elvis fans swooped down on record stores, cleaning out the entire stock of Presley albums in even the biggest outlets within a matter of hours.
"We had just gotten in a shipment of 600 to 700 Elvis records, and in two hours they were all gone," said a record department manager at Rike's downtown store in Dayton. "I've never seen anything like it. It's like Christmas time."
The supervisor of the record department at a Lazarus department store in Columbus estimated he sold $50,000 worth of Elvis material in a little more than two hours Wednesday. He expected to get another shipment in three or four days.
Books about Presley also went fast. Janet Block of the Shillito's department store chain in Cincinnati said a $5 biography about the singer sold out in just a couple hours Wednesday.
The most common advice for potential Elvis album-buyers from record outlet managers was to wait at least a few days, until additional special shipments have arrived.
A spokeswoman for the Music World record chain in Cincinnati said the run on Presley albums began as a trickle Tuesday night, soon after news of his death. The stores hadn't completely sold out by closing time. But when they re-opened Wednesday, "The rush really began," she said.

Mourners In Vigil Near Elvis' Tomb
By ERIC NEWHOUSE
Associated Press Writer
August 21, 1977
MEMPHIS, Tenn. (AP) -- The songs which made Elvis Presley an international idol wafted from automobile tape decks Friday as mourners held a vigil outside the cemetery where the king of rock and roll was entombed.
"Love Me Tender" wailed through a speaker, and a young girl sat sobbing with her head in her hands.
The rock star, symbol of the 1950s generation, was eulogized Thursday in private funeral services and placed in a crypt at the Forest Hill Mausoleum as thousands of fans were prevented from entering the cemetery.
For those who only saw the white hearse in passing, the Presley family invited in the fans today and promised a flower from the funeral as a souvenir.
After the hysteria of a partial public viewing and the bewilderment of the funeral, many fervent fans hit an emotional bedrock.
"I can't explain it," said Evelyn Harrell. "I just want to sit here for awhile."
Others hit a strange emotional high.
"I've cried a lot, but now I'm happy," exclaimed Linda Bechard. "I still feel he's here. Even though his body is gone, his soul is surely here."
From their isolated observation point, Elvis' fans could see a wide green field dotted with headstones and flowers and the white marble cross of the singer's mother, buried on a hillside 19 years before.
Suddenly there were only memories of the white limousines winding up the asphalt cemetery road. And the joyous years before.
"He was really the first one to let it all hang out," said Christine Murray of Montreal. "He was sensitive and emotional -- that's why we all loved him."
To many people, he meant many things.
"Sex," said Carol Beattie of London, Canada. "I guess I loved the guy. I thought someday I would get close to him but I never did."
As the brilliant sunshine faded into hazy night, fans sat amid the litter along the industrial strip of the street that had been renamed Elvis Presley Boulevard.
"We just decided on the spur of the moment to come," said Karen Bagley of Shreveport, La. "I saw him come in and I wanted to see him go out."
"Elvis is just Elvis -- who else is there?"

comments powered by