| | |
| --- | --- |
| For Pete's Sake | |

Bruce Springsteen covers Seeger, and the energetic results are nothing to protest.
by David Browne in Entertainment Weekly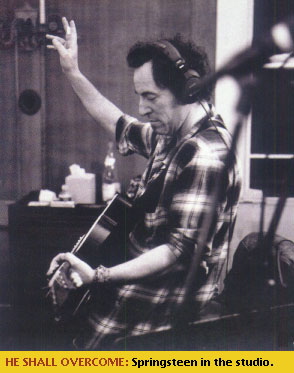 ou won't find any of folk icon Pete Seeger's greatest hits on Bruce Springsteen's We Shall Overcome: The Seeger Sessions. You won't come across "Turn! Turn! Turn!," "If I Had a Hammer," or "Where Have All the Flowers Gone." What you will find, though, is something unexpected and liberating: Springsteen injecting rock & roll energy into Seeger's vast repertoire, which consists of both his originals and centuries-old traditional tunes. And you'll likely breathe a sigh of relief. We've long known that Springsteen loves acoustic music. But aside from Nebraska, Springsteen's forays into this turf -- The Ghost of Tom Joad and last year's Devils & Dust -- have been desultory, tune-challenged mumbles, as if he kept forgetting that in folkie story-songs, the story should never be more important than the song.
| | |
| --- | --- |
| Released on April 24 via Columbia, Bruce Springsteen's 21st album We Shall Overcome: The Seeger Sessions features the iconic rocker's interpretations of 13 traditional folk songs in a DualDisc format, with the DVD side featuring extensive behind-the-scenes footage of the recording of the album. | |
We Shall Overcome could have been more of the same. But, enlivened by flailing banjos, tub-thumping horns, and hopped-up accordions, the album is, thank God, neither dull nor fusty. His voice a husky field holler, Springsteen throws himself into the rollicking folk dance "Old Dan Tucker" and swaggers through the spiritual "O Mary Don't You Weep" as if he were still auditioning for record companies in a Jersey bar. "Erie Canal" brings an edge-of-town darkness to the tale of (no joke) a barge worker and his mule. He doesn't forget that folk can be pretty funny, however: In black-humored "My Oklahoma Home," the twister takes the narrator's home -- and his woman, too.

Given all the protest songs in Seeger's songbook -- and given Springsteen's blunt criticisms of the current administration -- We Shall Overcome is surprisingly light on politics; none of Seeger's songs about civil rights incidents or labor unions are here. Only "Mrs. McGrath," about a soldier who returns from combat with two leg pegs, makes the most overt reference to modern times. (To ensure we get the connection, Springsteen changes the original's "King of France" to "King of America.") Springsteen is more interested in plumbing Americana folklore legends, and the plan works. With its strapping versions of "John Henry" and "Jesse James," the album taps back into what Springsteen does best: making music that's as grand and mythopoetic as the country itself.

Sometimes he and his musicians -- a big, unwieldy combo with no E Streeters save for wife Patti Scialfa -- seem a little too excited and end up riding roughshod over songs that Seeger performed with charming simplicity. But we all know what happens when Springsteen pares things down dramatically (can you hum even one song from Joad or Devils & Dust?), so let's not complain too much. We Shall Overcome lets us revel in the sound of a man who no longer confuses unplugged with uninspiring -- and who isn't afraid to mix in some merriment with the message. A-



Springsteen salutes Pete Seeger with a joyful noise.

by Jonathan Ringen in Rolling Stone

ear the end of "Mrs. McGrath," a nineteenth-century Irish ballad that is the third track on Bruce Springsteen's new album, comes a couplet that gives a pretty good sense of why he's putting out an album of traditional folk music right now: "All foreign wars, I do proclaim/ Live on blood and a mother's pain." We Shall Overcome -- which was recorded live in Springsteen's New Jersey home with a fourteen-piece band, including horns, banjo, fiddles, washboard, organ and accordion -- is his must jubilant disc since Born in the U.S.A. and more fun than a tribute to Pete Seeger has any right to be. But as on Born in the U.S.A., seemingly triumphant anthems are paired with lyrics of pain and protest that champion the oppressed and the exploited (not to mention the calamity-prone protagonist of "My Oklahoma Home," whose wife, house and crops get blown away by a tornado, leaving him with nothing but a mortgage).
Springsteen has always mined a deep vein of Americana, from the hot-rod-and-B-movie obsessed early albums to the Steinbeckian social realism of The Ghost of Tom Joad and last year's Devils and Dust. But with his first-ever album of songs written by other people, it feels like he's turned to the music of our shared past to find a moral compass for a nation that's gone off the rails. The protest anthems "Eyes on the Prize" and "We Shall Overcome" are performed with an understated urgency: the gospel standard "Oh, Mary, Don't You Weep" -- which Springsteen sings in a gruff Tom Waits-ish baritone and to which the Seeger Sessions Band gives a Dixieland treatment with Stéphane Grappelli-style violin -- promises, "Brothers and sisters, don't you cry/ There'll be good times by and by."
Springsteen discovered most of these tunes -- which also include sea chanteys ("Pay Me My Money Down"), minstrel songs ("Old Dan Tucker") and outlaw ballads ("Jessie James") -- on LPs by Seeger. Among the pleasures of this album is rediscovering childhood staples like "Erie Canal" or "John Henry" via Springsteen's craggy, familiar voice -- which is as mighty and powerful as the steel-driving man himself. * * * *



| | |
| --- | --- |
| Stupid Questions with Hall & Oates | |

by Dan Snierson in Entertainment Weekly


all. Oates. Never before have two individuals been so powerfully joined by an ampersand. Hitmaking duo Daryl Hall & John Oates are touring to promote their CD Our Kind of Soul;

they've also begun work on a Christmas album. Think these guys could go for an early present in the form of Stupid Questions? They can do.
---
Oates, you answer this question as if you were Hall, and Hall, you answer this question as if you were Oates. How's it going?
JO It's going just swimmingly.
DH Would I say "swimmingly," though?
JO No, probably not.
My brain just melted -- go back to being yourselves. You recently appeared on Will & Grace, playing "Maneater" at Grace's wedding. Which was harder -- playing "Maneater" or playing yourselves playing "Maneater"?
DH We were always playing ourselves playing "Maneater."
JO Oooh, very Zen, Hall... Zen Hall? Isn't that, like, a gym at a really bad community college?
What's the most rock 'n soul thing you've done today?

DH Let's see... I ordered a pair of cowboy boots from a guy in Commanche, Texas.
JO Honestly, I have not done anything rock 'n soul today... I fed the llamas. I don't know if that's rock 'n soul, but --
DH I think that's pretty soulful.
JO There you go. Fed the llamas.
You employ the catchy gimmick of spelling "M-E-T-H-O-D-O-F-L-O-V-E" in "Method of Modern Love." Have you ever played that song in concert and mistakenly misspelled those words, and if so, was it V-E-R-Y-A-W-K-W-A-R-D?
DH When you sing, you don't blow it. If I were asked to spell it normally, I might make a mistake.
Care to weigh in, Oates?
JO No... I can spell.
Do you guys split the groupies 50-50, or is it every half of Hall & Oates for himself?
DH Well, we're a little beyond splitting of groupies... I get 'em all, actually. John is married with a child. He's relinquished his groupie card.
JO My groupie grope is gone.

Oates, you shaved off your mustache. Did you need multiple government agencies to sign off on that?
JO No, but it was a psychically freeing moment. I'm sure it didn't mean anything to anyone else, but it was very important to me.
DH Actually, I would disagree. I think it meant a lot to a lot of people... [Conversation about mustaches continues for a while] A mustache means some strange thing. I don't know what it is.
The two of you met in an elevator while fleeing a gang fight at a dance. That sounds a little wimpy. Let's come up with a better story.
DH We never existed because we were killed in a gang fight.
JO Oh, God. What would the world do?
DH All those songs would be lost to history.
JO An alternative universe without "Maneater" would be a hollow place.
On the album cover of Rock 'n Soul Part 1, you guys seem to be engaged in an awesome arm-wrestling match. Between us, who won that match -- or do we have to wait for Rock 'n Soul Part 2 to find out?
DH Well, John has bigger muscles but I have longer arms.
JO It was leverage against power.
DH Archimedes would have the answer to this.
JO This is a physics problem, not a rock 'n soul problem.