| | |
| --- | --- |
| '70s Gift Ideas | |

These recently released CD's and DVD's are sure to please the Seventies
music & culture fans on your shopping list this holiday season.
CD's
THE ROLLING STONES - Live Licks (Virgin, $13.99) You may not need this two-disc spawn of the Stones' 2002-03 tour if you own last year's set of full-show DVD's, Four Flicks, but Live Licks is the band's best live album since 1970's Get Yer Ya-Ya's Out! A bright, hard mix nails their mature vigor onstage, even in the warhorses packed on Disc One. Richard's droning Telecaster clang opens "Street Fighting Man" like swordplay, and Mick Jagger sings the chorus at the top of his range with astounding strength. Charlie Watts pushes the beat in "It's Only Rock n' Roll" with pinpoint impatience; Ron Wood's lap-steel screams turn up the barn-dance delirium in "Happy." Twelve more good reasons: the covers and rarely aired album tracks on Disc Two. "Can't You Hear Me Knocking" was a highlight of every fortieth-anniversary show -- Watts peppering Richards' tumbling riff with gunfire rimshots; Jagger blowing sharp, modal harp. And "Worried About You," a forgotten slice of R&B melodrama from Tattoo You, proves that the Stones, under the lights and at this advanced date, can still improve on even their best work.


JOHN FOGERTY - Deja Vu All Over Again (Geffen, $13.98) Clocking in at a terse thirty-four minutes, Deja Vu All Over Again lives up to its title. It plays like a brisk spin through John Fogerty's personal jukebox, but just when you're settling in, it's over. Then there's nothing to do but start it up again. Still, it's a quick, energizing ride. The echoes in these ten songs are distracting at first, but they're so unabashed that you're soon won over. "Nobody's Here Anymore" borrows so directly from Dire Straits' "Sultans of Swing" that Mark Knopfler's (characteristically deft and tasteful) presence on guitar seems almost redundant. Meanwhile, "She's Got Baggage" recalls, of all things, the Ramones' "Blitzkrieg Bop." And, inevitably, when Fogerty slips into his swamp-rock comfort zone, his own songs haunt him; you'll notice, for example, "Green River" lurking behind "Wicked Old Witch." But echoes are, after all, part of what this album's about -- and they're not just musical. The title track is Fogerty's indictment of the Iraq war as another Vietnam, a senseless squandering of American lives and power. "Day by day I hear the voices rising," he sings. "Started with a whisper like it did before/Day by day we count the dead and dying/Ship the bodies home while the networks all keep score." This album's least ambitious moments -- the profession of devotion in "I Will Walk With You," the Farfisa-organ-driven garage rock of "Radar" -- are perhaps its most charming. But while John Fogerty may leave you wanting more, that doesn't mean you're not satisfied.



ELTON JOHN - Peachtree Road (Universal, $13.98) The 2001 disc Songs From the West Coast returned Elton John to the piano tang, the discursive tunes and the chewy pop rock that made his Seventies hits indestructible. John and lyricist Bernie Taupin stay the course on this follow-up. Peachtree Road was mostly recorded in Atlanta, where John has a house and where a main thoroughfare helped to inspire the album's title. Midtempo ballads such as "The Weight of the World," where flies buzz in the kitchen, and "Porch Swing in Tupelo," which references various country comforts, portray John as Dixie's premier English-born R&B singer. On "Answer in the Sky," he promises listeners that gloom needn't prevail, even as he acknowledges, per the Nashville-esque breakup stunner "Turn the Lights Out When You Leave," that sometimes people just split to Jacksonville. Peachtree highlights once again just how soulful John's music can be.


JOHN LENNON - Rock 'n' Roll / Acoustic (Capitol, Rock 'n' Roll $14.99, Acoustic $18.98) Hard to believe, but there was a period when counterculturists generally dismissed pre-Revolver rock as quaint, to which Lennon's '75 oldies-covers project provided historic correction. Widely panned then, Rock 'n' Roll has aged well, though it sacrifices some rockabilly energy in scaling a Spectorian wall of sax. (Phil started, then left, the project; some Spector outtakes appear as bonus tracks.) Acoustic, a rarities-packed disc of demos, provides greater collector bounty, even if "John Sinclair" sounds more dated than Rock 'n' Roll's "Bony Maronie" ever did.


DVD's
CROSBY STILLS & NASH - The DVD Collection (Rhino, $40.49) Although it doesn't mean to, this three-disc history-of-CSN box chronicles the rise and collapse of the hippie nation as embodied by David Crosby. In the early-years doc Long Time Comin', the eloquent, baby-faced Crosby is the archetypal long-haired idealist (and hedonist). In the often creaky 1982 concert film, Daylight Again, taped in the midst of his long drug addiction, he's a waxy, expressionless zombie. The Acoustic Concert, from 1991, is surprisingly better: The harmonies and camera work are country-stream-clear, and post-rehab, Crosby's twinkle (if not his leanness) is back. Of the three, Long Time Comin' is the find: CSNY's performance of "You Don't Have to Cry" on The Tom Jones Show, unseen Woodstock clips, and Hollies and Buffalo Springfield footage. Even better: an astounding bit of an irate Stills screaming at Crosby during an early clash. Anyone who behaved brashly and stupidly in his or her youth (and beyond -- check out Nash's '80s mullet) will relate.


STAR WARS TRILOGY (20th Century Fox, $48.49) George Lucas' sci-fi trilogy (1977's Star Wars, 1980's The Empire Strikes Back and 1983's Return of the Jedi) arrived on DVD at last in September, with an incredibly crisp picture and a spectacular sound mix to become the DVD event of the year. Extras include a fourth disc with more than three hours of documentaries, plus photos. Lucas explains how hyperspace works, what Darth Vader really wants from Luke and why the bad guys are dressed in black and white. One caveat: Lucas tweaked each movie, spruced up the special effects, modified lines of dialogue to better fit with his prequels and even replaced actor Sebastian Shaw with prequel star Hayden Christensen to portray the ghost of Anakin (Darth Vader) Skywalker at the end of Jedi. Heresy or artistry? You decide.


FESTIVAL EXPRESS (New Line, $13.49) In the summer of 1970, disparate acts including the Grateful Dead, the Band, Janis Joplin, Buddy Guy, Sha Na Na and the Flying Burrito Brothers took a train across Canada to play a handful of outdoor concerts, their onboard jamming infused with the inertia of the locomotive and the countryside's bucolic beauty. In Toronto, idealism and commerce collided as police faced off with kids demanding free admission, prompting Jerry Garcia to plead for cooler heads. After a scene in which the artists buy out a liquor store in Saskatoon, we see Rick Danko of the Band leading Janis Joplin in a raucous round of "Ain't No More Cane." Such archival footage is made bittersweet by recent interviews, including Guy's summation, "Things like that only happen once in a lifetime."


DALLAS - The Complete First & Second Seasons (Warner Home Video, $34.99) Faced with the daunting task of creating a TV franchise, Dallas creator David Jacobs turned to a tried-and-true ghostwriter. Noting the viewing audience's fascination with the wealthy, curdled darlings of our nation (Texas oilmen), Jacobs took Romeo and Juliet (Bobby and Pam Ewing), then added a dash of Iago (J.R. Ewing) and a hint of Lear (Jock Ewing), trusting the resultant relationships to serve for sweet discourses in our time to come. In a five-episode miniseries tryout and then the show's first full season, this formula played deliciously. Larry Hagman's J.R., a fiend angelical for the ages, is the main attraction, but the emotional ties between the characters (strong enough to weather the slings, arrows, appalling acting, and trumped-up plotlines) are whereby hangs a tale. Extras include a rambling but entertaining commentary by Jacobs, Hagman, and Charlene Tilton, and a 2003 Dallas reunion on an unbearable daytime talk show called Soap Talk.




| | |
| --- | --- |
| Beach Party | |

Brian Wilson's latest was worth the (37-year) wait.
by Chris Willman in Entertainment Weekly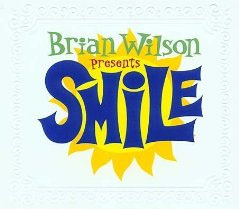 nce, Todd Rundgren recorded an exact replica of "Good Vibrations," just because he could. Now Brian Wilson's recorded his own note-for-note "Vibrations" copy -- a few rewritten lyrics or extended passages notwithstanding -- with a better excuse: He's painstakingly duplicating an entire 1967 Beach Boys album that never quite actually existed. SMiLE got consigned to the trash heap, and became the holy grail of rock projects, after other band members openly groused about its wigginess.
But though it remained legendarily incomplete, several classic numbers ("Heroes and Villains," "Surf's Up") did see daylight, and lesser scraps have been widely bootlegged. Hearing its original architect re-create this treasure trove of lost-and-found material with ringers (Wilson's touring band almost does the Beach Boys better than the Beach Boys), you may wonder if this is SMiLE-mania -- not the real SMiLE, but an incredible simulation!
But screw all that, because the mirth and beauty of the work trump any concerns about reassemblage. As "finished" by Wilson and lyricist Van Dyke Parks, SMiLE fulfills its 37-year promise, detailing what'd happen if you threw in Stephen Foster's parlor folk, Aaron Copland's orchestral Americana, the Four Freshmen, some kiddie pop, and a sound-effects record into an acid-laced blender. With a new melodic idea occurring every 45 seconds on average, it's a gorgeous trip back to a time when anything seemed possible, rendered only slightly melancholy through a four-decades filter of diminished musical expectations. Purists will suggest SMiLE was better off as myth, but I'll take the version of the story where Schubert not only gets to finish his eighth symphony, but tours and sells T-shirts behind it. A