26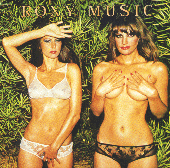 COUNTRY LIFE
Roxy Music
Atco, 1974
Designer: Bryan Ferry
Photographer: Eric Boman

knew that pictures of pretty girls had been used to sell cars, soap and just about everything else," says Bryan Ferry. "So why not rock music?" As a student at Newcastle University, Ferry studied under the pop-art painter and theorist Richard Hamilton, who created the cover of the Beatles' "White Album." "A product," Hamilton wrote, "must aim to project an image of desirability as strong as any Hollywood star," -- a credo that had an enduring impact on Ferry. Whereas most LP covers of the day "had the group standing in an alleyway, looking very sullen and moody," he says, Roxy covers are enigmatic scenarios involving glamorous women.
While recording Country Life, Ferry went to Portugal to write lyrics. There he met two German fans, Constanze Karoli and Eveline Grunwald. Ferry had already decided to call the album Country Life -- after the British magazine for the gentry -- and he wanted the cover to contrast with "the usual Country Life magazine photography, where you normally have characters shooting ducks or jumping over fences in top hats." When he suggested a half-nude photo session on the beach, he says, the women "were very keen to do the job." They later translated the lyrics to "Bitter-Sweet" into German, which Ferry sings on the record.
Perhaps aided by the cover, Country Life was the first Roxy album to penetrate the American Top Forty. But the indelicate position of Karoli's and Grunwald's fingers annoyed many retailers, who refused to stock the album. So Atlantic Records disguised some LPs with green shrink-wrap and pressed an alternative cover that removed the women altogether, showing only the Portuguese foilage.


Reader's Comments
superseventies (Moderator)
Can you believe the brainiacs at Google Adsense think this cover is "obscene" so I had to take all their ads off this page? Hope they never get a look at an old Sears catalog. lol