23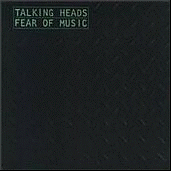 FEAR OF MUSIC
Talking Heads
Sire, 1979
Designer: Jerry Harrison

hen it came to album covers, Talking Heads had a tradition of antagonism with their record company. "We'd present an idea to the art direction at Sire," says guitarist Jerry Harrison, "then they'd spend three months finding out you couldn't do it. And then we'd try to find out if you could. The same thing happened with Fear of Music."
The Heads, who began as a trio at the Rhode Island School of Design, recorded the album at Chris Frantz and Tina Weymouth's loft in Long Island City, New York, next door to Tina's brother Yann, an architect who used a type of black vinyl flooring in many of his designs. "It's kind of a ubiquitous pattern," says Harrison, who studied architecture at Harvard. "You never noticed it until it was brought out of that utilitarian image by being an album cover."
Harrison wanted to use black vinyl for the LP cover, but the material couldn't be made thin enough without cracking. Instead, Fear of Music came with an embossed cardboard cover. It was nominated for a Grammy in album design.
Harrison continues to come up with problematic design ideas. "I wanted to do a cover that lit up," he says. "There'd be a camera battery in there, and when you squeezed the corner, the whole cover would light up. But it proved to be impossible."