"Mama Told Me (Not to Come)"
Three Dog Night
Dunhill 4239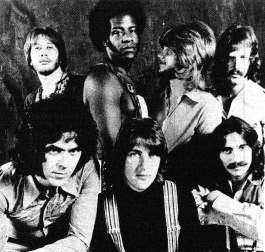 hree Dog Night touted itself on being "pure entertainment" in an era of musical messages. They were there to look good and make hit records, and that's exactly what they did, amassing fourteen gold or platinum awards between 1969 and 1976. They outlasted nearly all of their contemporaries, and most of their critics.
"We were blasted back then," said co-founder Danny Hutton, "by people who thought 'commercial' was a dirty word. Yeah, we weren't 'purists.' Purists believe there's some virtue in being unknown and living in poverty. We wanted to play music that would have a broad appeal -- please the greatest number of people. If being commercial meant satisfying your audience, then yes, we were commercial. And proud of it."
Three Dog Night began their streak in 1969 with "Try a Little Tenderness," "One," "Easy to Be Hard," and "Eli's Coming." In 1970, the hits continued with "Celebrate," "Mama Told Me (Not to Come)," "Out in the Country" and "One Man Band." Cory Wells, another founder (along with Chuck Negron), talked about the biggest of those songs.
"Mama Told Me (Not to Come)" was a tune that I had been doing before Three Dog Night, when I still had my old group in Arizona," he said. "I used to buy all these bizarre records -- still do -- and one of them was a Randy Newman album. On it was 'Mama Told Me,' and I became a tremendous fan, long before Randy Newman became 'in.' I used to play the album for other people, and they'd go, "Oh, my God, who is that? That's terrible! That's horrible!' But see, you had to listen to what the man was writing. He's not a performer, he's a composer.
---

THE TOP FIVE
Week of July 11, 1970

1. Mama Told Me Not To Come
Three Dog Night

2. The Love You Save
Jackson Five

3. Ball of Confusion
Temptations

4. Ride Captain Ride
Blues Image

5. Band of Gold
Freda Payne

---
"When I brought the song to the other guys, they didn't like it. They hated it. Matter of fact, it took me three albums for them to accept it. I kept saying, 'Please listen to this song. It's a hit song. Man, will you please listen to it?' And they said, 'Cory, it just doesn't have it. Why don't you try some other song instead?'

"I pushed so hard for 'Mama Told Me.' In my guts, I wasn't relieved, I hadn't climaxed, I hadn't gotten the song done, you know? Those were the days when we were having a lot of problems trying to give everybody equal say about our material. But a song can get so worn down, with everyone going, 'No, I'd rather have it this way,' and so forth. After a while you just want to say 'Screw it. I don't even want to do the song anymore.' 'Mama Told Me' was a little easier than that. I had more control over it in direction, and the other guys were a little more open to listen. And, of course, they contributed their ideas and things and it turned out to be what it was.

"The president of Dunhill at that point was Jay Lasker, last of the old-time record tycoons. He had a big cigar, and was the typical 'come here, boy, I'm gonna make you a star' kind of guy. He came into the studio and said, 'Let's hear this stuff.' 'Mama Told Me' was in its raw form, not mixed or anything, just the basic track and vocals. After we played it for him, he became so excited he said, 'I'd like to buy you boys something. What do you want? What do you want?' At the time, we weren't making a whole lot of money, so he shouted, 'TV sets! You want TV sets?' The guys said, 'Yeah, sure,' and then he came up to me and said, 'Hey Cory! Want a TV set?' I said, 'No, man, I've gotta be honest with you. The place I'm living in, I'm sleeping on the floor. I'd really appreciate a bed.' So he bought me a bed, believe it or not."

"Mama Told Me (Not to Come)" was released in May 1970, and reached the top of the charts in July. "We were in rehearsal in New York, and our road manager came running down the aisle, waving this telegram. It was from Dunhill, telling us that we had just scored number one!" Days later, "Mama Told Me" was certified a million-seller. After it passed the three-million mark, Randy Newman phoned the group to offer his congratulations. "He said, 'Cory, thanks for putting my kids through college,'" recalled Wells. "And then he hung up."

Three Dog Night remained a mainstay on the pop charts throughout the early seventies, racking up eighteen consecutive Top 20 hits (three going to number one), seven million-selling singles, and twelve gold albums. They went on to record definitive versions of other important songwriters' compositions, such as Hoyt Axton's "Joy To The World" (#1 1971), Russ Ballard's "Liar" (#7, 1971), Paul Williams' "An Old Fashioned Love Song" (#4, 1971), B.W. Stevenson's "Shambala" (#3, 1973), and Leo Sayer's "The Show Must Go On" (#4, 1974). The group's concerts were sold out around the world, and in 1972 they even hosted their own network television special.

By 1974, however, Three Dog Night's commercial magic had finally waned. Friction arose among the group's three frontmen, partly because Chuck Negron began singing a disproportionate number of the hits and was viewed by the public as the "lead" singer, and they disbanded in 1977. Danny Hutton and Cory Wells then pursued projects both on record and behind the scenes in the music business, with limited success. In June 1981, the three original vocalists reunited, and two years later they released their last record, an EP entitled It's A Jungle. Since the mid-eighties Hutton, Wells, and original band keyboardist Jimmy Greenspoon have toured with other musicians as Three Dog Night. Chuck Negron pursues a solo career and has been involved in litigation with the other two over the use of the band's name.

comments powered by