"You're So Vain"
Carly Simon
Elektra 45824
Dec. 1972
Billboard: #1



The name of Carly Simon's LP may be No Secrets, but the question kids from Minneapolis to Savannah are asking is, "Who's the mystery man behind the saga of 'You're So Vain'?" While Carly claims it's about several old flames from her single days, her brother reveals she had one special guy in mind. "It's not about James," she'll admit, "although he did have the unfortunate experience of flying up to Nova Scotia." The most likely candidate seemed to be Mick Jagger, and although Carly denies it's about Mr. Lips, one close friend reveals that "Jagger's been after her ass for a long time. He would have left Bianca if Carly had encouraged him." Says another witness, "Jagger spent three hours holed up in her hotel room during the London recording sessions -- and they probably weren't humming 'You're So Vain'!" Jagger denies it's him and points the accusing finger instead at "this very rich actor who's a good friend of mine." Who's the real mystery man? Carly's mum, but her sister admits that the target of Carly's lyrics is good friend and actor Warren Beatty. James merely says, "We know who it is, and we won't tell!" - Circus, 3/73.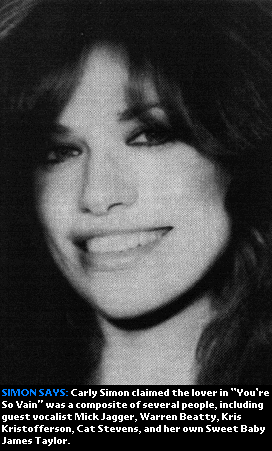 he school of narcissistic songwriting had come to a head in the early '70s. James Taylor, the man who eventually became Carly Simon's husband, can claim the lion's share of responsibility for popularizing the laid-back, self-centered concerns that defined the singer/songwriter phase, but other writers -- such as Gordon Lightfoot, Jackson Browne, and Don McLean -- also contributed their share. Even Carole King joined the fray. The cover photo on her Tapestry album updated her image as one of the premier Brill-building songwriters of the previous decade by picturing her as a tattered and homespun hippie. Joni Mitchell also became popular by singing starkly revealing and autobiographical tales to an audience who had come to expect lyrics that were both confessional and cranial. Crosby, Stills, Nash and Young formed a singer/songwriter supergroup that actually worked, allowing each member to retain his own identity while writing highly personalized songs to which the others lent their harmonies.
| | |
| --- | --- |
| Carly Simon's third album No Secrets was released in December 1972 and was the #1 album in America for five weeks. It stayed on the charts for a total of 71 weeks and was certified gold by the R.I.A.A. on Dec. 8, 1972. | |
The troubadour style was mostly an album-oriented phenomenon, so few good singles resulted. When they did, they were usually viewed (correctly) as being inferior to the more serious work that appeared on the albums. Taylor was the first of the genre to become popular, and he jumped to the front of the herd with two early hit albums, but he seemed to run out of ideas. Ironically, his marriage to Simon may have provided him with the personal solace he needed, but it seems to have wreaked havoc on his insightful nature. His expressiveness never went beyond the one-dimensional range of his voice, and once he began to sing of things other than his own experiences, he sounded trite and ordinary. King was unable to duplicate the success of Tapestry, and McLean entered a self-imposed exile. Browne broadened his interests to include human rights and politics while Crosby, Stills, Nash and Young disintegrated. Mitchell and Simon remained as two of the best surviving purveyors of heartrending self-analysis and observation.

Most of the major players in the singer/songwriter mold knew each other well and coexisted in various permutations as friends and lovers (Crosby-Mitchell, Nash-Mitchell, Browne-Mitchell, Taylor-Mitchell, Simon-Taylor, Stills-Collins) like a hippi-fied cast of Knots Landing. It was a small world in which each of the players knew each other well and often wrote songs about their relationships. They had become a privileged and elitist club of few members who seemed to be writing songs under the premise that their love lives were universally appealing, convinced that the record-buying public would remain tolerant of their self-indulgence.

Simon had a unique perspective on the whole phonomenon. Born into a wealthy family who controlled one of New York's most successful publishing houses, she was familiar with society life and the conceits that are peculiar to the rich and famous. Her songs reflect her observations and often betray the propriety that her family's lifestyle demanded. She could be just as topical and scathing when singing about her peers. "You're So Vain" is the ultimate put-down of a conceited hedonist (Warren Beatty? Mick Jagger? Who knows?), and it drew attention to the cannibalistic nature of the singer/songwriter circle in the early '70s. For its time, it was a perfect piece of analytical criticism. It contained the perceptions that were all the more powerful because they were sung by a woman who sounded eager to make transparent the conceits of her male protagonist. If it was intended as vengeance for a lover who spurned her, it did the trick, particularly when considering that it was a #1 hit for three weeks. Getting Mick Jagger to supply backup vocals made the song even more provocative. While "You're So Vain" was one of the biggest hits of the troubadour/rock star era, it also drove a steak through the heart of the beast, by drawing attention to the contradictory nature of sensitivity and self-obsession.

- Thomas Ryan, American Hit Radio, Prima Entertainment, 1996.


Reader's Comments
No comments so far, be the first to comment.