"You Ain't Seen Nothing Yet"
Bachman-Turner Overdrive
Mercury 73622
Nov. 1974
Billboard: #1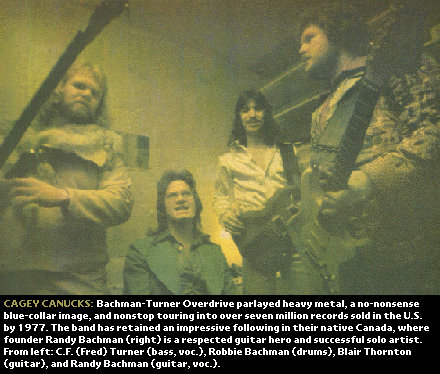 ou Ain't Seen Nothing Yet" was a song intended for an audience of one. Songwriter Randy Bachman never wanted the public to hear the song he had composed especially for his brother Gary, the first manager of Bachman-Turner Overdrive. "He stuttered," Randy explains. "He had a speech impediment. We thought, just for fun... we'd take this song and I'd stutter and we'd send it to him. He'll have the only copy in the world of this song by BTO."
The tune began as an instrumental track inspired by the rhythm guitar of Dave Mason ("Only You Know and I Know"). BTO had already made the Hot 100 with two hits in 1974, "Let It Ride" (number 23 in April) and "Takin' Care of Business" (number 12 in August). They were in Seattle, Washington, recording their third album and had eight songs prepared. "But we had this ninth song," says Randy. "It was basically just an instrumental and I was fooling around... I wrote the lyrics, out of the blue, and stuttered them through."
| | |
| --- | --- |
| Released in August of 1974, Bachman-Turner Overdrive's third album Not Fragile was, like its first single "You Ain't Seen Nothing Yet," number 1 in America for 1 week. The album stayed on the Billboard Hot 200 for 50 weeks and was certified gold by the R.I.A.A. on Aug. 23, 1974. | |
When the album was completed, Charlie Fach of Mercury Records flew to Seatlle to hear the finished product. After listening to the eight songs BTO recorded for the album, Fach complained that he "didn't hear that magic thing." "What's magic?" Randy parried. "It's magic when it gets airplay and people buy it. You can't plan magic." Fach asked if the band had anything else. Randy replied, "We have this one song, but it's a joke. I'm laughing at the end. I sang it on the first take. It's sharp, it's flat, I'm stuttering to do this thing for my brother." Fach asked Randy to play the song. "We did. Charlie smiled and said, 'That's the track. It's got a brightness to it. It kind of floats a foot higher than the other songs when you listen to it.'"

Randy agreed to include it on the album, but only if he could re-record the vocal. He went into the studio the next day. "I tried to sing it, but I sounded like Frank Sinatra. It didn't fit." Fach told him to leave it the way it was, stuttering and all. When Not Fragile was released, radio stations jumped on "You Ain't Seen Nothing Yet" right away. "I started to hear it getting played and I was embarrassed. I'd turn the radio down. My wife would say to me, 'Look, at last, they're playing a song of yours like mad.'"

Fach kept calling with airplay reports, urging Bachman to permit the track to be released as a single. "And I refused for three weeks... I was producer, so I had final say on what went out. I woke up one day and asked myself, 'Why am I stopping this? Some of my favorite records are really dumb things like 'Louie, Louie'... so I said to Charlie, 'O.K., release it. I bet it does nothing.'"

"You Ain't Seen Nothing Yet" debuted at number 65 on September 21, 1974, and moved to the top of the Hot 100 seven weeks later. It was the first and only chart-topper for BTO, but Randy Bachman had been to the summit before as part of the Canadian group Guess Who. Bachman, a convert to Mormonism, left that group after 11 years when he realized, "After the final encore, I just didn't want to be with these guys." Wanting more control over his career, he took a year off and wrote some songs. "But I got restless right away. I'd just jam with any band that came into town." He struck out in a country and western direction with a group called Brave Belt that included former Guess Who member Chad Allen and Randy's younger brother Robbie. Allen was replaced by another Bachman brother, Tim, and bass guitarist Fred Turner. Bachman-Turner Overdrive was born, named after the trade magazine of the trucking industry, Overdrive.

The father of eight children, Randy went on the road again with Bachman-Turner Overdrive in 1984. Looking back on "You Ain't Seen Nothing Yet," he reflects, "When it was all over, to realize that I could have a million-seller and a number one record without sitting down with mental giants like Paul McCartney and... saying 'Let's write a number one song,' -- you really can't. The magic is out of your hands."

- Fred Bronson, The Billboard Book of Number One Hits, Billboard, 1988.


Reader's Comments
No comments so far, be the first to comment.