"Sundown"
Gordon Lightfoot
Reprise 1194
Jun. 1974
Billboard: #1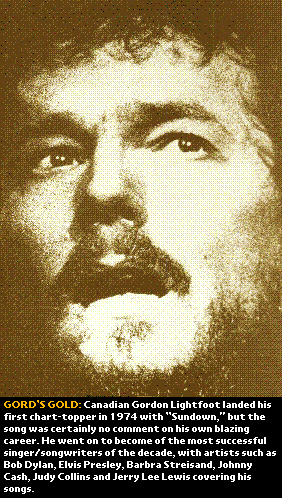 don't know why I wrote my first song. I don't think the thought really struck me until I was about 17. It just came to me that people were writing songs that I was hearing constantly on the radio and I decided to try my hand at it," Gordon Lightfoot told Billboard in 1975.
Born on November 17, 1938, in Orillia, Ontario, Canada, on Lake Simcoe (80 miltes north of Toronto), Lightfoot showed musical expertise as early as age 11. The principal of his elementary school was impressed enough with his young pupil's vocal ability to ask him to sing over the public address system on Parents Day. He won various local talent contests, but ultimately he found Orillia too limiting.
| | |
| --- | --- |
| Gordon Lightfoot's fifth studio album Sundown generated the #1 title track hit and another Top 10 smash, "Carefree Highway." The album peaked at #1 on the Billboard Hot 200 and remained on the charts for 42 weeks. It was certified gold in May 1974 and certified platinum in October 1986 by the Recording Industry Association of America. | |
While reading Down Beat one day after graduating high school, he noticed an advertisement for the now-defunct Los Angeles-based Westlake College, which specialized in theory of jazz, orchestration and harmony. After 14 months in southern California, a homesick Lightfoot returned to Canada, working odd day jobes before becomeing a music copyist. Writing romantic jazz piano pieces and the time, he saw Ian and Sylvia (Tyson) perform in a Toronto cafe in the early '60s. "When I saw that combination of folk and country music, I knew it was what I had been looking for," Lightfoot told Robert Hilburn of the Los Angeles Times.

Continuing to pop up in various areas of the Toronto performing arts scene until 1963, Lightfoot settled into singing and playing his guitar. At the same time, he discovered the music of Bob Dylan. "He was moving into musical areas where angels feared to tread, so to speak. He was getting into areas that no one had ever explored before. Lyrically and musically, he had an extremely rural approach, which was partly in keeping with my influences," Lightfoot said in Billboard.

The Tysons were managed by Albert Grossman, who also represented Dylan and Peter, Paul and Mary. Grossman told Lightfoot that the trio were interested in recording his song "Early Morning Rain," and soon Lightfoot was also being managed by Grossman.

Signed to United Artists Records in the '60s, Lightfoot moved over to Reprise in 1970. He charted for the first time on the Billboard Hot 100 with "If You Could Read My Mind," a number five hit in February, 1971. His next three chart entries failed to make the top 50, but then along came "Sundown."

The song was composed during one of Lightfoot's marathon writing sessions. In an April, 1975, Billboard interview, he disclosed, "I've been writing for deadlines for the last three years and 'Sundown' was one of a string of songs that I wrote when I lived on a farm out in King Township, just outside of Toronto... I was getting off a tune every day out there. It certainly turned out to be a royal flush."

Asked to reveal the secret of the number one single's success, Gordon replied, "It's a down-the-middle rock 'n' roll song with interesting lyrics. Besides that it had a nice groove to it. Of course, I was really quite pleased at the way it shot right up there. Another tremendous surprise was the way it crossed over into the country market."

Two years later, Lightfoot's "The Wreck of the Edmund Fitzgerald" (about an ore vessel that sank on Lake Superior), became a number two hit for the baritone singer. In 1985, he joined artists like Joni Mitchell, Neil Young and Bryan Adams to record "Tears Are Not Enough," the Canadian contribution to the fundraising campaign to feed the starving people of Africa, which was spearheaded by USA for Africa's "We Are the World." Lightfoot didn't release a new album for the next eight years, but toured regularly and still commands a loyal following, particularly in his native Canada.

- Fred Bronson, The Billboard Book of Number One Hits, Billboard, 1988.


Reader's Comments
No comments so far, be the first to comment.