"The Streak"
Ray Stevens
Barnaby 600
May 1974
Billboard: #1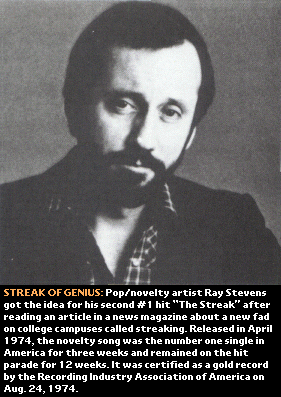 n April 2, 1974, millions of viewers watching the Academy Awards saw a naked man streak past David Niven on live television. Robert Opel, a 33-year-old advertising executive, was seized by security guards as he ran off stage but no charges were pressed. "I suppose it was bound to happen," Niven sighed, saying the man had revealed his "shortcomings." The next award presenter, Elizabeth Taylor, seemed a bit shaken as she told the audience, "That's a pretty hard act to follow. I'm nervous -- that really upset me. I think I'm jealous!"
Opel had obtained a press pass, enabling him to stand backstage. He discarded his blue jumpsuit at the proper moment. "It just occurred to me," he explained to the Los Angeles Times, "that it might be an educative thing to do. You know, people shouldn't be ashamed of being nude in public. Besides -- it's a hell of a way to launch a career."
| | |
| --- | --- |
| Ray Stevens' number one novelty hit "The Streak" was culled from his June 1974 album Boogity Boogity, which peaked at #159 on the Billboard Hot 200 and remained on the charts for 11 weeks. In 1995, twenty of Ray's biggest comedy hits, including "The Streak," "Shriner's Convention," "Gitarzan" and "Bridget The Midget (Queen of the Blues)," were assembled on the Curb Records CD Ray Stevens - Twenty Comedy Hits Special Collection (above). | |
Opel's career was only slightly shorter than the brief fad of streaking, which began on college campuses. Ray Stevens read an article about the phenomenon in a news magazine while on a flight from Nashville to Los Angeles. "It was a little bitty article about a college student who took off his clothes and rand through a crowd. The article called it 'streaking' and I said it had to be a great idea for a song."

"I made some notes and when I got to my hotel room I made some more notes. When I got home from the trip I dashed out a few lines. I intended to finish it whenever I could find the time. I didn't know it was going to be such a big fad. One morning I woke up and it was all over the news. Everywhere you turned, people were talking about streakers. So I built a fire under myself and went into the studio and rushed the record out.

"There were 15 other streaking records already on the market by the time I got mine out. There ended up being 35-40 streaking records altogether. Stores were setting up sections for the 'streaks of the week.' I got the jump on everybody, I think, by getting lucky and reading that article."

The single started getting airplay based on advance promotional copies. The novelty song won immediate response, and the single entered Billboard's Hot 100 just five days after the Oscar telecast. Five weeks later it was number one.

"The Streak" branded Stevens a novelty singer once more. He had finally shaken that image after going to number one with a serious (but optimistic) song, "Everything Is Beautiful." He followed that with other non-novelty tunes, including "America, Communicate With Me" and "Turn Your Radio On."

After "The Streak," he recorded a parody of "Midnight Special" called "Moonlight Special." He also did a clever, uptempo updating of the pop standard "Misty" and took a satiric jab at Barry Manilow with "I Need Your Help, Barry Manilow." Under the unlikely name Henhouse Five Plus Two, he did a poultry-geist version of "In the Mood" (don't ask, you'd have to hear it).

For a singer identified with novelty songs, Stevens is an amazingly serious-minded man. In a 1969 interview, he said of himself, "A lot of insight comes from other people telling me things that I don't realize. One minute I know what I understand and then I don't. My whole attitude is one of trying to paint a broad picture of the scene. I don't try to narrow it down to any one area of life. I'm trying to be Ray Stevens. I realize that I am very complex. But I am slowly getting a picture of myself."

In 1984, Stevens signed with MCA Records and returned to the image he can't shake. "I've decided to go with the comedy image. That's how the majority of people perceive me, so that's how I'm gonna be for awhile. I'm gonna cut strictly comedy songs and see what happens."

- Fred Bronson, The Billboard Book of Number One Hits, Billboard, 1988.


Reader's Comments
No comments so far, be the first to comment.