"Sister Golden Hair"
America
Warner Brothers 8086
June 1975
Billboard: #1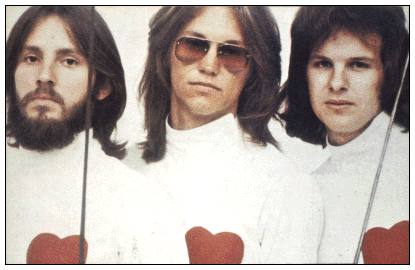 ister Golden Hair" was from America's Hearts album. It was their fifth LP, following America, Homecoming, Hat Trick, and Holiday, and preceding Hideaway and Harbor. If you sense a pattern developing here, you have a sharp eye. It was a coincidence at first, but became a conscious effort by the time Holiday rolled around. When they left Warner Brothers to sign with Capitol in 1980 they dropped the whole idea, except for a subtle jest with the Silent Letter album.
| | |
| --- | --- |
| Debuting in the Billboard Top 40 on Apr. 26, 1975, "Sister Golden Hair" was America's seventh Top 40 single, and their second No. 1. "Daisy Jane," the follow-up, was also taken from their Hearts album and climbed to No. 20. Hearts, America's fifth LP, first charted on Apr. 5, 1975, peaking at No. 4 and remaining on the Hot 200 album chart for 44 weeks. It was certified gold by the R.I.A.A. on June 12, 1975. | |
America followed their first number one single, "A Horse With No Name," with two more top 10 efforts, "I Need You" and "Ventura Highway," a song written by Dewey Bunnell after travelling with his parents in the Oxnard/Ventura area of Southern California and getting stranded with a flat tire near the freeway.

After their first album was produced in England by Ian Samwell and Jeff Dexter, the group recorded their next two LPs in America and produced their own tracks. After three singles failed to penetrate the top 30, the group turned to one of the rock era's most successful producers, George Martin. He agreed to produce their next album, but having heard how long it took America to record each LP, he insisted they travel to London and work on his home turf.

Wanting to impress the man who produced the Beatles, the group went into heavy rehearsals, so they would be prepared for Martin. It took only 15 working days to record Holiday, and Martin told them he might as well taken a two-week holiday himself and recorded the album in California after all. That album produced America's biggest hits since "A Horse With No Name." The first single, "Tin Man," peaked at four and the follow-up, "Lonely People," went to five.

The band worked with Martin again on Hearts. The result was "Sister Golden Hair," which entered the Billboard Hot 100 at number 71 on April 5, 1975, and went to number one 10 weeks later.

America was reduced to a duo the following year, when Dan Peek left to pursue a solo career as a Christian artist. He signed with Lamb and Lion Records and had one Hot 100 entry in 1979, "All Things Are Possible."

Gerry Beckley and Dewey Bunnell did not consider replacing Dan, who died of undisclosed causes in 2011 at age 60. They continued as America, but found it difficult to come up with a hit single. It wasn't until their third Capitol album in 1982, View from the Ground, that they came up with "You Can Do Magic," written and produced by Russ Ballard. The song peaked at number eight.

- Fred Bronson, The Billboard Book of Number One Hits, Billboard, 1988.


Reader's Comments
No comments so far, be the first to comment.