"Saturday Night"
Bay City Rollers
Arista 0149
January 1976
Billboard: #1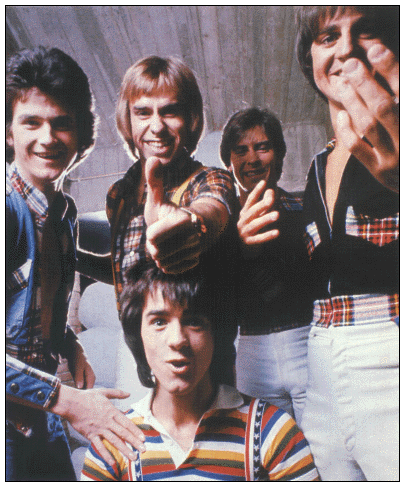 n the middle of 1975, it seemed like the Bay City Rollers were on their way to becoming one of Britain's all-time greatest hit-making bands. The level of hysteria they aroused in their fans hadn't been matched since the Beatles, and they had placed seven consecutive top 10 singles on the chart, including two consecutive number ones -- a cover version of the Four Seasons' "Bye Bye Baby (Baby Goodbye)" and "Give a Little Love." It would have been hard to predict that by the end of 1977, the Rollermania phenomenon would be over, and they would not return to even the bottom rungs of the American or British charts.
| | |
| --- | --- |
| Scottish pop-rock quintet Bay City Rollers scored their first of three U.S. top 10 hits, and only U.S. number one, with "Saturday Night," a track from their eponymous American debut LP. First charting on Sept. 27, 1975, Bay City Rollers peaked at No. 20 on the Billboard Hot 200 album chart, and remained on the charts for 35 weeks. It was certified gold by the R.I.A.A. on Dec. 31, 1975. | |
For awhile, it looked as if they might not make it in America. They were idolized in the United Kingdom, successors to the teenbopper mantle they picked up from the Osmonds and David Cassidy. Signed to Bell Records in Britain, they were on the American company's artist roster when Clive Davis took over the label and changed its name to Arista.

He dropped most of the label's acts but the Bay City Rollers stayed. He tried releasing "Bye Bye Baby" in the United States -- after all, it had been number ne for six weeks in the United Kingdom, but it didn't make a dent in the Billboard Hot 100. All of their other British singles had failed in the States, too, so Davis used his intuition and went with an album track that he thought would be a good American single.

He was aided by top-notch promotion. The Scottish quintet appeared live via satellite on the premiere segment of ABC-TV's appropriately named Saturday Night Live With Howard Cosell. Davis turned out to be right. "Saturday Night" became the first American chart entry for the Bay City Rollers, debuting on the Hot 100 at number 85 on October 11, 1975. Just 12 weeks later, the group started off 1976 with their first and only American chart-topper.

The Bay City Rollers soon had tartan-clad devotees in the States, just like they did back home. They scored another top 10 single, "Money Honey," and made frequent American television appearances on shows like American Bandstand and The Midnight Special. Their chart fortunes dipped after their 1976 cover of Dusty Springfield's "I Only Want to Be With You," but by the summer of 1977 they had a comeback top 10 single with "You Made Me Believe in Magic."

The Bay City Rollers were all born in Edinburgh, Scotland. Brothers Alan and Derek Longmuir were attending Tynecastle School in 1967 when they formed a group called the Saxons and started rehearsing in their parents' tenement apartment. They soon had a manager, Edinburgh band leader Tam Paton. They selected a group name by sticking a pin into a map -- it landed in Bay City, Michigan, and they thought Bay City Rollers sounded like a good moniker.

They played for three years around Edinburgh, earning up to $55 a night. They were playing at the Caves Club in 1970 when an executive from Bell Records in London missed his flight back to London and caught their performance. They were signed to the label and had their first single, a cover version of the Gentrys' "Keep on Dancing," produced by Jonathan King. It went to number nine in Great Britain in 1971.

Guitarist Eric Faulkner joined the group after the success of "Keep on Dancing." Nobby Clarke and John Devine left in the group at the beginning of 1973, and were replaced by lead singer Les McKeown and guitarist Steve "Woody" Wood.

They were teamed up with writer/producers BIll Martin and Phil Coulter in 1974, paving the way for the beginning of Rollermania.

- Fred Bronson, The Billboard Book of Number One Hits, Billboard, 1988.


Reader's Comments
No comments so far, be the first to comment.