"Rock Me Gently"
Andy Kim
Capitol 3895
Sep. 1974
Billboard: #1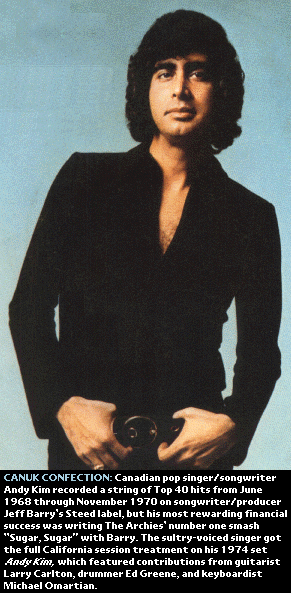 ndy Kim had a hot chart streak from 1968-1971, when he was signed as an artist to Jeff Barry's Steed label. He had a Top 10 hit with a new version of the Ronettes' "Baby, I Love You," a song written by Jeff with his former wife Ellie Greenwich and Phil Spector. Andy also hit the Top 40 with original songs like "How'd We Ever Get This Way" and "So Good Together," and returned to the Barry-Greenwich-Spector songbook to cover the Ronettes' "Be My Baby." His most rewarding success, in financial terms, was writing a number one song for the Archies, "Sugar, Sugar" with Barry.


| | |
| --- | --- |
| "Rock Me Gently" was a chart-topping single from Andy Kim's self-titled 1974 album for Capitol Records, which peaked at #21 on the Billboard Hot 200 and spent a total of 17 weeks on the pop album charts. In late 1999, the 16-track German import CD Andy Kim - Baby I Love You: Greatest Hits (above) was released. In addition to the smash title track, it include's Andy's Top 40 hits "Rock Me Gently," "Shoot'em Up, Baby," "Be My Baby" and "Fire Baby, I'm on Fire." | |
The Steed label folded and Kim recorded briefly for MCA, but from mid-1971 to mid-1974 Andy couldn't get a hit record. His March 1971 single "I Wish I Were" only made it to number 62, and four months later "I Been Moved" barely cracked the Hot 100. "I never mentally admitted defeat in spite of three years off the charts and 18 months between record contracts," Andy said in a 1974 Billboard interview. "It's true that you can be lonely at the top, but believe me, it's a lot lonelier when you're nowhere."



With his chart career as cold as the Canadian winter, the Montreal native formed his own label, Ice Records. He financed the recording session of "Rock Me Gently" himself. He could only afford to cut two sides and because he considered the second track good enough to be another "A" side, he put an instrumental version of "Rock Me Gently" on the flip side.



Andy played the completed track of "Rock Me Gently" for Stu Yahm, a former Steed promotion man now working for Capitol. He thought the song had potential and took it to label executives Al Coury and Bruce Wendell. They signed Kim to the label, resulting in Capitol's 30th number one single of the rock era. "Rock Me Gently" debuted on Billboard's Hot 100 on June 22, 1974, and took 14 long weeks to climb to number one. In addition to the pop airplay for the vocal side, many R&B stations played the instrumental "B" side.



With the success of "Rock Me Gently," Kim toured extensively, something he had shied away from during his Steed days. "Frankly, all my old hits were sped up on the tape, to make my voice sound higher for the pre-teen market," he revealed in Billboard. "That was one of the reasons I never did much touring. Kids who heard my records expected to see a 5'8" blond surfer. Instead, they got somebody 6'2" and dark. I went over best with their mothers who brought them to the shows."



Andy Kim was born Andrew Joachim on December 5, 1952. He was the third of four sons born to Lebanese parents who had emigrated to America in the early 1900s. He became interested in music while growing up in Montreal, and quit school at 16 to move to New York and pursue a songwriting career. He eventually met Jeff Barry and formed a successful songwriting team with him. Kim found it difficult to follow "Rock Me Gently" with another hit. "Fire, Baby I'm on Fire" was his next single. It peaked at number 28 and was his final chart entry. In 1981 he reunited with producer Michael Omartian and recorded under the pseudonym Baron Longfellow. Playing on the sessions were Steve Lukather and Mike Porcaro of Toto. Released on his own Ice label, the album included an updated version of "Sugar, Sugar."



- Fred Bronson, The Billboard Book of Number One Hits, Billboard, 1988.


Reader's Comments
No comments so far, be the first to comment.