"#9 Dream"
John Lennon
Apple 1878
Jan. 1975
Billboard: #9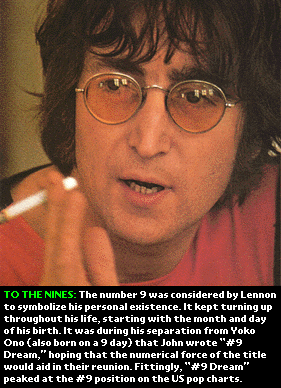 fter the initial burst of soul-wrenchingly honest creativity that highlighted John Lennon's first real solo record (the Plastic Ono Band album), he began to drift off into an artistic abyss. His albums, both artistically and commercially, slipped from better than ordinary (Imagine) to dreadful (Mind Games). His next album, Walls and Bridges, turned Lennon's slide around and yielded his first post-Beatles #1 single with the dance-oriented Elton John duet titled "Whatever Gets You Through the Night."
| | |
| --- | --- |
| "#9 Dream" was the second single from John's Walls and Bridges album, which was released in September 1974 and went to the top of the US album charts. The album's title came from a public service announcement John viewed on television and its jacket displays John's drawings from his childhood. | |
The song was light years away from his previously intense material, and although it was catchy, it still seemed slight coming from Lennon. It was the follow-up single from the same album that not only hearkened back to his best solo efforts, but also brought to mind some of his work with the Beatles. "#9 Dream" is unusually spiritual for Lennon and, most amazingly, it captures him at a moment of peaceful reflection.



"#9 Dream" deserves a place among Lennon's best compositions simply because of the sheer beauty of the music. Never as melodic as his ex-writing partner, Paul McCartney, Lennon's strength was usually in his rhythms and his lyrics. It's almost odd to hear him suddenly being so unabashedly tuneful, reveling in the lushness of the melody. Lennon was always the Beatle whose music took an added relevance because of his constant autobiographical soul-searching. As a solo artist, his material gained added depth simply because it was John Lennon who was singing. With "#9 Dream," it was such a pleasant surprise to hear this troubled character sound at peace. If it was sung by someone else, it might not have had the same effect, but Lennon brought a history (and quite a history at that) to the proceedings, which lent the song gravity. It was rooted firmly to the earth while the melody and production soared through the clouds.



After this album, Lennon retired from music to become a full-time house-husband and father. Only the disappointing tapes of his oft-delayed Rock and Roll album saw the light of day in the interim. After five years, he and Yoko Ono returned with Double Fantasy, their promising and, of course, autobiographical update. Lennon in particular seemed to be artistically rejuvenated, healthy, and happy. He was pointlessly murdered shortly after the album's release by a disturbed gunman whose thoughtless act was as unimaginable as it was horrible. Lennon's assasination shocked the world and deeply touched anybody who had ever listened to music. Always perceived as an idol and a (reluctant) leader, he was now seen to be vulnerably human, as well. Lennon has since become the martyr that rock and roll never had and never hoped for.



- Thomas Ryan, American Hit Radio, Prima Entertainment, 1996.


Reader's Comments
No comments so far, be the first to comment.