"Miss You"
The Rolling Stones
Rolling Stones 19307
Aug. 1978
Billboard: #1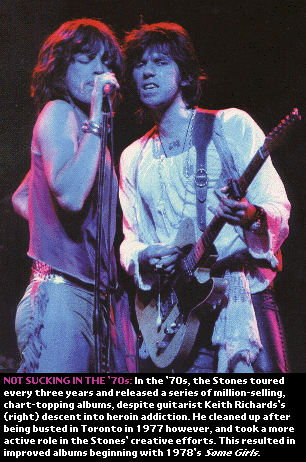 hough they'd been written off by a fickle rock press as lumbering dinosaurs, with "Miss You" the Rolling Stones proved they were far from extinct. Skewered by the stiletto steps of the disco era, pop radio found itself spinning a record that blended the band's essential rock with its newfound sound.
Not only was the Bob Clearmountain-remixed track "a very popular song," in the words of master-of-understatement Charlie Watts, it revitalized the over 15-year-old aggregation's image in the eyes of rock journalists. The Stones' music began to be influential again, as Watts aptly noted in Musician, "There's a load of 'Miss You's', aren't there?"
| | |
| --- | --- |
| Like the battered-woman ad campaign for 1976's Black and Blue, Some Girls also provoked public outcry, this time for ethnic-stereotype lyrics. Some Girls spent a whopping 82 weeks on the charts, peaking at #1 for two weeks. It was certified quadruple-platinum by the R.I.A.A. in Oct. 1984. | |
The prototype made its debut on the Billboard Hot 100 at number 76 on May 27, 1978, and worked its way to number one 10 weeks later. It was the eighth Rolling Stones single to top the American chart. The album from which it was culled, Some Girls, sold over five million copies. For all their success, the Stones were making headlines in 1978 for other reasons. Many column inches were devoted to Mick Jagger's impending divorce from Bianca and his new relationship with Texas model Jerri Hall. Keith Richards was making even more unfortunate news.

Canadian authorities raided his Harbour Castle Hilton hotel room and arrested him for possession of both cocaine and heroin. Though he was allowed out on bail, Keith was virtually marooned in Toronto for weeks, deserted by his comrades after they'd finished their concerts at the El Mocambo club. Lawyers were able to manage a special visa to the United States with the proviso that Keith seek treatment for his heroin addiction from the Stevens Psychiatric Center in New York. He couldn't join the rest of the Stones in Paris where they were recording Some Girls, but had tapes flown in so he could contribute his parts. When the case came to trial in October, 1978, the judges defied speculation about a harsh jail sentence and let the finally rehabilitated musician off on probation, stipulating that he and his band perform a special benefit concert for the blind.

Intact, the Rolling Stones embarked on a 1979 concert tour, cranking out Emotional Rescue the following year. The title track reached number three in September, 1980. Their 1981 album, Tatoo You, yielded "Start Me Up," which held at number two for three weeks in October. Two years later, they peaked at number nine with "Undercover of the Night" from the Under Cover LP.

A couple of solo efforts were released in the '80s. Bill Wyman followed his two mid-'70s outings with the soundtrack to the Ryan O'Neal film Green Ice, and scored a modest British hit with "(Si Si) Je Suis un Rock Star." He also collaborated with famed artist Marc Chagal on a book of photographs. Mick Jagger finally submitted to the solo LP bug in 1985, releasing She's the Boss in March. "Just Another Night" as the first single, followed by "Lady Love."

These departures did not signal an end to the 22-year saga of "the greatest rock and roll band in the world." As soon as he finished promoting his new album, Jagger flew to Paris to join the other four Stones in sessions for yet another new record.

- Fred Bronson, The Billboard Book of Number One Hits, Billboard, 1988.


Reader's Comments
No comments so far, be the first to comment.