"Midnight Train To Georgia"
Gladys Knight & the Pips
Buddah 383
Oct. 1973
Billboard: #1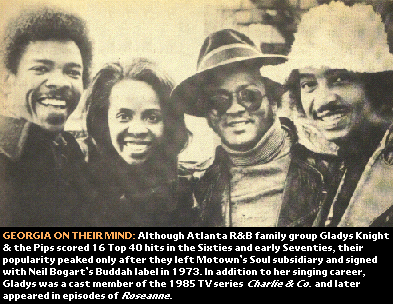 ladys Knight and the Pips reached the runner-up position on the Billboard Hot 100 twice during thir Motown years. "I Heard It Through the Grapevine" spent three weeks at number two in December 1967. The Jim Weatherly-penned "Neither One of Us (Wants to Be the First to Say Goodbye)" was number two for a couple of weeks at the end of March, 1973. It took a change of labels and titles and their 25th chart entry to put Gladys Knight and the Pips on top of the singles chart in October, 1973.
After eight years with Motown's Soul label, Gladys and the Pips went in search of greener pastures. They signed with New York-based Buddah Records and released "Where Peaceful Waters Flow," a ballad that was a medium-sized hit at number 28 n the summer of 1973. For their second single, they returned to the repertoire of Jim Weatherly.
The songwriter from Pontotc, Mississippi, had recorded one of his own sings, "Midnight Plane to Houston," on Jimmy Bowen's Amos Records. "It was based on a conversation I had with somebody... about taking a midnight plane to Houston," Weatherly recalls. "I wrote it as a kind of a country song. Then we sent the song to a guy named Sonny Limbo in Atlanta and he wanted to cut it on Cissy Houston... he asked if I minded if he changed the title to "Midnight Train to Georgia.' And I said, I don't mind. Just don't change the rest of the song.'" Cissy Houston, first cousin of Dionne Warwick and mother of Whitney Houston, took Weatherly's song into the R&B chart.
| | |
| --- | --- |
| The #1 smash "Midnight Train to Georgia" was one of three Top 5 hits from Gladys Knight and the Pips' tenth album, Imagination. Released in October 1973, Imagination peaked at #9 on the Billboard Hot 200 and spent 61 weeks on the charts. In September 1999, Uni/Hip-O Records released the anthology Essential Collection (above), an 18-track collection of hits from 1961 through 1988. | |
Weatherly's publisher forwarded the song to Gladys Knight and the Pips, who followed Houston's lead and kept the title "Midnight Train to Georgia." Their second single for Buddah, it debuted on the Hot 100 at number 71 and became the group's first number one hit eight weeks later.

Gladys Knight (born May 28, 1944 in Atlanta, Georgia) made her singing debut at age four at the Mount Mariah Baptist Church. Both her parents were singers in the Wings Over Jordan gospel choir, and with encouragement from her mother, seven-year-old Gladys appeared on Ted Mack's The Original Amateur Hour and won the first prize of $2,000 for singing Nat "King" Cole's "Too Young."

At her brother Merald's 10th birthday party, Gladys entertained the family by singing with Merald, her sister Brenda and cousins William and Elenor Guest. Another cousin, James "Pip" Wood, suggested they turn professional and lent them his nickname. Eleanor and Brenda eventually chose married life over a career and were replaced by two more cousins, Edward Patten and Langston George.

Their first chart record, "Every Beat of My Heart," went to number six in July, 1961. They recorded for Vee Jay and Fury Records, and after "Letter Full of Tears," a Top 20 hit in early 1962, cousin Langston quit and Gladys Knight and the Pips have remained a quartet ever since.

It wasn't a unanimous decision, the group signed with Motown in 1965 but they didn't score consecutive Top 10 singles until they moved to Buddah. Following "Midnight Train to Georgia," they had three more Top 10 singles: "I've Got to Use My Imagination," Weatherly's "Best Thing That Ever Happened to Me" and "On and On," from the film Claudine.

Legal complications in the late '70s prevented Gladys from recording with the Pips for three years. She recorded a solo album while the Pips released two albums on Casablanca. They were reunited on Columbia Records in 1980 for the Ashford and Simpson-produced album About Love, which yielded a number three R&B hit, "Landlord." Their 1983 set, Visions, generated a number one R&B single and #66 pop single, "Save the Overtime (for Me)." In 1987, they signed with MCA and "Love Overboard" from their All Our Love album reached number one on the R&B charts and #13 on the pop charts and won the group a Grammy for Best R&B Vocal Performance by a Duo or Group with Vocal. The previous year, Gladys also won a Grammy for the all-star AIDS-benefit record "That's What Friends Are For."

Gladys released Good Woman, a solo album featuring many self-penned songs, in 1991 and announced that the Gladys Knight and the Pips group was "suspended." She continued to chart several R&B hits, including "It's Gonna Take All Our Love," "License to Kill" (from the James Bond film of the same name), "Men" and "Where Would I Be."

- Fred Bronson, The Billboard Book of Number One Hits, Billboard, 1988.


Reader's Comments
No comments so far, be the first to comment.