"Lowdown"
Boz Scaggs
Columbia 10367
Aug. 1976
Billboard: #3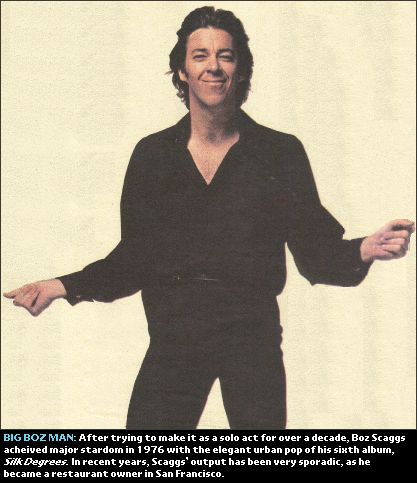 y the mid-to-late '70s, rock music came very close to becoming almost exclusively white, male, and sexist. The cross-dressing glitter acts that were so popular in the early '70s either metamorphosized into "real" men or were overrun by rock and roll's not-so-silent majority. They weren't the only ones forced to the sidelines, either. Whatever social progress had supposedly taken place since the onset of rock and roll had either vanished or was thrown into the dustbin. Unless you fit into the above category, you were forced to exist on the periphery of rock's newly accepted formula. This limitation disenfranchised a whole hell of a lot of people. Women, blacks, and gay men in particular were shunned, sometimes even openly mocked, by the lobotomized breed of macho rockers who dominated rock's turf, causing them to look elsewhere for a musical forum that would embrace them.
While this was happening, soul music was undergoing a significant change. The Philadelphia producers had modernized soul by applying a heavy rhythm and orchestrated production, and a few New York-based entrepreneurs saw fit to capitalize on the new sound. All in all, the atmosphere was perfect for escapist music that allowed city dwellers to forget about their troubles. Infrastructures were crumbling while economies were collapsing, making urbanites desperate to find a means of escapism. New York in particular became a breeding ground for the new style of dance music. Soon afterward, a busload of male European producers joined the convoy. As could be predicted, these foreign stylists had no clue as to the roots of America's indigenous music forms and no particular reason to care about them, either. Georgio Moroder (Donna Summer), Jacques Morali (the Village People), Michael Kunze (Silver Convention), and Eumir Deodato (himself, Kool and the Gang) took a one-from-column-A, one-from-column-B approach to producing their music, believing that they had invented a rock-and-roll soul hybrid. What they really did, though, was forcibly tear R&B and rock and roll up by the roots. By applying their own interpolated impressions of what American music was, they inadvertently created a monster. Thus, borne of ignorance and necessity, flowered a new, rootless brand of music that was destined to be known as disco.
At any other time, something as genetically damaged as disco wouldn't have stood a chance of survival. In the '70s, it thrived. With rock music struggling for direction and soul music already headed toward the mirrored ball, circumstances were perfect for a vacuous brand of youthful music that once again could draw together those groups that otherwise would have been left out. Soul music surrendered immediately to the dance-floor rhythms, while a good percentage of rockers felt sufficiently threatened to incorporate disco into their acts. In only a few short steps, rock singers stopped rebelling and started asking if we thought they were sexy, while black music was cut off from its roots by being taken completely out of the church and pumped exclusively onto polished dance floors.
| | |
| --- | --- |
| A five-million seller, Silk Degrees first charted on March 20, 1976, and spawned three Top 40 hits: "Lowdown" (#3), "Lido Shuffle" (#11), and "It's Over (#38). It was the #2 album in America for five weeks and remained on the Billboard Hot 200 album charts for a total of 115 weeks. | |
Critics, of course, despised disco. To those who had spent their lives analyzing musical progression, disco was assault on the senses with no proper lineage to ground it. In time, everybody was forced to accept disco on its own terms. Although it was mostly mechanized, faceless, and shallow, some disco-era music stood out. Donna Summer had a plaintive quality to her voice that often rose above the efforts of her producers to keep things generic, and the Bernard Edwards/Nile Rodgers production team formulated rhythms for Sister Sledge and their own group, Chic, which actually retained their funkiness on the dance floor. For the most part, though, disco maintained a rigidity that denied the humanity of its recording stars, causing the more sympathetically human work of disco's fringe artists to stand out.

Rhythms, production methods, and topics were fairly consistent for disco. Either a heavily processed beat throttled the song along, or a real drummer played a rhythm based on a constantly opening and closing hi-hat. Tweedling synthesizer sounds and harshly clipped string sections later sampled ad infinitum, were regularly employed, and for some reason flute parts were common as well. Dynamics were out of the question, while tempo changes would have been outright sacrilege. Any break from the heavy 4/4 rhythm pattern would, by definition, declassify the song as disco. As far as topics, there was "Boogie, Oogie, Oogie," "Shake Your Booty," "Get Down Tonight," "I Love the Nightlife" -- you get the idea. Follow the formula, and chances were reasonably certain that your song would be accepted by the boogie-mad masses.

A touch of sophistication never hurt anyone, though, and it worked wonders when Boz Scaggs applied it to the disco formula. With his biggest hit, "Lowdown," he played by the rules but added an insidiously charming sense of class into the mix. The flute riff was there, the hi-hat beat, the tempo, and even the sexually based theme of nightlife was there (sort of), but Scaggs never sounds even fractionally as mechanical as his roboticized competition. "Lowdown" managed to qualify as legitimate disco material, and yet it had a sense of dynamics and an ebb and flow that made it sound positively natural, both on and off the dance floor.

Scaggs came from the Texas dance band scene, where he and guitarist Steve Miller formed a variety of local groups. In 1965, he moved to Europe, where he recorded a now-rare solo folk album. Then he returned to the states, where he once again joined up with Miller, who was now in San Francisco. He remained with the Steve Miller Band for its first two albums and then, once again, set out for a solo career. With the help of Rolling Stone magazine's Editor in Chief, Jann Wenner, Scaggs obtained a contract with Atlantic Records. He moved south to record an album in Muscle Shoals, Alabama, only to be dropped because of insufficient sales. He moved back to California, formed the Boz Scaggs Band, and began touring regularly with the backing of his new label, Columbia. His record sales started off slowly but began to surge in 1974 with the release of Slow Dancer. His next album, Silk Degrees, hit the shelves in 1976 and burst everything wide open, remaining on the album charts for more than a hundred weeks and earning platinum status. Three singles -- "It's Over" (#38), "Lowdown" (#3), and "Lido Shuffle" (#11) -- achieved Top 40 status and further propelled him into the limelight, a place that made him uncomfortable. His subsequent releases fared well commercially, but Scaggs announced his retirement from the music industry in 1983, choosing the more subdued life of operating a restaurant. Persuaded by his record label to resume his music career, he emerged five years later to record one album (Other Roads) and a single ("Heart of Mine," #35 in 1988) before opting for a return to low-profile life.

- Thomas Ryan, American Hit Radio, Prima Entertainment, 1996.


Reader's Comments
CoCo Turtle
Masquerading as an article about the song "Lodown," there is but a short, 4-sentence paragraph about the Boz Scaggs classic, and that is a shame.